My parents have been dueling cooks in the kitchen all my life. My mom turned to recipes from the culinary icons of her day, like Helen Corbitt, James Beard, Pierre Franey, and Julia Child, while my dad, a gardening enthusiast, sought exotic ones from far-flung places as opportunities to tinker with the many herb and chile pepper varieties he grew. One thing they shared was a love of wine. They learned all they could about it, traveled for it, and sipped it often. But since I was too young to drink the stuff, what I remember most was how they cooked with it. The aromas that wafted through our house—whether from cheese fondue bubbled with Champagne on Christmas Eve or Mom pouring a splash from her wine glass into a pan to deglaze it—hinted that something delicious was on the menu.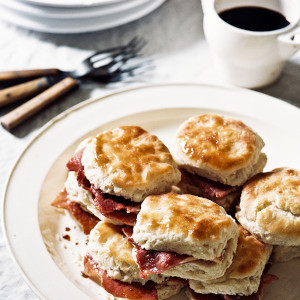 My favorite of these wine-spiked dishes was the beef burgundy served over fat egg noodles. Because it required hours of simmering, it was a weekend dish. Dad would snip thyme and mince garlic and shallots from his garden while Mom cubed and browned chuck roast in bacon fat. The real alchemy began when she poured in the wine. After a few hours of simmering, a tough cut of beef had transformed into something buttery-tender and full of flavor. The wine and pan juices had morphed into a sauce I wanted to drink with a straw.
The affinity between red wine and beef is no surprise. And though you can certainly sip a glass while enjoying a burger (and I recommend it), you can elevate the humble hamburger patty by mixing in an umami-loaded red wine reduction infused with shallots, herbs, garlic, and a bit of tomato paste—the same ingredients in Julia Child's classic recipe for beef bourguignon. As with any spirited recipe, choose a bottle of something you'd sip. Gamay or pinot noir are classic Burgundy varietals. Syrah, grenache, and blended dry reds with balanced tannins and fruit work beautifully too. Plus, they're great to sip slightly chilled while you're cooking burgers over a hot grill or stove.
For this recipe, the red wine reduction must be made at least an hour (or up to several days) in advance, so it has time to reduce until thick and jammy and to cool before it gets added to the ground meat. Cook the patties on an outdoor grill or in a dry, blasting hot cast-iron skillet for about 3 minutes per side for medium rare, then top them with cheese, if you'd like, while they rest lightly tented with foil for a few minutes. The usual burger toppings work well here, but in keeping with the beef burgundy inspiration, the wine-sautéed mushrooms included in this recipe are a must. I also like to top mine with shaved Gruyère cheese, grilled red onion, and tender leaf lettuce from my garden, which will never hold a candle to my dad's.