The rarified enclaves of Palm Beach, Florida, are synonymous with glamorous people, a sparkling good time, and tropical flora. And the Colony Hotel, built in 1947, is a landmark that embodies all three. The spot, long dubbed "the pink paradise," has hosted the likes of Judy Garland and John Lennon within its colorful walls and lush environs (one often captured by photographer Slim Aarons).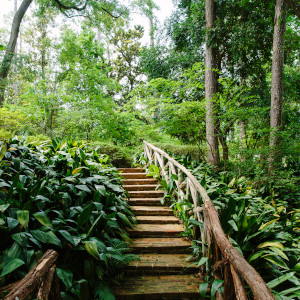 So when it came time for a massive renovation, the Colony's current owners looked to a veritable dream team of collaborators to reimagine the space while highlighting every bit of history and charm. This included designing a new furniture collection for guest rooms with Roxy Owens of Society Social, who is a native of Southern furniture mecca Hickory, North Carolina.
"I was a fan of Society Social even before I met Roxy in person," says Sarah Wetenhall, the president and owner of the Colony Palm Beach. "The brand's use of color and print and perfectly updated vintage silhouettes have always spoken to me. It was an instant meeting of the minds, in terms of our vision for this collection, and also in how we are evolving our respective multigenerational, female-led companies."
The process also included the team at Kemble Interiors, the firm that oversaw the massive interior redesign of the hotel. During the research phase, Owens and Wetenhall looked to vintage pieces already in the hotel and sourced locally for inspiration. But the property and its surrounding landscape proved to be the ultimate guides. "Our collaborative goal was to present playful designs that nodded to iconic details," Owens says. "You'll find scallops and waves repeated within the collection, including in the Pink Paradise Chair, the Hammon Chair, the Drew's Dresser and Nightstand, and the Island Rattan and Royal Headboards." Quintessential Florida materials like bamboo and rattan also run throughout the collection, as do vintage fabrics by Schumacher in the hotel's signature pastel hues, and the upholstery happens in North Carolina.
The current collection includes eleven pieces total that can be seen throughout the guest rooms at the hotel and are now available from Society Social for those who want to bring the lively look home. "We wanted to make each item feel residential," Wetenhall says. "Exactly like what you would find in a quintessential Palm Beach home." The line offers more than twenty fabric choices and an option that allows you to match any of the bamboo and rattan pieces to any Sherwin Williams, Benjamin Moore, or Farrow & Ball paint color.
"The original collection was actually twice as large," Owens says. "But we made the decision to pare it down to hit deadlines. Now that the hotel is complete, we are full speed ahead working on new design additions to the collection, which we hope to introduce later this year."