Lubbock's location at the convergence of five major highways has earned it the nickname "Hub City," but there are plenty of reasons to drive to—not through—this Texas High Plains town. Home to a dozen wineries and breweries, a public research university, and a unique ranching history, Lubbock is also the birthplace of a music legend, whose name graces the town's gleaming, 2021-built performing arts center, Buddy Holly Hall. Here are a few more things to do and see when you visit: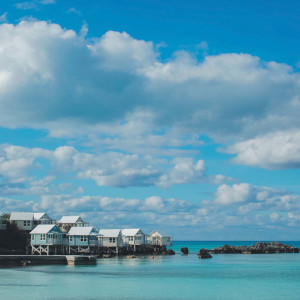 While this centrally located boutique hotel looks like a motor lodge of the past, it actually opened in 2020. Its 165 rooms are outfitted with midcentury accents complete with cheeky needlework and fully stocked Smeg refrigerators. In a fun touch, guests can rent a guitar from the front desk.
---
Nothing says Texas like towering pies and icebox cakes. While stuffed breakfast burritos and huevos rancheros appear on the menu of this casual eatery, patrons come and stay for the sweets. Owner Teresa Stephens, a longtime Lubbockite, is often found with her grandson on her hip as she takes orders and checks in on patrons. Get the blueberry banana split cake to taste the dessert that started it all sixteen years ago.
---
Dr. Clinton "Doc" McPherson is credited with being the father of Texas wine, and his legacy lives on in his winemaker son, Kim. Head to this intown tasting room in a restored Coca-Cola bottling plant for an introduction to McPherson wines, which are made from grapes known to thrive in Texas's dry, rocky soil—think crisp, citrusy Albariño and velvety Mourvedre.
---
Founded in 2019 by brothers Trenton and Randall Jackson, Monomyth Coffee gave Lubbock a coffee shop that goes beyond the classics (though you'll find those too). Take the Cold Brew Cola: Part Coke, part coffee, this cool cup of Joe is the perfect caffeine concoction for scorching Texas days.
---
Home to the most extensive collection of Buddy Holly artifacts in the world, this museum chronicles Holly's short yet impactful career, showing just how many contemporary musicians were inspired by his work. Next door, take a tour through the J.I. Allison House, the early practice space for Holly's band The Crickets.
---
After training in locales such as Austin, Napa, and Paris, Finn Walter found himself called back home to West Texas, where he opened a seasonally inspired restaurant in 2020 and earned a James Beard nod for "Best Chef: Texas" in 2022. Recent menu items include indigenous frybread with honey butter and caviar served atop yucca. Book the greenhouse for a delightful indoor-outdoor dining experience.
---
Delight your inner child at this refuge for Lubbock's unofficial mascot. While black-tailed prairie dogs can be found throughout town, you'll see gaggles of them all at once within this protected space at Mackenzie Park.
---
Texas Tech University System Public Art Collection
See one of the country's largest public art exhibits at this incredible experiential outdoor museum. Since 1998, campus visitors have been invited to wander among more than one hundred unique pieces, from sculptures to murals—including Texas Rising by Joe O'Connell and Blessing Hancock, a stainless steel and LED light installation depicting various university cultural traditions and hidden icons. (Find it at the West Village Dormitory.)
---
Get fitted for an authentic felt cowboy hat at this Lubbock institution, owned and operated by husband-wife team Jared and Kelsi Coffelt. Each hat is custom-made and uniquely designed, taking five to eight hours per brim to produce.
---
Located just next door to the Nicolett, this independent bookshop and publishing house—and its corresponding nonprofit—aims to support writers from underserved communities. The chic store is filled with bestsellers, classics, and local and regional titles.