In 1774, a group of rebellious American colonists signed a resolution boycotting tea and other British imports in protest of the Tea Act of 1773.
The boycott took place not in Boston but in quaint Edenton, North Carolina, a coastal town founded in 1712 along North Carolina's Inner Banks (the name for the state's roughly three thousand miles of inner coastline). This lesser-known Southern Tea Party was organized by one of the earliest women's political groups in the colonies and led by Penelope Barker, an activist for American independence who rallied more than fifty women in Edenton to sign the resolution.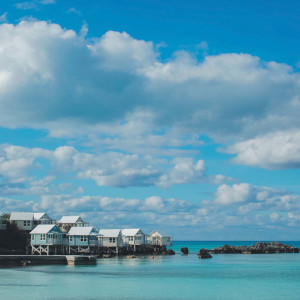 Today, Mrs. Barker's house stands watch over Edenton, flirting with the water of the Albemarle Sound and showing off as one of the most striking eighteenth-century colonial homes in a small town full of historic architecture.
But Edenton's appeal goes beyond its pre-Revolution history. This waterfront enclave has evolved over the centuries, maintaining its original charm while becoming a destination for modern travelers. And there's just enough here to fill a perfect forty-eight-hour itinerary, particularly in the fall when the crowds start to thin and a pleasant chill arrives.


But first, barbecue
As soon as you arrive in Edenton, go straight to Old Colony Smokehouse, a "we're here until we sell out" kind of place. Thanks to a shot of fame from pitmaster Adam Hughes' win on Food Network's Chopped, this counter-style barbecue spot regularly runs out of dishes by early afternoon. You're in North Carolina, so get the pork barbecue and the sweet Carolina slaw.
---
Settle in
You'll find a pair of the most impressive and relaxing front porches in Edenton—which is saying a lot—at the Captain's Quarters Inn. Check into your room in the historic 1907 bed and breakfast, where original details include hardwood floors, solid wood doors, and soaring windows, then sit a minute in one of the rockers outside.
---
Beeline for Broad Street
Grab a mid-afternoon coffee at Edenton Coffee House, then take your time popping in and out of stores and galleries along Broad Street, including the Chowan Arts Council, the Gregarious Goose, the Polka-Dot Palm, and A Still Life. Whether or not you are in search of new clothes and outdoor gear, a stop by Surf, Wind and Fire—the perfect meeting of legacy brands and craft beer—is a must. Wander just off the main drag to King Street Marketplace, where you'll find the Edenton Tea Company, inspired, of course, by the Tea Party, as well as an art gallery and shop run by artist Patrick Dablow and his wife, Lorrie.
---
Dinner with a view
Walking around Edenton, it's impossible to miss the building that houses the Herringbone, which in a prior life served as an ice house for the herring fishing industry that thrived along the Albemarle Sound and Chowan River. Now the structure, which occupies prime real estate on the water, is a cozy, exposed-brick space serving wood-fired pizzas, seafood, and a roasted fingerling sweet potato appetizer with white truffle dip that can't be missed.
---
Morning stroll
There's little chance you'll still be hungry after breakfast at the inn, but you should still walk over to the Edenton Farmers Market, open on Saturdays from 8:00 a.m. to noon, just to take a look. Of special interest is Donna's Desserts, with pies set out on a charming gingham tablecloth, complete with perfectly piped icing.
---
Edenton by boat
If the weather is fair, call Captain Mark for a ride around Edenton Bay on the "Liber-Tea," a Duffy that seats up to twelve. You'll get a glimpse of some of the most stunning historic homes from the water, go a little deeper into the town's colonial history, and learn about the characters that have shaped Edenton's evolution.
---
Dinner and dessert
The only reason you'll need to get in your car this weekend is to drive just a few minutes to Edenton Bay Oyster Bar for dinner. The sunset view alone is a reason to go, but the grilled cheese oysters are a close second. Covered in warm pimento cheese and topped with crispy ham, these melt-in-your-mouth delicacies will sway the most staunch oyster purist. Embrace the nostalgia of simpler times by visiting the Freeze drive-through, conveniently located on the drive back to the inn. Grab a classic vanilla ice cream cone or a shake.
---
Nightcap
On Saturday nights at Edenton Bay Trading Company, deejays Eddie and Melissa spin old-school vinyl while Debbie King mixes her signature sangria behind the bar. It's a first-name-basis kind of place—and a surprisingly lively spot in a quiet town.
---
Morning lesson
If you don't have to hit the road on your last morning, take the opportunity to squeeze in a few historical sights before you go. A few gems to explore include the Iredell House, home of one of the first U.S. Supreme Court justices; the Cupola House; and the Penelope Barker House.