Parker Millsap has never been afraid to color outside the lines of Americana, blending influences from glam rock, country soul, and the raw Tulsa blues of his home state of Oklahoma. Millsap grew up singing in a Pentecostal church before turning heads with his gritty, acoustic debut, Palisade, in 2012. The showmanship he honed in the church came to life over the course of his next four albums, displaying Millsap's electrifying vocals and his penchant for experimenting with traditional sounds and song structures.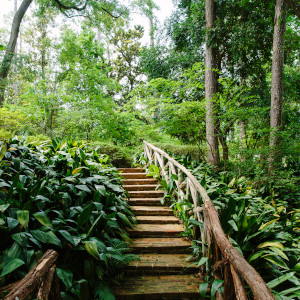 On his new album, Wilderness Within You, Millsap goes further afield, pulling in Afrobeat rhythms and gritty New York synth rock. The pulsing "So Far Apart" and the dizzyingly chaotic "Half a World Away," especially, hint at some next-level experimentation, further burnishing Millsap's rep as a creative force in his adopted hometown of Nashville.
"I wanted to try and incorporate things I was listening to into my music," he says. "If somebody makes something that stays hardcore to a particular style, that's cool. But my experience as a human isn't consistent like that. This record is all over the place and chaotic because that's kind of how it feels out here right now."
Helping Millsap shape his songs on Wilderness Within You was producer Ryan McFadden, who listened to Millsap's home demos but then asked him to play the songs live in front of him to get the vibe. During recording at Nashville's Hartland Studio, near Millsap's home, McFadden brought in a group of musicians, many of whom Millsap had never met. Spontaneity was welcomed. "I think that's reflected in the variety of the songs," Millsap says. "Some of them were built piece by piece, and some are completely live at the recording studio."
Thematically, the album finds Millsap wrestling with humanity's relationship with nature and the price of progress, as well as expressing a deep gratitude for simply being on earth. The psychedelic ballad "Keeping the Love Alive" grapples with the effects of climate change in hushed, intimate vocals. Another of the album's high points—though with a more familiar Millsap sound—is the meditative acoustic title track, which features gorgeous harmony vocals from guest Gillian Welch. "She was my first choice," says Millsap of the song, pointing out Welch's 2001 classic, Time (the Revelator), as a formative album in his musical journey.
Below, listen to an exclusive stream of Wilderness Within You, which G&G is proud to premiere today. It's Millsap at his most explosive and daring, delivering his most memorable album to date. "Art is a place where you can take risks with a fairly low consequence," he says. "It's about trusting yourself and your instincts, and then trusting the people around you to bring it to life."
The album is out this Friday, May 12, and available for preorder here.