Allison Russell uses the word "joy" frequently, but it's always apt and imbued with deep meaning. On her 2021 debut solo album, Outside Child, the Canadian-born singer, multi-instrumentalist, and activist chronicled the abuse she suffered as a child while growing up in Montreal. It was a harrowing listen—and also one of the year's best albums—that by the end saw Russell finding a hard-won sense of peace.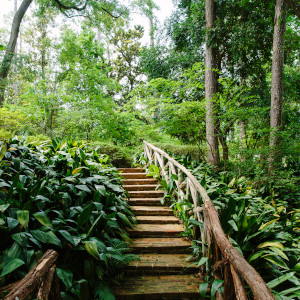 Now, on her highly anticipated second album, The Returner, Russell delves into a new chapter, with equally stunning results. A Nashville transplant, she and fifteen fellow female musicians—a group she's dubbed the Rainbow Coalition—decamped to a studio in Los Angeles to create a life-affirming, soul-shaking album that is, well, an absolute joy. "The songs were all written, but they were still skeletons until the group fleshed them out," Russell says. "It's such a deep, deep pool of artistry that I got to work with; it was just incredible."
After stints in roots bands Po' Girl and Birds of Chicago, Russell garnered wider attention as a member of Our Native Daughters, a Black female supergroup that featured Rhiannon Giddens, Amythyst Kiah, and Leyla McCalla. While touring with the group, she began writing songs for Outside Child, which set the stage for The Returner. The mournful, minor-key sounds of her debut shift to simmering soul, earthy funk, and even some Pointer Sisters–like R&B on buoyant songs such as "Stay Right Here." Russell plays with her voice, at times smoky, cooing, jazzy, and resolute, each note blossoming like cherry trees in springtime.

We caught up with Russell from Nashville, where she lives with her husband and their nine-year-old daughter, Ida, after she'd just returned home from eight weeks on the road, highlighted by an appearance at her idol and fellow Canadian Joni Mitchell's first concert in more than twenty years. Below, she talks with G&G about the making of The Returner, the inspiration behind her love of the clarinet, and Ida's taste in music.
The Returner is out today, September 8, and available to order here.


The first line of The Returner's opening song, "Springtime," is "So long, farewell, adieu adieu to that tunnel I went through." That doesn't seem random.
It was very intentional. The Returner is the second part of a trilogy. Outside Child reconciles the past, and The Returner is very much the present. It's feeling joy from the teeth of turmoil. It's coming back into your body after feeling like your body wasn't a safe place to be due to past traumas. It's about celebrating the kind of comfort and strength that we provide to each other even in the midst of oppressive times.


What will the third part of the trilogy be?
The third installment will be the Afro-Rainbow future of my dreams [laughs]. I have all kinds of grandiose plans I can't reveal yet.


"All Without Within" is one of my favorite songs on the album. It sounds like a classic funky Prince song, and as it turns out, you have Wendy and Lisa, two members of his band the Revolution, playing on the whole album.
Wendy and Lisa joining us was the most surreal, beautiful thing. They've become our big sisters now. There was a moment in the studio when Wendy looked around at all of us, and she had tears in her eyes. She said that in all her years in the studio, "she had never been in a room with this many dames making this kind of music." We all started crying when she said that.
You recorded The Returner in six days, which is pretty fast given how many people were involved on the album.
I said we would do three takes and take the best of the three. Sometimes people can get so wrapped up in their insecurities, particularly in the studio, because you feel like you're under a microscope. I have friends who are brilliant singers, but when they go into the studio, they do a hundred takes even though they sing it perfectly and beautifully live. They've gotten so into this kind of perfection. One thing that makes me very sad about recording is the digitizing of the human creaks and cracks and imperfections out of the music. I'm allergic to that perfection. I revere the Staple Singers and Nina Simone, artists who would allow imperfection and musical moments to breathe even if it wasn't the most polished moment ever.
Is your daughter into music?
She is. Our neighbors have a twelve-year-old daughter, and she and Ida have formed a songwriting duo called Wild Forest Songs. Ida is learning drums and piano, and her friend is learning guitar and violin, so they get together and jam and write songs. They're obsessed with Taylor Swift's writing and with Beyonce's. They're just so cute. It makes me so happy that people of her generation are getting into vinyl again because listening to a whole album is like a journey. She discovered Taylor's 1989 on her own during the pandemic. It was a revelatory experience for her. She came to me and said, "Mom, my favorite song is the last one, but you have to listen to the whole record to get it." And it was like, "Okay, you just took the journey." It's thrilling.

What's the last album you played for her?
She had never heard Joni Mitchell's Ladies of the Canyon. The song "Free" was the reason I played clarinet. My mom is from Saskatoon, and Joni is her favorite artist. I remember going over to my grandma's house, and my mom would play the piano along to Ladies of the Canyon. "Free" came on, and at the end, there's this beautiful clarinet solo, and I remember hiding under the piano, watching my mother's feet on the pedals and being electrified by the sound of the clarinet. So, to come full circle, on June 10, which was actually my mom's birthday, I got to play clarinet with Joni. She's the reason I play clarinet. It's circles within circles.


Your friend and Our Native Daughters bandmate Rhiannon Giddens also just released a solo album. How do the two of you influence each other?
I think our circle is going through similar things. The Outside Child journey kind of began with the Our Native Daughters record [2019's Songs of Our Native Daughters], and in our own different ways, each of us is working on reclamation work and healing. I think it's just a natural outcropping of growing into our womanhood and empowerment as Black women. I think all of us are refusing to allow the kind of oppressive, bigoted, fascist rhetoric that's rearing its ugly head once again to crush us. But there's joy too in the music. Joy is also an act of resistance. It's hard-won survivors' joy, you know, which makes it all the more potent and deeply felt.