In 2018, Krista and Jerry Slater, a power couple in Atlanta's food and beverage world, moved east of the city to Athens, Georgia, to open a handsome neighborhood bistro with a thoughtful wine list. The Expat would set the tone for the trio of sleek establishments the Slaters have opened in town since. "We create concepts where we want to eat," Jerry, who earned his service stripes at Charlie Trotter's in Chicago and the Oakroom at the Seelbach in Louisville, says. Their small empire, along with the other choice new spots listed below, bring an air of refinement to this powerhouse SEC city that's worth celebrating just as much as the next national championship.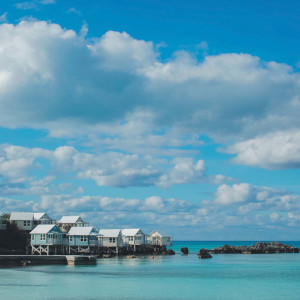 Shop
A child of parents who buy and sell antiques, Lindsay Short has been in the estate sale and vintage consignment business her entire life. This summer she opened Mother Lode, an indoor bazaar with booths from fifty local vendors, whose wares range from eighties-era Georgia Bulldog tees to immaculate MCM sofas. Just down Baxter Street at Foxglove Plantbar, owners Alex and Von Kidd advise on potting (don't miss the soil bar), and a beverage counter and DIY succulent terrarium station provide reason to linger amid the breathtaking monstera deliciosa. Across town, designer Adrienne Antonson found a home for State The Label, her house of hand-sewn, hand-painted clothing and textiles, in Athens's new Mill District, where neighbors include the fiber arts boutique Revival Yarns, the tasteful and eco-conscious toy store Treehouse Kid & Craft, and the interior design gallery Cloth & Kind.
Rock
In 2020, guitar pick–shaped brass plaques bearing the names of influential local performers, from the rapper Ishues to the new wave rock band Love Tractor, began appearing in downtown sidewalks, a civic effort known as the Athens Music Walk of Fame. The medallions serve as stepstones to the city's storied venues and provide a great way to meld movement with music history. Next, walk the newly restored trestle bridge of R.E.M. Murmur cover-art fame. The bridge, fortified by a $6 million architectural restoration, is now part of Athens's pedestrian Firefly Trail. From here, visit Classic City Vintage Guitars where luthier Dylan Keel buys, sells, consigns, and repairs used guitars. A $2,000 Gibson mandolin made in 1934 hangs next to a 2018 Baby Taylor priced at $275—an apt reflection of the shop's range. 
Eat + Drink
Start with an avocado-laced breakfast burrito at Athens Cooks, a well-curated culinary emporium that offers classes in its open kitchen. Just up Prince Avenue, Krista Slater, a sommelier since 2006, pairs bottles with tinned seafood in her sunny wine lair, the Lark. (Keep an eye out for the fine-foods shop Birdie's, opening soon next door.) Oak House Distillery, the first local hooch maker since 1860, opened this spring on the outskirts of town. Its patio makes an ideal perch to experience Athens at arm's length (with one hand cradling a rosemary gimlet). In a town of many barstools you'll be happy to know the ones at the Slaters' eponymous steakhouse, an urbane dining room defined by the finer things in life (think martinis and beef tartare), are reservable. For something funkier, tear into the garlic–fish sauce chicken wings at Puma Yu's in the renovated Southern Mill complex. Bar Bruno, where Italian apertivi reign supreme, is the number-one place to start your evening in Athens. End it at the Slaters' newest outpost, Nighthawks, a windowed corner bar near the CSX railroad track that embodies the minimalism of the Hopper painting that inspired it. Sip on a bergamot- and amaro-tinged old tom gin cocktail and order a Brasstown Beef bologna sandwich, part of the bar's menu of "Grandpa Snacks." It's a delicious reminder that getting old ain't so bad.