As teenagers, my brother and I brokered a deal with our parents: No summer jobs at home in Charleston as long as we worked on my maternal grandparents' peach farm in Upstate South Carolina, where the expectation was that grandkids work harder than even the best full-time employees. Long hours standing inside the open-air roadside market, hauling bushels of peaches, shucking corn and shelling peas, and dipping several hundred ice cream cones meant our dogs didn't just bark, they howled.
Nearly two decades later, the memory of those sticky hot days remains a bright spot. Those formative summers schooled us in work ethic and customer service, but they also instilled in us a genuine interest in the way food unifies people. Roadside farm stands are microcosms of the communities they serve and beacons to the passersby they draw, linking customer to farmer and food to land. Promise me a basket of just-ripe peaches, a half dozen fresh-picked tomatoes, a pound of tender okra, or even a bouquet of colorful cut blooms—as these farm stands across the South do—and I'll take the back roads every time.
---
Fort Pierce, Florida
"When Dad moved to Central Florida in the 1970s and looked around to see what people did for a living, all he saw were citrus trees," says Jeff Schorner. His dad wound up working in real estate, but the groves kept calling to him until he opened Al's Family Farms in 1977. Jeff joined the team after college, and when his father died and he took over the business, he and his wife, Sharon, began modernizing operations. Today, along with their son Matt, they grow Indian River grapefruit, avocados, and mangoes, and partner with a contingent of local citrus farmers to bring customers Glory Orri mandarins, Temple oranges, Tango tangerines, and Florida peaches. Twenty years ago, they converted part of the farm's seventy-year-old packing house into their farm stand, open during the citrus season, from late October through Memorial Day, just a mile off I-95.
---
Ellenwood, Georgia
Second-generation farmer EliYahu Ben Asa's family began farming near Dublin, Georgia, as an experiment in self-reliance. When they quickly recognized a need within their community for better access to fresh produce, they turned their personal project into a full-time business. "Our focus is the battle for food security," Ben Asa says. In 2018, they expanded their organic farm business to just southeast of Atlanta to flood the food deserts in and around the metro area with greens, corn, and other Southern staples. The family opened their on-property farm stand later that year, adding fruits and vegetables based on their customers' appetites—expect tomatoes, cucumbers, squash, and blackberries, as well as more surprising crops like pomegranates and persimmons.
---
Blue Barn Market at Arnosky Family Farms
Blanco, Texas
As the dog days edge toward fall, the flower fields at Arnosky Family Farms burst with color and texture—feathery celosia, orange marigolds, golden sunflowers, zinnias in pink and red, and balls of globe amaranth. Frank and Pamela Arnosky first seeded their Hill Country fields, which sit along a rural stretch between Blanco and Wimberley, in 1990. Sixteen years later, the couple added the Blue Barn Market, which went up via an old-fashioned community barn raising. Inside the self-serve shop (cash or check only), customers find bundles of cut flowers. The farm stays open all four seasons, but mark your calendar for October, when monarch butterflies make their annual pilgrimage south. "Last year," Pamela says, "they were literally dripping from the trees."
---
York, South Carolina
York County is peach country. And while the Hall family, who began farming a fertile stretch of South Carolina Piedmont countryside more than 150 years ago, still tends around fifteen acres of the summertime favorite, it's their strawberries that keep folks coming back—and not just in the spring. Using a network of greenhouses, they now offer ruby-red berries thirty-eight weeks a year from their on-site farm stand. Try the strawberry doughnuts or homemade strawberry ice cream inside the market café, and there's plenty more to carry home. "We've got sweet corn, cucumbers, squash, bell peppers, crowder peas, butter beans," says co-owner Sam Hall. "I think we figured up a year ago that we grow about sixty-five things on the farm."
---
Georgetown, Mississippi
The Campbell family at C&B Farms, about forty-five minutes due south of Jackson, subscribes to Steve Jobs's "do one thing well" credo. The one thing being, in this case, jumbo green peanuts. If you're seeking watermelons or tomatoes, keep driving. But if a quart or gallon bag of tender boiled goobers is just the salty treat your road trip calls for, look for C&B's no-frills peanut shacks off I-55 at exits 42 and 72 during the peanut harvest, which begins in August and runs through October. "And if it's not raining, we're open every day except Sunday," says Nicole Kueck, who works with her aunt and uncle on the family farm. Or, make the drive out to the 150-acre farm in Georgetown, where the nuts are graded for quality and washed before getting packed up for an at-home simmer. "There's something about our soil," Kueck says. "Nice sandy soil that helps produce really great peanuts."
---
Carter Mountain Orchard and Country Store
Charlottesville, Virginia
"People come for the three-hundred-and-sixty-degree views first, the doughnuts second, and the apples third," jokes Cynthia Chiles, whose parents purchased historic Carter Mountain Orchard in the early 1970s as an extension of their commercial apple farm. Adjacent to Monticello, the two-hundred-acre tract outside Charlottesville has been producing apples since Thomas Jefferson lived next door. A few years after the Chileses took ownership, a freeze wiped out much of their crop, negating the need to hire a dedicated farm crew. Instead, Chiles's mother took out an ad in the paper inviting Virginians out to Carter Mountain to pick their own apples. "This was before the local food movement," Chiles says. "Back then, everyone went to the grocery store to get their food." The hands-on harvesting was such a hit, the family kept it going and added a full-scale market and bakery. Apple season starts mid-August and runs through fall, but Carter Mountain is open year-round, with a sunset concert series in the summer, and cherries and blueberries for sale in late spring.
---
Nashville, Tennessee
Standing on the front steps of Green Door Gourmet's wood-frame market, which perches on 350 lush acres along the Cumberland River, it's hard to believe this rural idyll is a mere ten miles from the state capitol building in downtown Nashville. Sylvia Harrelson Ganier founded the organic farm and marketplace with her husband, Al, in 2008, and she quickly outpaced even her own dreams. "I was retiring from the restaurant business, and I wanted a garden," she says. "I ended up with a farm." Today she grows sorghum, heirloom varieties of okra, corn, and Tennessee's own Cherokee Purple tomatoes, and the sprawling plot makes a perfect backdrop for regular plow-to-plate cooking classes. Grass-fed beef, honey, jam, baked goods, and dairy products from other local producers also share space with Green Door's selection of grab-and-go items prepped in the on-site kitchen, which turns out seasonal soups and salads.
---
Tupelo, Mississippi
Will Reed didn't grow up in a family of farmers. "I didn't grow up even mowing the lawn," he admits. As a young adult, he learned all about growing food while living off the grid in Northern California's redwood forest. Armed with that experience, he returned to his hometown of Tupelo in 2009 with his wife, and today he and his family manage twenty acres of certified naturally grown produce and a full-service market, which the Reeds built by hand from locally milled cypress. Serious about sustainability, they also added solar panels to the roof and a market kitchen to use up every bit of their produce in to-go dishes such as strawberry cobbler and veggie-loaded quiches. Fresh isn't just a buzzword for the Reeds—they pull their carrots and pick their tomatoes and blueberries daily.
---
Durham, North Carolina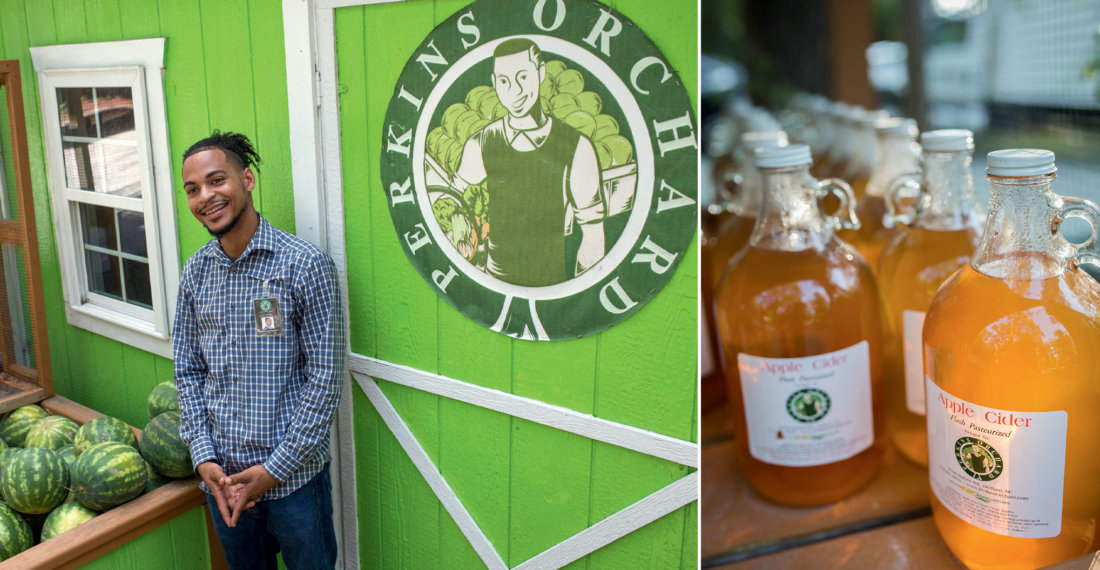 While there's technically a small fruit orchard on the three-acre wooded property that lends Perkins Orchard its name, owner Donovan Alexander Watson relies on a carefully vetted network of nearly three hundred North Carolina farmers to stock the shelves at Durham's largest and oldest produce market. Watson's late grandfather the Reverend Dr. Joseph E. Perkins founded the market as a side gig in 1970, running the humble roadside stand on an honor system until his grandson took over and expanded the business into the gathering spot it is today. It was Watson who introduced the market's famous $20 Bag Deal. "We say: If it grows, it goes in the bag," he says of the program, which he designed to attract a diverse group of regulars, from schoolchildren to local chefs to politicians and senior citizen groups. "I love talking to customers and bonding over the common theme of food," he says. "Usually, we have more in common than not."
---
Johns Island, South Carolina
Now in his eighties, lifelong Johns Island resident Sidi Limehouse still runs this Lowcountry culinary landmark with his longtime partner, Louise Bennett. Their market stands in the shade of a big white tent on the way to beachgoer favorites Kiawah and Seabrook Islands and brims with some of the Charleston area's best bounty, like Marsh Hen Mill grits, cabbage, and watermelon. "We grow about fifty different plants and lots of varieties of each," Limehouse says. "Corn, tomatoes, green beans, butter beans, squash, you name it, but quality is the focus." And depending on the season, you can scoop up line-caught fish and local shrimp to make an easy meal out of your haul. If you don't feel like cooking, Rosebank also stocks prepared meals like shrimp étouffée and hearty chicken potpie studded with island-grown peas and carrots.