Buffalo Nichols earned wide acclaim for his 2021 self-titled debut album, which found musical inspiration in the country-blues styles of Skip James and Mississippi Fred McDowell. With his down-home slide licks played on a period-accurate resonator guitar, Nichols was heralded as a blues traditionalist intent on reviving the genre for a new generation. But as he makes clear on his anticipated second album, The Fatalist, that is only one dimension of his artistry.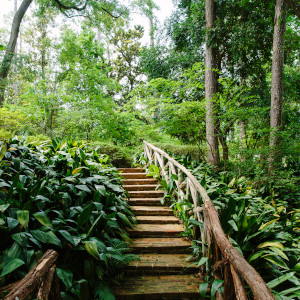 On the album, out on Mississippi's Fat Possum Records in September, Nichols reveals a broader range of ideas and influences, making use of the fingerstyle guitar he picked up playing bluegrass with friends on his way up and bringing more introspective lyrics to the foundation he built through his debut and live shows. Today, G&G is proud to premiere "The Difference," a meditative ballad that's a distillation of both, challenging his audience to reconsider the definition of "blues" music.
"I've battled with genre identity and genre labels," Nichols tells G&G. "['The Difference'] is not specific to the genre that I'm known for, but I wanted to get back to songwriting."
Listen to "The Difference" below, and read on to hear more from Nichols about the meaning behind the song, the idea of fate, and why songwriting is just as important as guitar in the blues.
The Fatalist is out September 15 and available for pre-order here.

What is the theme of "The Difference"?
It's [about] a one-sided relationship, and I think that's something a lot of people can relate to—the feeling of accepting the terms of a relationship that you wouldn't find ideal. But if the alternative is loneliness, you might put up with things you don't really like. I've been in that position, and I put myself in that mindset again when I was writing the song.


How did your own experiences inspire the song?
When you're young, [in your] early twenties, [you] don't even know what a relationship is supposed to look like. You just go figure it out and make a lot of mistakes. That's when I went through those kinds of experiences. There was one in particular I could pull from to get a lot of the emotions for the song.

You're known more for blues songs that address social topics than gentle confessionals. Where does this song fit on The Fatalist and in your progression as an artist?
The theme of the song is the same as the album, talking about fatalism and fate, because it's thinking about those kinds of relationships where you just accept things as they are and you feel like maybe you don't even deserve it, or you've never seen anything different. You think, "This is just the way that relationships are, for better or worse." And that's in a lot of different facets of life—personal relationships and economic situations and cultural identity, all these things I'm tackling or addressing in terms of fate and how that plays into it.
People have dismissed blues as a kind of guitar genre when really it's a song genre. So, even if the song isn't conventionally blues, I would like for people to expect blues artists to write songs, even if they're folk songs, because folk and blues are just as related as folk and country. And it's totally typical for a country artist to have these kinds of singer-songwriter songs, but it's less common in the blues. I just want to be one step forward in that kind of marathon.