Joining a renowned band like Steep Canyon Rangers two decades into its prolific run is no easy feat. In the North Carolina group's new song, "Deep End," which G&G is proud to premiere today, guitarist, vocalist, and newest Ranger Aaron Burdett likens the experience to, well, diving headfirst into the deep end.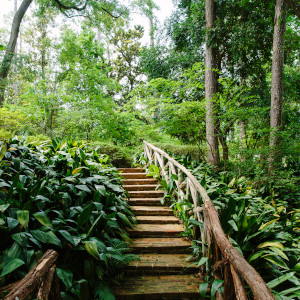 "Syncing up with the Rangers kind of felt like jumping on a train that's already going full speed," says Burdett, an accomplished Americana and bluegrass musician from Saluda, North Carolina. Last summer, just three weeks after his first conversation about joining the group following the departure of founding member Woody Platt, Burdett found himself on stage at the Hollywood Bowl in front of 18,000 people alongside the rest of the Rangers, Steve Martin, Martin Short, and the L.A. Philharmonic. "It was quite an initiation."
Although banjo player and vocalist Graham Sharp has written the majority of the Rangers' songs over the last several years, he asked Burdett to pen a few, including "Deep End," for the band's fourteenth studio album, Morning Shift, out in September. "The album is an intentional collection that showcases the best of what the current lineup of the Rangers can do," Burdett says. Morning Shift was produced by Darrell Scott and recorded over a week at the Inn Bat Cave, a rustic and quirky mountain lodge in Bat Cave, North Carolina. "[Darrell] really encouraged us to let go of our old ideas of who we were. We just had a huge shake-up, and he didn't want us to deny that." That also included leaning into their unusual recording locale. "Of course there are sonic limitations recording there, but that adds character," Burdett says. "The inn is definitely audible on the album."
Watch the video for "Deep End" below. Morning Shift is out September 8 and available for pre-order here.