Nashville singer-songwriter Gabe Lee spent his college days studying literature, but he spent his nights surveying the people he served while bartending and waiting tables, listening to their stories and learning to tell his own.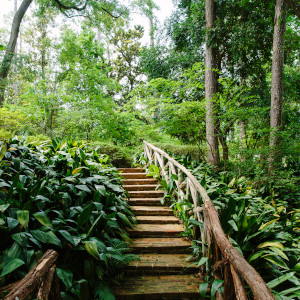 On "Drink the River," the title track of his upcoming fourth album—which G&G is proud to premiere today—Lee delves into that empathy, contending with the human tendency to bend life to serve our own desires, often to our own detriment. Ultimately, though, as with life, even a river has to outpace its flotsam. The only salvation, he implies over delicate guitar figures and mandolin flourishes picked in harmony, is to keep swimming. "A river is necessary to nature," Lee says, "but sometimes rivers are unclean. There's grit and dirt in a river, as well. But this one [river we all navigate] will have to do."
Stylistically, Lee's knack for poignant storytelling hews close to heroes like John Prine and Jason Isbell, while his predilection for mixing folk, rock, and bluegrass is all his own. Since breaking out of the coffee-house scene with his second album, 2020's Honky Tonk Hell, he has opened gigs for Isbell, as well as artists including Molly Tuttle and Brent Cobb.
On Drink the River, out July 14, Lee dials back the full-band arrangements in favor of simple, more solitary textures that leave plenty of room for his narratives to soak in. We spoke with him about his path in music and the characters populating songs like "Drink the River," which we are honored to premiere below.


How did playing music in church around Nashville influence your own path?
I came up in a Methodist church; it's a very chill denomination of Christianity. I've joked that we were more worried about getting to the potluck lunch after the service than the actual service itself. [But] the church was one of the most foundational, formative places for my buddies and me. We were singing in choirs in church, we were playing in concert band, jazz band, pep band at school. And then, of course, after school we were jamming and forming our own bands. Every opportunity where somebody would let us plug in and play.


What inspired your new single, "Drink the River"?
"Drink the River" sounds like a love song, and in some ways it is. But more importantly, I think it's a message about drinking from the river of shared human experience. It's inviting folks to dip into this flow of stories and this current of emotions and experiences. It's an invitation for folks to really take a look at what makes our shared human experience so important.


How much do you blur the lines between lived experience and character sketches in your songwriting?
A lot of the authors I look up to, like Ron Rash, are taking real emotions and experiences, but embellishing them in order to help people understand or access the story and the message even more strongly. In the past I've done that, too, but on this record, a lot of it is very real and a lot of them are very true stories inspired by complete strangers or people that I've known through work or travel, or immediate family. The first song that came out, "Even Jesus Got the Blues," was influenced by a couple of friends I had growing up who just didn't make it this far. But it's a song about needing to love folks who can't love themselves. So, yeah, most of these stories are quite real.