Love is in the air, love is everywhere, from the Appalachians of Tennessee down to the eastern shore of Mobile Bay. So head back to your hometown from the big city, cozy up to your high school crush with a big mug of hot apple cider, and start streamin'!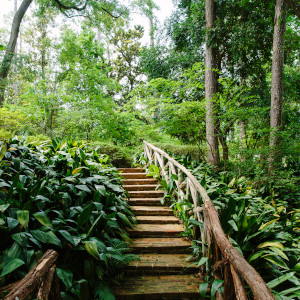 Going Parking
Love in the Great Smoky Mountains: A National Park Romance, Hallmark, Peacock
My unabashed love of cheesy Hallmark movies goes back more than a decade, but in the past few years the network has gone all-in—romance in every season and scenario. Now that includes the Great Smoky Mountains, where former paramours are toiling on an archaeological dig. "As they work together competing for the same research grant," Hallmark asks with bated breath, "will their love be rediscovered?" Magic 8 Ball says … tune in on September 2 to find out the obvious answer, or stream on Peacock the following day.
---
Returning to the Scene
Murdaugh Murders: A Southern Scandal, Netflix
Convicted murderer Alex Murdaugh's son Buster may have just given his first sit-down interview to Fox Nation, but that's not stopping Netflix from adding to its documentary series, released earlier this year. Three new episodes, which will cover the "Southern Succession" trial and aftermath and will feature interviews with the likes of juror Gwen Generette and Murdaugh associate Curtis "Eddie" Smith, will drop September 20.
---
My Fair Ladies
Love in Fairhope, Hulu
The Golden Bachelor? Who needs it! We have a Southern love story through the ages unfolding in Fairhope, Alabama. On September 27, the first season drops of this Hulu Original reality dating series, which apparently follows five generations of women in the Mobile Bay town. As for the setting, executive producer Lauren Weber told Alabama Public Radio, "When I originally came up with this idea of a romantic drama featuring real people, I wanted it to take place in a very small, beautiful quaint town where everybody had good values and knew each other and there were multi-generations of families."
---
Ninth Time's the Charm?
Southern Charm, Bravo, Hulu, Peacock, et al.
Despite my better angels, I've kept up with the infatuations, affairs, and fights of this unholy Holy City–set reality show ever since it premiered back when I was living in Indiana and so homesick I began watching Southern Charm just for the Charleston b-roll. Let the manufactured drama begin on September 14!
---
Y'allywood Reporter
The Boom, WABE, Spotify, Apple Podcasts, et al.
The Atlanta NPR and PBS affiliate smartly snagged the superb entertainment and culture journalist (and Southern Women contributor) Jewel Wicker for its new weekly podcast on the Peach State's economy-driving, crazy-busy film and TV industry.
---
West Virginia, Mountain Mama
The Morning Show, Apple TV+
The first season of this scandal-laced ode to morning television made hay with the West Virginia coal-mining origins of Reese Witherspoon's anchor Bradley Jackson. But come this third season, which starts September 13, the show is rife with other Southern actors, including New Orleans native Mark Duplass, the Mississippi-born Karen Pittman and Tig Notaro, and West Palm Beach's Nicole Beharie.
---
Play the Hits
Wrestlers, Netflix
John Cena. Dave Batista. Carlene Denise "Jazz" Moore-Begnaud. These are just a few of the legendary names that blossomed in Ohio Valley Wrestling over the decades, as Netflix bills it, "once a proud finishing school for young wrestlers" that has struggled in latter years. This series follows pro wrestler Al Snow and OVW's new owners as they try to keep the historic spot going.
---
ACL Rides Again
Austin City Limits: Country, Circle Network, Peacock, et al.
The legendary Austin City Limits program gets revived for this weekly series, debuting September 6, featuring a curated selection of past ACL performances from icons such as Waylon Jennings, Tammy Wynette, and Ray Charles as well as more recent ones by Chris Stapleton and Miranda Lambert, interspersed with never-before-seen interviews and context added by host Ray Benson of Asleep at the Wheel.