Catching people off guard is all in the Savannah Bananas' tagline: "We make baseball fun." For the Georgia team, that means breaking away from ballpark traditions—namely long, slow games and complex rules—to shift the focus onto audience entertainment. The players may sport checkered yellow-and-black kilts, pitch on circus-like stilts, or break out into choreographed group dances. It's not uncommon to see outfielders perform acrobatic catches or batters springing into backflips. You might even get a glimpse of some professional ballet (the first-base coach and director of entertainment, Zachary Frongillo, is also a trained dancer who can leap into a flawless tour jeté) or enjoy a surprise appearance from a baseball legend (most regularly, legendary Red Sox star pitcher Bill "Spaceman" Lee, who after a brief break following an August in-game medical emergency, plans to step back up on the mound for the Bananas).
That playful take on baseball, aptly called "Banana Ball," has catapulted the team into the national spotlight. Now the Bananas have three million TikTok followers; been the subject of dozens of feature stories (including in the New York Times, USA Today, and Los Angeles Times), and a newly released ESPN documentary series titled Bananaland; and boast a sold-out rest of the season and a waitlist for tickets with some eighty-thousand names. It's no surprise, then, that the team recently announced that after the 2022 season, they will be leaving the Coastal Plains League to pursue the zany sport of Banana Ball full-time.
The brains behind the Bananas, owner Jesse Cole, perhaps puts it most succinctly: "For whatever's normal, we do the exact opposite." That includes, in Cole's case, a closet full of bright yellow tuxedos and matching hats for games. Here, the thirty-eight-year-old Cole shares more about the Savannah Bananas' sensational games, the team's charismatic players, and his vision for the future of Banana Ball.
Who was your biggest inspiration while developing Banana Ball?
Walt Disney is my number one, and P.T. Barnum is definitely up there, too. I've read every book on Walt Disney, visited his family museum, and really studied him. The vision that he had is second to none, and he said it's fun to do the impossible. One thing about him that I love is that he said, "Money doesn't excite me, my ideas excite me." And I'm the same way; I don't think about dollars, revenue, sales, or profit. I think about ideas. Ideas are everything for our organization. We think, "What can we do to create new things that we've never had before on a baseball field?" Disney had a bigger vision than anybody, and he also brought more ideas and cared more about his guests, employees, and cast members than anyone else.


Where are your yellow tuxedos from?
The first few were from brightcoloredtuxedos.com, then OppoSuits, and people have even custom made them for me. I've got a bunch. The hats are all from another place—I've gone through a lot of hats.


What do you look for while recruiting players for the Savannah Bananas?
We're looking for the most talented and entertaining players. You have to be talented and play at a professional level. Maybe you can do a backflip, maybe you can juggle, maybe you can catch the ball between your legs, maybe you can throw trick pitches. We look for that extra, that "one more thing," as Steve Jobs used to say. The guys that really stand out have that flair and know how to have fun and celebrate.
Nat Wolf, our trick pitcher, started throwing strikes between his legs and pitching while doing cartwheels and handstands. He can throw two balls at once. He's wild. We have a shortstop, Ryan Cox, who can do trick plays in between his legs and catch balls with his feet. All our guys have little things that they can do that people have never seen before on a baseball field.


How do you choose new sketches and bits for games?
We have OTT sessions every Monday—that stands for Over the Top ideas. That's how we came up with having a bat on fire and a pitcher pitching on stilts. Anything that's crazy. We go through all those ideas, pick them, and write them into a script. We rehearse the script on our own, then in front of a live crowd, and then in front of a whole sold-out stadium. It's an entire process, very similar to Saturday Night Live. Every night, we do over ten new things on the ball field that we've never done before.
How tall are the stilts that Dakota Albritton pitches in? And can you talk about the pants that fit over them?
Oh, geez. I think they're four feet, so he's over ten feet tall, total. He showed up at tryouts with them on, and I was really impressed. He's a big part of the game now. His grandmother made the pants for him.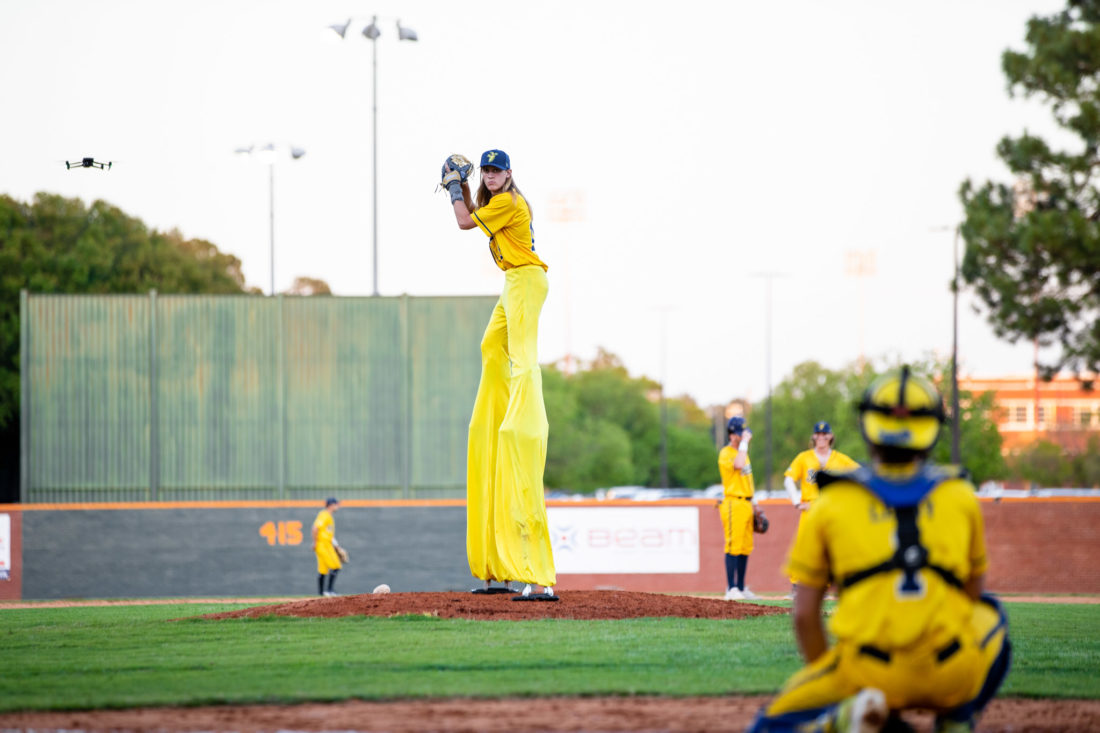 How long does it take to nail down a dance?
We have rehearsals throughout the week and heavy rehearsals the day of a game. On Fridays, we bring the players out at 2:00 or 2:30, and they do entertainment rehearsals before they get into the baseball. No dance is ever perfected, and no dance will ever be perfect, but our breakdancing coach works with the players about an hour before the game.
How did you come up with the Banana Nanas and the Man-Nanas, the dance and cheerleading teams?
If you want attention, you have to do things other people aren't doing. When you think of a dance team, you think of young, athletic people that can do all this tumbling. We thought, "Well, what's the exact opposite? What if it was a senior citizen dance team?" We found out there was a line-dancing senior citizen group in Savannah, and we asked them to perform, and they became the Banana Nanas. Now, tons of people want to be a part of it. It's taken off. For the Man-Nanas, it's the same thing: When you think of a cheerleading team, you think of young, beautiful women, and we said, "No, we want dad bods and grown men."


Before the first pitch, the team celebrates the Banana Baby, a ritual that includes dressing a baby in a tiny banana costume and playing music from The Lion King. How do you choose him or her?
It's on a huge waitlist now with tons of names. Even when people get pregnant, before they have the baby, they say, "Hey, my baby is due in seven months, can we put it on the list?"
Do you have a favorite bit?
"Hey, Baby." It's a dance the entire stadium does. The players, staff, and fans—whether you're two or eighty-two years old—everyone does it. It's become a big part of Banana Land. Seeing four thousand people all dancing together is pretty special.
Hey Baby: Part 1 – The Pregame Party pic.twitter.com/hRR4WvyUVj

— Savannah Bananas (@TheSavBananas) June 7, 2022