About ninety miles northwest of Atlanta, ninety miles east of Huntsville, and sixty miles south of Chattanooga lies Dunya Camp, a secluded glamping property that debuted in Summerville, Georgia, in May. To get there, you drive past farmhouses, through a coded gate, up a steep incline, and finally into a clearing in a lush pine forest, where a cluster of spacious canvas tents with two-tiered, wraparound decks greets you. If the phrase "glamping" is sometimes applied to any old yurt with basic creature comforts, it's immediately clear from the rich textiles peeking through floor-to-ceiling glass doors that this destination lives up to the portmanteau.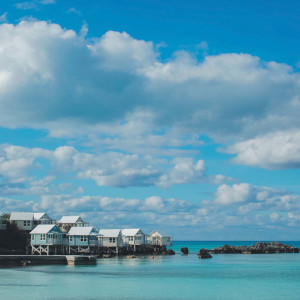 Dunya's owner, Sangeetha Ramkumar, was born in India and raised in Miami, and she graduated from Georgia Tech before joining IHG, the Atlanta-based hotel company. She always knew she wanted a hospitality brand of her own, and a camping trip out West with her husband (and now business partner), Said Kazerooni, in the summer of 2020 sparked an idea.
While she loved being surrounded by nature, she wasn't a fan of the rugged accommodations. "Glamping wasn't something I had ever considered as being part of the brand I wanted to own," she says, but after the trip, the two couldn't stop talking about a way to merge his love of camping with her hospitality experience.
Each of Dunya's six safari-style tents comes with 360-degree mountain views, air conditioning, and a bathroom with a hairdryer and soaking tub. A mini kitchen with a Nespresso machine, a retro-style mini-fridge, and even a dishwasher service those who want to eat in. For colder nights, there's a stylish wood-burning stove if the hotel-style bedding and duvet aren't enough. Outside, a gas grill and hot tub dot each patio, and three of the tents have outdoor barrel saunas. While there are no televisions, there is Wi-Fi.
Inside, the eye-catching design, which Ramkumar and Kazerooni dreamed up themselves, is impressive. The couple's global heritage and travels are reflected in the burnt-sienna Victorian-style loveseat, canopy fabric from Sangeetha's family in India, and Art Deco–style, jade green tiles in the shower, laid vertically for a modern look. Rugs reflect Kazerooni's Persian roots. There's even a hand-colored aquatint depicting a scene from Thomas and William Daniell's nineteenth-century volume A Picturesque Voyage to India by Way of China.
"Dunya" is an Arabic word that means "closer," which the couple says applies to the world they've created. "It means closer to the earth, closer to nature, closer to yourself," Ramkumar says. And yet guests will also feel transported to another time and place. "We didn't want it to feel like it was your house or anything you'd see in your everyday life. We wanted it to be a fantasy," she says.
Outside the tents are hiking trails, a labyrinth, and a yoga deck, and nearby Summerville offers a handful of restaurants and attractions, including folk-art icon Howard Finster's Paradise Garden. When it's time to turn in, guests can enjoy the comfort of a plush bed but leave the curtains open on the twenty-one-foot sliding glass doors to rise with the sun. Rates from the $400s; children under twelve and pets are not allowed.