Cataloochee Ranch, where our adventure begins, is the kind of magical mountainous resort you've heard about but may never have truly believed existed, a mythic horse paradise with amazing food, unbelievable views, and romantic cabins. It's right above Maggie Valley, North Carolina, and just below the clouds.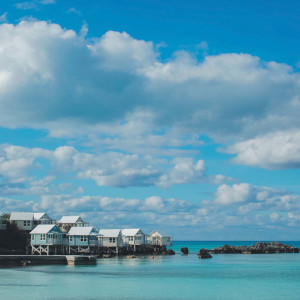 Laura and I were here to ride horses. Laura's my wife, and, like me, new to the horse-riding game. This would be our first real trip on the back of a horse or, now that I think about it, on the back of any animal. We like to think of ourselves as adventurers but adventurers in the suburban sense of the word, meaning we'll try our hand at anything if there's wireless, a shower, bourbon, and a soft but firm mattress nearby. Cataloochee checked all the boxes. Our welcome dinner included grilled tuna tonnato, braised rabbit, and rib eye—standard fare on a ranch, I assume.
The morning sun woke us. After an insanely delicious breakfast of schnitzel with a sunny-side-up egg on top, we could see our horses, saddled and ready to go, just beyond the pond outside our cabin. We ventured out on foot to meet them. The ride was to be a six-mile trek from the Ranch through the rhododendron- and mountain-laurel-rich forests, along the crest of the Blue Ridge Mountains, to another down-home luxury hideaway on the other side of the Cataloochee Divide Trail.
Our destination is called the Swag. The Ranch and the Swag are distinct properties co-owned by the same wonderful couple, Annie and David Colquitt. The names of the places modestly hint at the sort of experience you'll have at each. The Ranch offers guests beautifully restored log cabins, fine dining, and a two-tiered barn (the first tier for the lucky horses, the second for weddings and other events). It's in the process of being renovated now for a fall reopening, and the lodge, the homey heart of the Ranch atop a ridge overlooking the sweeping valley below, is a work in progress. The Swag is a plush country inn, a place of down-to-earth, unpretentious elegance. Though David and Annie are relatively new proprietors of both places and caretakers of the roughly one thousand acres that surround them (and the horses that carry guests throughout), they've managed to improve upon both without changing the spirit and soul of what have been generational destinations for decades.
In this sense, then, our horse ride would take us from one version of quietly luxurious mountain life to another, and we were eager to hit the trail. I just had to wait a moment for someone to lift me into the saddle. Ascending these beasts is not as easy as it looks in the movies, although Laura seemed to alight with an enviable ease. Once we were up and fitted with our safety helmets, off we ambled, like the adventurers we are. It was a cool day, windy, with cotton-ball clouds floating past the sun.
My horse's name was Dan. Tracy Reed, the horse whisperer who was our guide along the Great Smoky Mountains National Park–adjacent trails, assured me our shared name was just a coincidence. "Sometimes we call him Dirty Dan," she said. "Or Dan the Man." Nicknames I've had at different times of my life.
There were other similarities between us. We were both slow and fond of snacking. Dan was a former plow horse, though, about sixteen years old, which in horse years means he's in his fifties, younger than I am but, even so, perhaps a bit world-wearier. Nothing on our journey impressed Dan; he had, literally, seen it all before. He was punching the clock in an affable way. Laura was riding Dodger, a beautiful Tennessee walking horse. Laura and Dodger were at the back of the pack because her horse liked to take her time. Dan's inability to pass up a blade of grass kept us close, though.
Annie Colquitt joined us on a quarter horse for the midmorning promenade and occasionally turned around in her saddle to share history and lore. Trail horses move at the perfect speed, about three miles an hour. Nothing goes by fast, so if you're looking at something you want to keep looking at, you're in luck: At 3 m.p.h., it will be there for some time. Traveling single file does make conversation challenging, which goes a long way to explaining the taciturn reputation of the American cowboy and his intimate relationship with his horse. There is really no one else to talk to. I spent a lot of time in convo with Dan, and it was mostly about grass.
The mountains are a place where every hillock has a name. We rode by Windy Gap, up to Tom's Stand to Pine Tree Gap and across the Bald Face Trail on Hemphill Bald (where a tree was down on the trail!), up over Thunderbolt Knob, down to the Salting Grounds, then around Double Gap Bowl to the Cataloochee Divide Trail in the Great Smoky Mountains National Park, and past the Swag to Gooseberry Knob, where we dismounted, ate the perfect burger and homemade potato chips, and had a post-equine cocktail. From the Adirondack chairs, we could see Cataloochee Ranch and the remnant of manufactured snow on a distant ski slope. Afterward, we had a massage in the Swag's spa. Dodger and Dan and the rest were left tied to an old wooden fence looking at the park.
It had taken us almost three hours to go six miles. We did not see a few of the life-forms we'd hoped to: wild turkeys, bald eagles, a bear, or Bigfoot, but that was okay. We got a ride down the mountain in a Volvo. It took only fifteen minutes to get back to Cataloochee Ranch, rolling down the gravel roads snaking through the mountains, the deep dark valley below us, a precipitous drop indeed. Halfway down, Laura and I looked at each other and had the exact same thought at the exact same moment: We wished we were doing this on horses.
---
Discover more off-the-beaten path Southern adventures from our June/July 2023 issue.