Luther Dickinson blazed a trail with his fiery blues guitar licks in his bands North Mississippi Allstars and Hill Country Revue (each with his brother, Cody). But the Mississippi native also knows how to turn down the volume, often trading electric for acoustic on the nimble folk songs of records such as 2019's Solstice and 2016's excellent Blues & Ballads. For his new album, Magic Music for Family Folk, Dickinson strips it down even further with touching, easygoing versions of favorite songs he grew up with. Dickinson wanted an album both he and his family could enjoy together, and it includes tracks from the Meters, the Staple Singers, John Lee Hooker, Mississippi John Hurt, Doc Watson, and more. The album also features guests Yola, Allison Russell, Lillie Mae, Sharde Thomas, and Sharisse Norman, along with Dickinson's mother and daughters.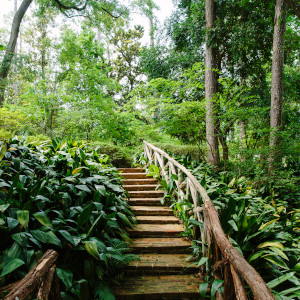 Much of it was initially recorded in 2017 when his kids were younger and friends would come over to the house for family dinners and play dates. Yola arrived one night for a dinner party, and Dickinson handed her a pair of headphones to record vocals for the album highlight "Beulah Land." "Recording at home or in alternative spaces is my preferred vibe," he says. "It's easier to trick yourself into recording an inspired moment in your pajamas than in a proper studio."
Today, G&G is proud to premiere the intimate album. Listen below, and read on to hear more from Dickinson about his musical upbringing and how the album came together. Magic Music for Family Folk is out Friday, November 17, and available for pre-order here.
What is your first musical memory, both listening and playing?
My first memory in life is musical. My father [the famed Memphis musician and producer Jim Dickinson] was listening to a record and snapping his fingers to the beat. In my memory, it feels like I could tell he was interacting with the music. I've never forgotten that moment. My best musical memory is when my folks tuned my little electric guitar to open tuning and showed me how to strum a Bo Diddley beat. I'm still there!


Did you and [your brother] Cody have jam sessions or shredding contests? Did other family members take part?
Cody and I began playing music together off and on when I was in third grade and he was in kindergarten. I started playing guitar non-stop at age thirteen, and he started playing drums. We have been making noise ever since! We didn't play music with our father till later in our teens after we had gotten good enough to keep up and begin to learn his repertoire.


Some readers may not be familiar with your dad. What was the biggest lesson you learned from him?
My dad was a first-generation Memphis rock 'n' roller who sang on the last Sun Records release in his youth. He had an awesome career recording with Bob Dylan, the Rolling Stones, Aretha Franklin, and Ry Cooder, and wrote songs sung by Willie, Bob, and the Boss. Dad taught us that authentic regional music is important and musically conjuring up the spirit of your home can be powerful. He also taught us to be sensitive to magical moments, and when they arrive, to extend them as long as possible.


How important was spontaneity in the making of this album?
We always try to protect spontaneity in our music, be it live or on record. Digital recording is a wonderful tool for capturing and protecting the raw, instinctive reactions. I like to record long and loose and do the editing in post-production without setting parameters or telling musicians what, when, or how to play. The innocent, collective, creative spirit is delicate and easily spooked off.


Do you have a favorite song on the record?
"Beulah Land" is my favorite. [It's a] non-specific Spiritual, and Yola's soulful, first-take vocal thrills me to no end. "Whatever River" is the only original, and I wrote it to keep my daughters company and to extend a loving transcending bond to them in the future.


It must have been emotional to have your mother and daughters sing on the album.
My daughters sang with Allison Russell and JT Nero cheering them along, and I was so happy it went well and that they were naturals. When they finished, as everyone was clapping and wiping tears, my older daughter pulled me aside and asked, "Hey Dad, don't you get paid for singing on records?"


You recently turned fifty. Did you take stock of what you've already accomplished and what you want to do?
Turning fifty this year inspired me to finish all the projects that have been simmering on the back burner for years. I have a record called Dead Blues coming out in 2024 featuring Datrian Johnson, a fantastic singer. There is an instrumental ambient record named Gravel Springs, and a live recording from my annual concert at the Walter Anderson Museum with John Medeski. North Mississippi Allstars is gearing up for the twenty-fifth anniversary of our debut album, Shake Hands with Shorty, in 2025.


The guests on this album are amazing. Allison Russell and Yola!
We may have never heard John Coltrane or Jimi Hendrix live in person, but we are fortunate enough to live in the era of Derek Trucks, Christopher Nolan, and the mighty Allison Russell and Yola…two of the greatest singers and songwriters of our generation.