Each week I drive the back roads between my home in Spartanburg, South Carolina, and Augusta, Georgia, where I currently teach, byways I have known for as long as I've been alive. The plots of trees along them served as landmarks for eight-year-old me, strapped into the back of my parents' gray Mitsubishi Galant with my little brother, Nicholas, headed for my father's family farm in Silverstreet. We would skirt the edges of Francis Marion and Sumter National Forests. When we passed the big two-story white house with columns, it meant we'd reached Belfast Wildlife Management Area, about halfway to Grandma's house. The biggest trees I'd ever seen towered along the Saluda River where we would make a left to reach the Graham land.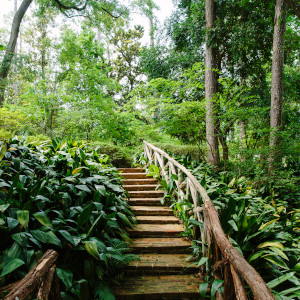 Much of that journey passed swaths of contiguous forests of pines and old-growth hardwoods, public and otherwise. Now the scenery teems with gaps, open air where the trees of my history had been standing one trip and gone the next. Nothing remains but terra-cotta soil scarred by feller bunchers and trails of wood chips leading away from what promises to be a construction site—for an industrial plant, a new discount store, a warehouse, a processing facility.
This kind of development now threatens the tree canopy all over the South, as cities fill up and suburbs spill over. But the tensions around Atlanta's South River Forest seem a prescient reminder that when we lose trees and green spaces, particularly in our urban areas, the repercussions don't simply end with stumps. I wanted the chance to witness this change—to walk through what might not be much longer—because I never had that chance with my own beloved forests. For once, I knew about a loss before it would occur.
From above, Atlanta rises from a sea of green, which earned it the moniker the "city in the forest." Its tree canopy covers almost half of the municipality, giving Atlanta the most cover of any major U.S. urban area. Those numbers, however, are dwindling, thanks to development as well as to destructive and invasive insects, such as the woolly adelgid and the emerald ash borer. In 2017, local planners proposed a project to preserve one of the four "lungs" of the metro area, a 3,500-acre spread in southeast Atlanta and southwest DeKalb County informally called the South River Forest. Their vision called for formally knitting together public and private spaces—neighborhoods, parks, shuttered landfills, and the abandoned Old Atlanta Prison Farm, a former plantation that became a federal prison in 1918—along the much-contaminated South River, with multipronged benefits including a cleaner environment and an improved quality of life and economic boost for the surrounding historically Black (and historically neglected) neighborhoods.
The Atlanta City Council adopted the plan into the city's charter in 2017, but in 2021, then mayor Keisha Lance Bottoms announced that the prison farm would instead become home to a new $90 million, eighty-five-acre police and firefighter training facility, which opponents have come to call "Cop City." Another chunk of the forest—part of the public Intrenchment Creek Park—that DeKalb County had agreed to swap with a movie production studio in exchange for the company's land elsewhere, became wrapped up in litigation. And so, over the last couple of years, one of the largest environmental wins in recent city history has instead become the city's biggest source of contention.
In early March, I head to the South River Forest. The surrounding area has long grappled with limited economic opportunities and contamination from sewage overflows and dumping. Along the way to the South River Trail in Intrenchment Creek Park, tires and trash litter the roadside, and every business I pass looks industrial in nature, locked behind tall fences topped with concertina barbed wire. A tree wrapped in a quilt marks the turnoff to the park's entrance.
I wasn't sure how to prepare for what the hike might bring—tensions had been running high in the area, particularly since a spate of clashes between protesters and the police culminated in the January shooting death of the nonbinary environmental activist Manuel Esteban Paez Terán, by officers clearing the forest who maintain that Terán fired first. More arrests and charges of domestic terrorism followed. Now police squad cars linger on every roadway, lights on.
Not far from the tree that marked the entrance to the trailhead, a makeshift memorial featuring Terán's nickname, Tortuguita, leans against a concrete pillar, with candles, dried roses, and a pink, green, and white crocheted blanket. Two turtles—one a stuffed animal, the other made of metal and covered in sea-colored marbles—frame the edges. As I stand here with my backpack and sun hat, about to amble into controversial territory, something else concerns me, too: This early Sunday morning is warm. Too warm—hot.
It is only the first week of March, but the redbuds have unfurled, the dogwoods have flowered, and full-grown red paper wasps are buzzing around metal benches near the creek. This scene shouldn't be happening for another three or four weeks, I think, as all around me the lavender blooms of jacaranda gently sway in the wind. By the time I finish my hike, the temperature will have risen above eighty degrees. How much higher might that be, I wonder, were it just me and the concrete, without the abundant canopy?
Urban areas particularly benefit from forests, which soak up excess rainwater, preventing erosion, runoff, and flood damage. During the dry season, they mitigate the effects of droughts. They purify the air we breathe, filter the water we drink, and buffer against climate change by reducing emissions of heat-trapping greenhouse gases. Monica Thornton, the executive director of the Nature Conservancy in Georgia, one of the nonprofits advocating for the South River Forest, tells me that if population and urbanization trends continue as they are, "the U.S. Forest Service says they have projected that up to twenty-three million acres of forest across the South will be lost by 2060." Often, I talk about climate change in future terms, too, but as I sweat through my hiking shirt, it's clear the too-hot existence I fear is probably already here.
Music filters through the trees as I come upon my first clearing—an impromptu music festival, coordinated in support of the forest. The South River Forest's planners envisioned the green space bringing the community together in just this sort of way; urban forests serve a social function, as a space where neighbors can relax and recreate without spending money. And, perhaps, enjoy a better quality of life: In this majority-Black area, the sewage historically discharged into the South River has affected not only the area's beauty but also the health and economic opportunities of its citizens.
"There is a particular vision for the South River Forest concept that imagines an expansive landscape," Thornton explains, one "that will provide passive green space for enjoyable outdoor recreation. But it's also going to do things like stormwater management. Existing parks, old landfills, truck yards, and other industrial properties will be transformed into green space for an area that has been disadvantaged and underserved."
Near the end of my hike, I sit on a wooden bench at the point where Shoal Creek meets the South River. Intrenchment Creek flows into the South, too, here in the forest, before merging with the Ocmulgee and finally the Altamaha River and then making its way out into the Atlantic Ocean, not far from Little St. Simons Island. What happens here—to the trees, but also to the watershed—has the potential to affect everything and everyone between Atlanta and the Atlantic, and perhaps beyond it.
I watch all the people enjoying the day around me: A man bops by, the soul band Maze featuring Frankie Beverly pumping out of his speakers. A group of women, all in white helmets, are out on their afternoon bike ride—this is just their weekly thing, they tell me. A couple holding hands stroll along the mostly flat stretch, watching the birds fishing along the creek. As Thornton says, "You can't really put a dollar figure on" these kinds of benefits.
Toward the end of March, DeKalb County's CEO, Michael L. Thurmond, issued an executive order. Intrenchment Creek Park and environs where I had hiked, a spread totaling 140 acres, were to be closed immediately, citing "unknown and potentially dangerous contraptions" found on-site. I thought about all the people I'd seen enjoying their Sunday afternoons, and wondered where they would go now that, not a month later, gatherings of those kinds there would be illegal "until further notice."
This is not the land of my childhood, this is not my city, but at the same time, it is mine, and it's ours—these changes, from the development to the closures, will reverberate throughout the South and connect with a larger ecosystem in crisis. The fate of the forest and what happens there could come back to haunt all of us.