Before she takes the stage, Ashley McBryde likes to get a feel for the room. Sometimes she'll sit in the seats if it's a theater; if she's playing a festival, she'll grab her band and sit on the grass. In the silence, she has learned to listen to what the venue might say to her. Maybe that night calls for a deep cut from one of her albums. Or perhaps it's an Allman Brothers Band or Eagles cover. McBryde has played all kinds of venues. Before moving to Nashville in 2005, she spent years honing her live shows at dives and biker joints in her native Arkansas.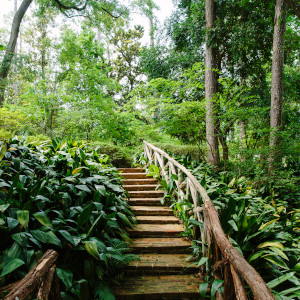 Locals say Nashville is a ten-year town, meaning it can take a decade before an artist finds success. In McBryde's case, it's been a grind. In early meetings with record labels, she was told to lose weight, straighten her naturally curly hair, and stop getting tattoos. But she soldiered on, and slowly Music Row began taking notice. She's released three major-label albums— including 2022's unexpected, breezy concept record, Ashley McBryde Presents: Lindeville, centered around a fictional small town. She has now won three CMA Awards and was inducted into the Grand Ole Opry last year. Earlier this year she took home her first Grammy for "Never Wanted to Be That Girl," a duet with fellow Nashville singer-songwriter Carly Pearce.
Now, she's just released The Devil I Know, which could—and should—catapult her from being one of Music City's favorite songwriters to its newest arena headliner. The album's songs are infectious and assured, deftly moving between hard-hitting Southern rock on the opener "Made for This" and the frank "Blackout Betty" to the wistful romanticism of "Single at the Same Time." Lyrically, they're tighter than a bowline knot, bursting with colorful details. As she sings in "Light On in the Kitchen":


Pancakes just taste better after midnight
When you make friends, always be color-blind
Your freckles make you pretty
There's more to life than being skinny
If you feel fat, it's mostly in your mind


She puts each song through a rigorous editing process, whether from her cowriters or her mother, to whom she sometimes sends voice memos of songs. She wrote "Luckiest S.O.B.," from her 2016 EP Jalopies & Expensive Guitars, sitting on her mom's couch. "She's not big on curse words, so she asked if I could say 'son of a gun' instead," McBryde says. "But then I played it for her, and she told me I was right."
McBryde grew up on a farm in Saddle, Arkansas, one of six children in a profoundly religious household. She sang from an early age, and her mother brought her to bluegrass festivals, where she would carry her plastic guitar up to the front and sit in her tiny lawn chair, strumming as if she knew every song. She played trumpet and French horn in her high school band. Her parents divorced when she was seventeen, and one of The Devil I Know's standout tracks is the heartbreaking ballad "Learned to Lie," inspired by her parents' relationship struggles. "I had to walk my mom through the lyrics; it was hard," she admits. She calls her relationship with her father today "cordial" and says they text each other periodically.
McBryde parlayed her French horn skills into a music scholarship at Arkansas State, but she soon found herself juggling school obligations with gigs at local coffee shops and Memphis bars. Eventually, one of her professors told her she should follow her dreams because she was skinny and pretty right now, but six years after college, she might not be. "What a backward-ass Arkansas way of saying I think you've got something special here and you should chase it," McBryde says with a laugh.
In Nashville, she scored a publishing deal, writing as many as twenty songs a week with other songwriters before getting into her truck to hit the bar circuit on weekends, driving to Kentucky and Indiana by herself, save for her beagle, Banjo (fortunately, a low-maintenance traveler). The gigs could be brutal. "Guys wanting to watch a ball game are pissed off that you're playing music, and the people who want to watch you are pissed off that the ball game is on," she says. "Every hour, they'd require you to announce the specials at the bar, and I would skirt that by saying, 'Well, it's time to talk about drink specials, but let's be honest, God made all drinks special in their own way, so here's a song by Hayes Carll.'"
In 2014 she caught the attention of John Peets, the manager of Eric Church and Brothers Osborne. "She was struggling to get noticed; she didn't fit the mold," Peets recalls. "But I'm attracted to the misfits and the ones who don't fit in." Peets sent Church a copy of an early McBryde song, "Bible and a .44," an ode to her father, who always carried both. Impressed, Church brought her onstage at a show in Chicago to sing the song with him. The video went viral, prompting Trisha Yearwood to cover the song, with Patty Loveless singing background vocals. That helped pave the way to McBryde's major-label debut, 2018's Girl Going Nowhere. "She reminds me of singers like Mary Chapin Carpenter who are real storytellers," Church says. "She commands such respect. Other songwriters are calling her first when they have a good idea."
Hilarious and exuberant in conversation, McBryde admits she's a crier. She says she was crying all day over a situation at home the day before our interview and had to take two naps. That she's here at all today to experience—and share—life's emotional roller coasters is itself a minor miracle. While on tour in Montana in September 2021, she and her best friend, Dayna, went horseback riding. McBryde grew up around horses, so when her mare, Jenny, got spooked and took off, she figured she could regain control. Except Jenny would not slow down. McBryde was thrown, shattering her pelvis and suffering a concussion. Despite doctors ordering her to rest, she played a show six days later, after being brought to the stage in a wheelchair. She still suffers from vertigo. "Those are eleven paychecks that don't get cashed if I cancel a show," she says, referring to her band and crew. "But now I know the difference between when I'm running the ship and Betty Badass is trying to run the ship. Just because I know I can do it, it doesn't mean I should." She now sports a large tattoo of a woman falling off a horse on her right thigh.
McBryde turned forty in July and is finally starting to reap the benefits of her hard work. She's well aware of the expectations placed on The Devil I Know, and though it's a particularly fraught time in Nashville, where the political and cultural chasms in the country music sphere have never been wider (or nastier), she remains hopeful her music can transcend the divides. As usual, she's up for the challenge. "I'm always out to prove something, and I've been told many times that I'm going to wear myself out," she says. "But there is a calmness now because I can look at my Grammy on my shelf and say, 'That thing I wanted to be when I grew up? I am.'"