Depending on whom you ask, there are perhaps fourteen main barrier islands that flank the Georgia coast, protecting the mainland from the forces of tides, wind, and weather. Histories of pirates, Spanish missionaries, and wealthy tycoons shroud these isles in legends and mystery. Maritime forests, moss-draped live oaks, salt marshes, and unspoiled beaches make them enchanting places to visit. Endangered native species like loggerhead sea turtles and piping plovers thrive here, and a few surprising imports—like Sicilian donkeys and Madagascan lemurs—roam free.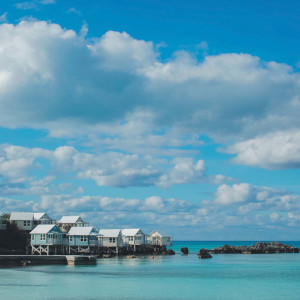 The hundred-mile Georgia coast encompasses a third of the marshland on the entire Atlantic Seaboard, a landscape that has inspired poets and artists for centuries. Shimmering creeks separate the barriers from more inland islands still. Compared with other coastlines, Georgia's remains remarkably undeveloped save for a few island towns dotted with hotels and vacation homes. Some of the barrier islands present total wilderness and beaches without a soul for miles; others are preserved in perpetuity and only open to researchers and ecologists. Many must be accessed by boat, and technically all Georgia beaches are public up to the high tide line. (Watch the tides, and review each island's rules on anchoring or mooring; hiring a captain or chartering a vessel can help you reach some of the more remote locales.)
Therein lies the paradox: What makes Georgia's barrier islands so appealing in the first place—a relative lack of human footfall—can also make them difficult and sometimes impossible to get to. Here's a north-to-south guide to exploring them the best ways we know how.
Tybee Island
Leave any pretension at the bridge when you coast onto Tybee, aka "Savannah's Beach," located just twenty minutes downriver from the elegant port city. Here you'll find bright, quirky beach houses (check out Mermaid Cottages) and a surf-shack, sandy-feet vibe. Rent a beach cruiser to pedal for an old-fashioned ice cream or to spread your towel on the three-mile beach on the south end. Visit the north end for the Tybee Marine Science Center or the North Beach Birding Trail, where the Savannah River empties into the Atlantic.
How to get there: In the early twentieth century, a train carried vacationers to Tybee. Nowadays, you'll take a car across the causeway, passing the Fort Pulaski National Monument, an impressive Civil War masonry fort.
Unofficial mascot: Bottlenose dolphin. Cruise alongside these wild beauties as they play and splash offshore. Captain Derek's Dolphin Adventure Tour operates high-horsepower boats that create a big wake the dolphins sometimes "surf."
Try this: You can climb 178 steps to the top of the idyllic octagonal Tybee Island Light Station, one of the country's oldest lighthouses, dating to 1736. It's one of just seven surviving colonial-era lighthouses in the nation.
Little Tybee
The inexplicably named Little Tybee, which is more than twice the size of Tybee, makes for a beginner-friendly paddling adventure. This uninhabited bird and wildlife preserve—salt marsh with curving creeks, upland hammocks, three and a half miles of deserted beach with cresting dunes—is open to the public for day trips and overnight wilderness camping. (It's free, and you can camp anywhere, even right on the beach—but expect no facilities whatsoever.)
How to get there: From Tybee you can rent a little skiff—or even a kayak or paddleboard—and make your way over to the preserve, about 1.5 miles away across Tybee Creek (or about thirty minutes paddling). A number of outfitters offer guided paddling excursions. Note: At low tide, Little Tybee looks so close you could walk, or maybe launch your boogie board across. Don't.
Unofficial mascot: Roseate spoonbill. This stunning and somewhat rare wading bird is not a flamingo, though it's just as pink. Catch them in spring and summer as they take up residence in the shining marsh.
Fun fact: Little Tybee hosted the Olympic yachting events in Wassaw Sound in 1996.
Wassaw Island
Unlike on many Georgia islands, Wassaw's old-growth forests were never cleared for timber harvesting or plantations, and the National Wildlife Refuge looks much the way it did before Europeans arrived in the sixteenth century. Explore twenty miles of sandy roads on foot or bike and seven miles of beach, where sun-bleached oak skeletons litter the sand; the remains of a fort from the Spanish-American War are exposed during low tide. At least 257 species of birds use Wassaw as a migration stop, and it's also a crucial loggerhead nesting site. Anyone can volunteer with the Caretta Research Project and spend a week living on the island, patrolling the beach overnight to tag female turtles laying their eggs, then bunking up in a cabin to sleep by day. Typically, though, visitors must get packing before sundown.
Unofficial mascot: The American alligator, which has created freshwater ponds on the interior of Wassaw just by rooting and wallowing around.
How to get there: Take a boat or kayak from Skidaway Island across the Wassaw Sound. (Hit up Skidaway Island State Park beforehand and camp in a yurt to extend your adventure.) You can also make a day trip from Tybee Island.
Good to know: Wassaw is one of just a few Georgia barrier islands that allows hunting to help manage the white-tailed deer population, and the U.S. Fish & Wildlife Service hosts two three-day non-quota hunts each fall.
Ossabaw Island
Wild and sprawling, this 26,000-acre island thirty minutes south of Savannah was designated a state-owned preserve in 1978, but for nearly forty years after, it remained the private residence of its heiress, Sandy West, who died on her 108th birthday in 2021. Her timeworn pink stucco mansion still sits within a forest of oaks, sawtooth palmettos, and yaupon holly. The state and the Ossabaw Island Foundation, which jointly manage the island, offer a number of outreach programs and events each year that allow the public a chance to explore the beauty of Ossabaw, including thirteen miles of unsullied beach.
How to get there: Visit during one of five scheduled day trips each year, which incorporate activities like archaeology digs, indigo-dyeing lessons, artist retreats, and African-American history tours. Other visits (via application) must meet the requirements of the "Heritage Preserve," with a purpose of natural, scientific, or cultural study. Boats depart from Skidaway Island and are included in the day trip fee.
Unofficial mascot: Most famous among Ossabaw's wildlife are its feral hogs, believed to be descendants of those brought by sixteenth-century Spaniards. A symbol of the island, they also threaten the fragile ecosystem and are managed by public quota hog hunts. But there's also a roaming herd of Sicilian donkeys, introduced by Ms. West decades ago.
Try this: Hit up the annual pig roast and art auction fundraiser held each October to wander the grounds and peek in the West home.
St. Catherines Island
Privately held and managed by a foundation, this designated National Historic Landmark is not open to the public. But we can dream, because the island is a remarkably preserved capsule of Georgia coastal history, with extensive artifacts from pre-Columbian times. Archaeologists from the American Museum of Natural History spent years uncovering the lost Mission Santa Catalina de Guale, Georgia's most important Spanish settlement. They turned up two million artifacts, including 70,000 glass beads, majolica, and silver.
How to get there: Unless you're an approved researcher, archaeologist, or student, you can't. Pull up to the high water line and smell the history.
Unofficial mascot: The ring-tailed lemur. Thanks to a captive breeding program of endangered species that began in the 1970s and mostly ceased in 2007, several troops roam St. Catherines—the only wild-ranging ring-tailed lemurs outside of Madagascar.
Fun fact: The island was last owned by candy industrialist Edward J. Noble, cofounder of the Life Savers Corporation. (The St. Catherines Island Foundation is still funded by the Noble Foundation.)
Blackbeard Island
The infamous English pirate Edward Teach, or "Blackbeard," raided and looted merchant ships along the Georgia coast in the early eighteenth century, and legend has it he tucked into the tidal creeks of this island to bury treasure (though nary a doubloon has been found). Still, this National Wildlife Refuge is worth a daytime visit for its solitude, surf fishing, and wildlife watching. Blackbeard is also home to the oldest managed archery hunts in the National Wildlife Refuge system, hosting two three-day hunts each year for white-tailed deer and feral hogs.
Unofficial mascot: American oystercatcher. Watch for this orange-billed shorebird during spring and fall migration.
How to get here: It's best to bring a private boat or charter, as paddling is a challenge. Put in at Harris Neck National Wildlife Refuge, worth a visit in itself.
Fun(ish) fact: Following the yellow fever epidemic of 1876, Blackbeard served as a quarantine and disinfecting station for ships entering Georgia ports from the south. A crumbling red-brick crematorium is the only structure that remains from that era; it's not clear if it was ever used.
Sapelo Island
Biweekly public day trips (by reservation) take visitors to Sapelo, whose symbol is the classic red-and-white striped lighthouse. To overnight, groups can book a beachside campsite or, for an altogether different experience, rent out the elaborate Reynolds Mansion, now a Georgia state park and once the winter retreat of tobacco heir R.J. Reynolds. The palatial home features a whimsical "circus room" with murals by Athos Menaboni and a vast, old library with antique nameplates. A former plantation, Sapelo is also home to Hog Hammock, a Gullah-Geechee community that maintains the traditions their enslaved ancestors brought from Africa hundreds of years ago.
How to get there: Visitors must make a reservation via an overnight booking, a public tour, or a private tour (some Hog Hammock residents offer them). The twenty-minute ferry ride departs from Meridian, six miles from Darien; the latter town houses a visitor center detailing Sapelo's cultural and ecological history.
Unofficial mascot: The Sapelo Island clam. Try the sweet delicacies harvested by Sapelo Sea Farms, funded by the UGA Marine Extension Service—or get a recreational clamming license from the DNR and harvest them yourself.
Try this: Visit the small general store in Hog Hammock for a sweetgrass basket hand-woven by a resident.
Wolf Island
Birders, take note: Situated right at the mouth of the mighty Altamaha River ("Georgia's Amazon"), which pumps 100,000 gallons of fresh water into the Atlantic every second, Wolf Island is uniquely positioned for extreme biodiversity, particularly for tens of thousands of migrating birds. Wolf Island, as well as the adjacent Egg and Little Egg islands, is a designated National Wildlife Refuge and National Wilderness Area, and its beach and marshes are closed to the public to preserve the bird sanctuary. But visitors can brandish binoculars while paddling the island's winding saltwater creeks, or throw in a line for fish or blue crab.
Unofficial mascot: Piping plover. This cartoon-cute endangered shorebird with a sweet whistle winters on Wolf from October through April.
How to get there: By private boat or charter tour from Darien, a town soaked in coastal history. Stop in the seafood dive Skipper's Fish Camp to sit and sort out your trip.
Fun(ish) fact: During the Civil War, Confederate soldiers blew up the island's lighthouse to prevent Union forces from seeing the beacon. A subsequent lighthouse was destroyed during an 1898 hurricane—the strongest in Georgia history—that devastated the area and killed 179 people.
Little St. Simons Island
Command your own private island with a reservation at a circa-1917 lodge (maximum capacity: thirty-two), the only accommodations on Little St. Simons. The top-rated property and its cottages have a rustic elegance—like your grandfather's study, cozy seating and artifacts everywhere—that suits the island's nature-first, rugged vibe. Included in a stay are meals served family style (and featuring lots of local seafood) and a bevy of naturalist-led excursions, plus bikes, binoculars, and fishing tackle. (And Wi-Fi, but why?) You can also book a day trip for an eco-safari in a pickup truck and a picnic lunch. At any point, you could be the only soul on the seven-mile beach. Visit during July and August for guided beach walks for a chance to catch loggerhead babies making their way from dune nests to the ocean. In 2015, owners Wendy and Hank Paulson (the former Treasury Secretary and CEO of Goldman Sachs) placed the island in a conservation easement with the Nature Conservancy to protect it in perpetuity.
How to get there: By a regularly scheduled ferry from St. Simons Island, a destination in itself.
Unofficial mascot: Great egret. View flocks of them gathering at the rookery at Norm's Pond from an elevated bird blind. The resident alligators protect them from predators.
Fun fact: The lauded nineteenth-century British actress Fanny Kemble married the son of an antebellum plantation owner on the island, then penned a diatribe against slavery that remains historic today. (They divorced over it.)
St. Simons Island
St. Simons, Little St. Simons, Sea Island, and Jekyll are collectively known as the Golden Isles, and of them, St. Simons may be the grand dame. Here, residential neighborhoods mingle with vacation homes, hotels, restaurants (like crowd favorite Southern Soul Barbeque), and shops (like New York fashion label Tibi, whose roots are on the island). A bustling "downtown" village abuts the pier, where you can watch the day's catch get reeled in over an ice cream cone. Access the magnificent wide beach from the village all the way north to Gould's Inlet, a popular spot for birding, crabbing, and paddleboarding (but not swimming owing to the strong current).
How to get there: The Torras Causeway connects St. Simons to the mainland at the port of Brunswick, eighty miles south of Savannah. If coming from I-95, hop off the interstate and take the less harried Highway 17, which rolls through wildlife areas and historic towns.
Unofficial mascot: Cannonball jellyfish. These purplish iridescent orbs dot the beach but are unlikely to sting. Some foodies even consider them a delicacy.
Try this: Bike to Fort Frederica, the site where British troops defeated the Spanish, clinching Georgia as a colony.
Sea Island
This private, gated enclave is all but synonymous with its luxurious five-star resort and club. The island's crown jewel, the Mediterranean-style Cloister, originally dates to the 1920s, and historic estates line the beach and residential streets. For access, you'll need to be an overnight guest of the resort (or its somewhat more affordable sister properties on St. Simons), a club member, a guest of a member, or renting a vacation house on the island (though you'll still need a member to grant you guest privileges at the resort). You can find championship golf courses (two that host the PGA Tour), a renowned spa with mineral baths and an atrium garden, four restaurants, a shooting school, and a yacht club. A beach club with multiple pools and cabanas, a candy-lined sweets shop, and a waterslide add to the plushy family destination. Pro tip: Golf and horseback riding can be booked without a stay on the island.
How to get there: A short causeway connects the island with St. Simons, an easy drive (or even pedal) away.
Unofficial mascot: Harris hawk. Amazing but true: These raptors were "hired" to patrol the beach club and scare off any grackles out to steal the kids' French fries. At Sea Island's Broadfield sporting club (technically not on Sea Island at all, but on the mainland), visitors can partake in falconry hunts, watching the hawks take down quail.
Fun fact: In 2004, the thirtieth G8 Summit was held on Sea Island, deemed suitable for world leaders from a security standpoint—and because George W. Bush had a soft spot for the island (his parents honeymooned there). You can visit a re-creation of the Summit Room where the meetings took place.
Jekyll Island
The well-preserved Gilded Age mansions on Jekyll's "Millionaire's Row" showcase the island's history as a winter retreat for the likes of Vanderbilts and Rockefellers. Now a state park, Jekyll is a low-key vacation spot for families, complete with mini golf, fro-yo, and a waterpark. Anyone can visit for an $8 entry fee, and a variety of hotels and vacation rentals dot the island, including the Victorian-era Jekyll Island Club Resort. Highlights include Driftwood Beach, an otherworldly boneyard of gnarled, sun-bleached trees, and bike paths that connect sandy beaches, historic sites, and maritime forest.
Unofficial mascot: The loggerhead turtle. The only sea turtle rehabilitation center in the state, the Georgia Sea Turtle Center invites visitors to look in on veterinarians in action.
How to get there: Midway between Jacksonville and Savannah off I-95, Jekyll is connected to the mainland by a causeway. If you're coming from the north, you'll cross the magnificent cable-stayed Sidney Lanier Bridge, named for the poet who famously regaled the landscape in "The Marshes of Glynn."
Fun fact: The first transcontinental phone call in the United States was made from Jekyll Island in 1915, with President Woodrow Wilson and Alexander Graham Bell, among others, on the line.
Cumberland Island & Little Cumberland Island
With its historic manors and dense canopy of live oaks, Georgia's largest barrier island holds as much mystique as any of them. Cumberland, a designated National Seashore, spans a whopping seventeen miles of pristine beach—superb for shelling and sunning. The eerily beautiful ruins of the Dungeness mansion date to steel magnate Thomas Carnegie's early days on the island in the 1880s. His descendants remain there today and operate the historic Colonial Revival mansion known as Greyfield Inn, the sort of chic place where you kick off muddy boots to dress for cocktail hour. (Beachside campsites and day trips are also available.) Separated from Cumberland to the north by a whisper of a creek and salt marsh, Little Cumberland is privately owned by a small community of eco-minded homeowners, whose role is preservation and stewardship of the land.
How to get there: A forty-five-minute daily ferry departs from St. Marys on the southern tip of Georgia, where a museum, visitors center, and bookstore provide more history of the island. To get to Little Cumberland, well, you'll need an invitation.
Unofficial mascot: The wild horse. The first horses were likely brought to the island during the Spanish missions in the 1500s, though the 150 or so you'll see roaming today are a mix of breeds that have arrived over the centuries. Their presence is controversial because they are unmanaged and prone to poor health, but they remain inextricably tied to the romance of the island.
Try this: Carnegie descendant and jewelry designer Gogo Ferguson still lives on the island in her hand-hewn house near Greyfield, where you can visit her retail gallery. The flora and fauna of the island, from sea urchins to alligator scutes, inspire her baubles, and she fashioned the wedding rings for JFK Jr. and Carolyn Bessette, who famously married in the one-room First African Baptist church on the island. The rings took the shape of a Cumberland Island rattlesnake rib.