With TJ's intoxicating baritone and John's guitar fireworks, Brothers Osborne has become one of Nashville's most beloved duos, garnering multiple ACM and CMA awards and a Grammy in 2022. On their terrific fourth album, simply titled Brothers Osborne and out today, the pair have created their most eclectic material yet, adding rolling synth-pop, soul, and funk elements on songs such as "Ain't Nobody Got Time for That" and "Goodbye's Kickin' In" to their trademark Southern-fried barroom rock and honky tonk country. The pair credit producer Mike Elizondo—who has worked with artists from Eminem to Gary Clark Jr. to Maroon 5—for helping them expand their sound. "Mike has a very wide range of people he's worked with and in all genres, from hip hop to bluegrass," TJ says. "He makes you feel comfortable enough not to fall on your face, which is super important when trying things you haven't done before."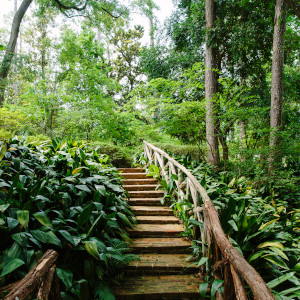 The artistic freedom the brothers embrace on the album comes from changes in their personal lives as well. In 2021, TJ came out as gay, making him one of the highest-profile Nashville artists to do so. Couple that with John's openness about his mental health struggles, and the pair have become standard-bearers for a heightened sense of authenticity, something their fan base already loved them for. "For the first time, John and I are freely ourselves in every way," TJ says. "To expand on that and lean into it more than ever, it made sense to self-title the album because I feel like it's the first time we've really been open."
Below, listen to a couple of the album's tracks and read more of our interview with TJ on songwriting, letting go of the guitar, and why breaking up is hard to do. Brothers Osborne is on tour this September and October, including a series of special album-release shows in New York, Nashville, Washington D.C., and Los Angeles. The album is out today and available to order here.
One of the hallmarks of good songwriting is that anybody can put themselves into the song and take something out of it. But with you coming out and John talking about his own health, was there an inclination to try to write something more specific?
We haven't released music since I came out, and I suppose some people expect me to say something. But in some ways, it feels like it's a little too on the nose to talk about it. I have been speaking about it; it's just that people didn't know that aspect as far as relationships and my life experiences—the good, the bad, the fun, and the heartbreak. There's a song on the album called "We Ain't Good at Breakin' Up" that was inspired by my relationship with [partner] Abi. Early on, we tried many times to call off [our relationship] because many things didn't make sense as to why we should be together, mainly because we lived far apart. We would try to end it and never could. So we joked that we're just not good at breaking up. I said that to a songwriter friend, and he said, "Hey, let's write that." So, while it doesn't specifically go into our relationship, it is a song entirely inspired by it. 


You guys went all out in bringing in different sounds for the album. People probably don't think synthesizers are something in your toolbox, but it still feels natural.
We wanted to show our influences from rock to country to R&B. Mike has worked on all that stuff, so it was just kind of painless to jump around to each of those things. It didn't feel like, at any point in time, we had to wonder if this was country enough or if this is what country radio is gonna like. It was just making music that we would be proud to play for somebody. I think we've hit that mark, but we'll see what the fans think. It's always a nail-biting moment when you release new music.


I talked to your brother at his studio earlier this year, and while he's an amazing guitarist, he told me that you often come up with the riff for some of your songs. Is that accurate?
I mean, John has come up with some amazing, memorable parts. I'm a good guitar player, but I'm limited, so I try to figure out how to do things in more of a creative way than seems obvious or straightforward. "Shoot Me Straight" [from the 2018 album Port Saint Joe] is a drop D riff. And there are a million drop D licks, but this one was in a really weird form. I just kept playing it, and we tried to write over it, but it wasn't working. We had written this ballad that we loved but didn't like that it was slow and boring. John said take that lick and put it over that song, which is how it came out. But I've been playing guitar less than I have in the past, especially live. As the stages get bigger, I don't love being tethered to a guitar.


You can ease into your lead-singer-as-showman role!
I've enjoyed being able to move around the stage and feel just a little bit more freedom in that respect, and step outside of my comfort zone a little bit at times.


I imagine it's not only mentally and creatively freeing but also physically. You're more comfortable in your own skin.
Oh absolutely. I wouldn't categorize anything I was doing on stage as flamboyant, but I would completely avoid anything that might bring up the question. Now, my worry isn't that you'll know I'm gay; it's that you're just gonna think I'm an idiot.