Just like real moms, movie moms tend to steal the scene in their supporting roles. That's especially true for these standout Southern characters—and so what if they embody a cliché or two? The grit and grace of a "steel magnolia" just sound better in a honeyed accent.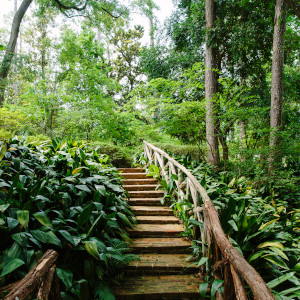 Lynn Whitfield in Eve's Bayou
The moss-draped swamps of Louisiana harbor dark secrets in this 1997 Southern gothic classic, but Whitfield shines as Roz Batiste, a well-heeled matriarch whose nary-a-hair-out-of-place exterior belies the pain wrought by a philandering husband. She's also a formidable mama bear; when her psychic sister-in-law foretells of a child getting hit by a bus, she puts her own kids under house arrest. Spoiler: It's not enough to stop the chaos barreling at the Batiste family. —Elizabeth Florio, digital editor
---
Blythe Danner in The Great Santini
In another film with a problematic father and romantic coastal setting (Beaufort, South Carolina), Danner plays Lillian Meechum, the doe-eyed wife of a fighter pilot who calls her kids "sugar" and loves her husband despite seeing his flaws. "He beat you, and it was beautiful," she utters in the best-known scene of the 1979 adaptation of Pat Conroy's semi-autobiographical novel. Her most powerful moment, though, comes at the end, in a scene I've remembered at more than one funeral: "If you wish to cry, you cry now. Cry here at the house. Cry with each other and with our friends, but tomorrow there will be no tears. You will remember at all times that you are the children of Bull Meechum, and you will act accordingly." —E.F.
---
Oprah Winfrey in Beloved
In 1997, a year before the film Beloved, adapted from Toni Morrison's Pulitzer Prize­–winning novel of the same name, was released, Oprah Winfrey snagged a whopping 90 percent familiarity rating by Q Score—meaning only 10 percent of the people the clout-evaluator polled didn't recognize the longtime talk-show host. Even so, the ultra-compelling Winfrey managed to completely disappear into Sethe, a formerly enslaved mother determined to keep her children free from the Sweet Home plantation in Kentucky, even if that means going to unimaginable lengths—a decision that literally comes to haunt her. —Amanda Heckert, executive editor
---
Holly Hunter in O Brother, Where Art Thou?
Despite her relatively limited screen time, Holly Hunter provides some of the most memorable lines in the already ultra-quotable 2000 Coen Brothers classic. (In my house, "He's bona fide" and "That ain't your daddy—your daddy was hit by a train" are regular declarations.) Hunter's character, Penny Wharvey-McGill, the estranged ex-wife of protagonist Ulysses Everett McGill (George Clooney), is the ultimate Southern mom, leading seven headstrong, harmonizing daughters—one on a twine leash—through "the Five and Dime, buying nipples." Penny sets the standard for her Little Wharvey Gals, refusing to let a man drag her down, and like any Southern woman, she teaches her daughters by example the value of a good heirloom. —Caroline Sanders Clements, associate editor
---
Kathy Bates in The Waterboy
Kathy Bates's Mama Boucher hits a checklist of cheesy Southern stereotypes: She drawls out an over-the-top accent; cooks up snake and electrocuted squirrel; silences threats with religious fervor ("Little girls are the devil!"); and comes down with a crippling "brain pain" over any little worry. But as fans of this 1998 Adam Sandler romp can attest, Mama does go through a believable change of heart. And if there's a little nugget of truth in every cliché, this one affirms how Southern mamas can be protective, loyal, and wickedly funny. —CJ Lotz, senior editor
---
Cicely Tyson in Sounder
Based on William H. Armstrong's Newberry Medal–winning children's novel about a family of sharecroppers in Depression-era Louisiana and their beloved coonhound, Sounder was a major box-office hit in 1972. Though painfully honest and heartbreaking at times, the coming-of-age story is ultimately a tale of hope as the family strives to overcome racism and poverty. It's also the first movie to feature Oscar-nominated performances by two Black actors, including Tyson, who portrayed Rebecca Lee, the passionate, tenacious mother with a fierce love for her husband and children. —Emily Daily, newsletter editor
---
Ellen Burstyn in Divine Secrets of the Ya-Ya Sisterhood
Everyone loves an over-the-top Southern drama queen—but maybe not when she's your mother. Ellen Burstyn lives up to her surname, bursting into every one of her scenes in this 2002 film as the bombastic Vivi Walker, who has a habit of "ruinin' everybody's life," including that of her playwright daughter, Siddalee (Sandra Bullock). With the help of her other mother figures—Vivi's best friends, the Louisiana-wild Ya-Yas—Siddalee comes to understand, and perhaps even forgive, her mother's shortcomings. Based on Rebecca Wells's 1996 novel, Divine Secrets gives Burstyn plenty of runway to make Vivi both memorable and empathetic. And she pulls it off, naturally, with aplomb. —A.H.
---
Mary Louise Parker in Fried Green Tomatoes
There are a bevy of inspiring women in Fried Green Tomatoes, the 1991 classic based on Fannie Flagg's novel. But it's Ruth, the strong-willed housewife-turned-cafe-owner played by Mary Louise Parker, who exemplifies the power of a mother's love. When her abusive ex-husband returns home (decked out in Ku Klux Klan robes, no less) to see their child, Ruth entwines her fingers protectively around her son's crib and guards him with a defiant determination. After the tense encounter, she declares, "If that bastard, Frank Bennett, ever tries to take my child, I won't pray. I'll break his neck." Though she's never forced to take action, you know from the look in her eye she'd make good on her word. —E.D.
---
AND Mary Louise Parker in The Client
She's not perfect, but she's believable. In the 1994 film adaptation of a John Grisham classic, Mary Louise Parker empathetically portrays Dianne Sway, a broke and gritty Memphis mother at her wit's end, whose mama-bear instincts pit her against cops, doctors, the legal system—any authority figure who could endanger her two sons. She at first bristles at the "charity" of Susan Sarandon's Reggie (and the audience later learns Reggie's own heartbreaking motherhood story), but the two women come to an understanding in the name of truth and helping son Mark through a harrowing coming-of-age. —C.L.
---
Sally Field in Steel Magnolias
If you came to Steel Magnolias expecting a silly comedy and came away clutching a box of tissues, Field's performance is a big reason. As the first anxious, then grieving mother M'Lynn, she encapsulates the 1989 flick's singular blend of earnestness and levity in one climactic scene (spoiler alert). Unleashing her pain on her pals, she morphs between devastated and angry ("I just want to hit something!"), then finally breaks into laughter when one friend offers up another—a crotchety Shirley MacLaine—as a punching bag. It's a gem in the portfolio of a legend. —E.F.
---
AND Sally Field in Forrest Gump
From that same portfolio comes the proverb-slinging "real smart lady" who anchors this 1994 odyssey based on the book by Winston Groom. With a moral compass as straight as her son's spine is crooked, Mrs. Gump would do just about anything to make sure Forrest receives the same respect and advantages other children do. After mother and son say their touching final farewell, we are all the lady on the bench next to Tom Hanks, dabbing her eyes. —E.F.