Brian Harman's career has been anything but sunshine and rainbows. On Sunday at the Royal Liverpool Golf Club in Hoylake, England, the Savannah native still didn't see the sun (no one at the rainy venue did), but he did find a pot of gold—actually the Claret Jug—as he ran off with the 151st Open Championship.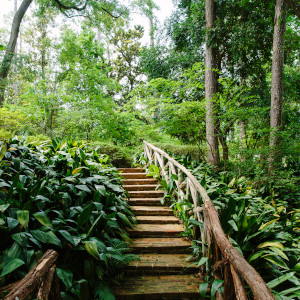 It was the culmination of a long and sometimes frustrating journey. The Savannah Christian graduate and former University of Georgia star, who turned pro in 2009, had notched two tournament wins (at the 2014 John Deere Classic and at the 2017 Wells Fargo Championship), but since that last victory, he recorded twenty-nine top-ten finishes—more than any PGA player without a major victory during that time—and four runner-up finishes.
Harman had started to wonder if his time would ever come to win a major. "I'm thirty-six. I'm over the hill," he said with a laugh during a post-Open interview on the Golf Channel. "It was worth the wait. … For a week, it all came together; the putter worked."
Actually, everything worked. The Sea Island resident completed his week with a final-round 70, including an eight-foot putt for par on the final hole. Harman's six-stroke victory came over a quartet of top-thirty competitors, including fellow Bulldog alum Sepp Straka, who also attended high school in Georgia (Lowndes in Valdosta) and now lives near Birmingham, Alabama.
Harman played fearlessly, taking a page from his alma mater's playbook. "I kept thinking about something [UGA football coach] Kirby Smart said: 'I'm not going to be hunted. I'm going to hunt,'" he told the Golf Channel. "I decided to go out and take as much control as I could."
Taking control of the tournament and possession of the Claret Jug made him only the second UGA alum ever to win a major—Bubba Watson won the Masters in 2012 and 2014—and the first to win the Open.
Back home in Savannah, the locals were paying close attention. At Southbridge Savannah Golf Club, the course Harman grew up playing, a crowd of sixty or seventy people gathered to watch the final round, general manager Michael Butler says.
"The atmosphere was great. Our members have a lot of pride in Brian and have supported him for a long time," Butler says. "We all knew he could win on tour. We always thought he could win a major; it was just when would that happen? And which one would it be?"
On Sunday, they got their answer.