Sure, there's inherent irony in pulling out your phone to appreciate a verdant forest or vast night sky. But while technology may dampen our senses, it can also deepen our understanding of the world around us. Just in time for Earth Day on April 22, we've rounded up five fantastic apps, all available for iPhone and Android, that celebrate nature and human ingenuity alike.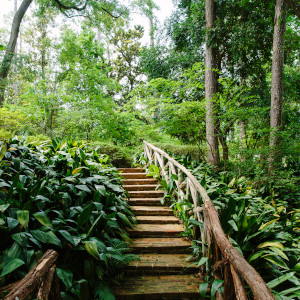 Best all-purpose identifier: Seek by iNaturalist
From the team behind iNaturalist, a social network and species identification app, Seek is a slick little tool that recognizes all kinds of flora, fauna, and fungi, plus vestiges of life like seashells. It's free, easy to use, and—thanks to iNaturalist's image database—fairly comprehensive. Simply position the object in the frame (no need to take a photo unless you want to earn a badge), and the "ID meter" will begin narrowing down the taxonomy. If necessary, it will encourage you to get closer or try another angle ("Almost at species!"), so you get to practice your wildlife-stalking skills.
---
Most awe-inspiring: Merlin Bird ID
In our office, it all started with our digital producer posting a Merlin screenshot to Instagram. One by one, other G&G staffers downloaded the app, and now it's a collective obsession. This free masterpiece from the Cornell Lab of Ornithology lets you identify birds through three different methods—uploading a photo, answering questions, or coolest of all, capturing real-time sound. Tap record, then watch the app pick up bird calls in quick succession. If you're somewhere leafy, it's a revelation. ("Birds: They're all around us!") Even cooler, the species name lights up whenever its song is sounded, so you'll learn the insistent chirp of the Northern Cardinal or the rhythmic trill of the Eastern Towhee without even trying.
---
For plant people: PictureThis
An app better be good to justify a $29.99 price tag, and this writer can vouch that PictureThis is among the most called-upon in her phone. Not only is the plant ID tool dependably accurate (a 2022 Rutgers University study ranked PictureThis first among its competitors), but one tap of the camera delivers tons of info beyond the species name: an image gallery, a care guide, a list of benefits to wildlife, perhaps a snippet of a poem referencing that plant. If the specimen you snapped doesn't look so healthy, you'll even get a diagnosis. It's the best friend of the botanically inquisitive.
---
For navigating the night sky: SkyView
There are several impressive astronomy apps out there, and it's worth testing a few to find your preferred interface and features. But if you're mainly looking to surf the sparkling dome above you, Apple's top education app wins points for speed, beauty, and ease of use. Aim your phone anywhere at the sky (or ground, the earth being round after all) for a nimble overlay of identified stars, constellations, planets, galaxies, and objects like the International Space Station and Hubble Space Telescope. The paid version is only $2.99 ($1.99 for Android) and shows greater celestial detail and specific satellites and space debris—a recommended upgrade, as seeing our own stuff up there (there's a lot of it!) is as fascinating as studying the natural cosmos. 
---
If you wanted to be a marine biologist when you grew up: Shark Tracker by OCEARCH
What the app is not: A tool to find a shark-free spot to surf or snorkel (though for the anxious, it might suggest where not to go). What the app is: A semi-addictive way to eavesdrop on sharks tagged by the nonprofit OCEARCH—mostly great whites (some ninety of them) but other species too, including whale sharks, and all on the East Coast. Tap a shark icon to see that animal's name, weight, toothy mug, and other factoids. You can also track the individual migrations of these incredible swimmers (right now they're clustered around the Outer Banks), so prepare to get invested in the journey of an 1,308-pound predator named Bob.