Kaitlan Collins is a proud alumna of the University of Alabama, and in her role as an anchor on CNN This Morning alongside Don Lemon and Poppy Harlow, she rarely misses a chance to tout the Crimson Tide. (She recently got into an on-air sparring match with Lemon, who's an LSU fan). She's such a vocal supporter of her alma mater and its famously winning football program that fans from her 250,000-strong Instagram following often message her, asking for tips on what to do in Tuscaloosa, where the school is based. She offers a few of them here.
Stay
I recently stayed at the Hotel Capstone. It's such a fun spot because the football team stays there on Friday nights. If you book in time, which is difficult to do, you can see the team walk out of the hotel—all dressed up in their suits—two hours before kickoff. I also love the Embassy Suites downtown. By the time we got to our room they had two cold beers and two shakers—in Tuscaloosa, we never call them "pom poms"—waiting.
Eat
If you get into town on a Friday afternoon, one of the best places you can go is Innisfree Irish Pub. Sit outside and have a beer and pub fries covered in cheese, chives, and bacon. It takes me back to college. For dinner, Chuck's Fish is so good. If it's not football season, you might have a Nick Saban sighting there. Last time I was in town, I got up before the rest of my family and went to The Waysider. It's an old school diner-style restaurant. They have fresh homemade biscuits…Now that I live in New York, I can't always get things like grits, biscuits, and classic Southern food. So when I'm home, I'm eating all of my favorites.
Shop
When Bama rush TikTok became such a thing, the one thing I got asked about was "What is the Pants Store?" People were so confused by the name. It doesn't only sell pants, but it's this great store in downtown Tuscaloosa with cute, trendy clothes. I always stop by if I've forgotten anything. We're very creative with our names…there's also the Shirt Shop, for Alabama gear. They have to update their hats just about every year with the number of national championships Alabama has, so you're almost always going to get a new version.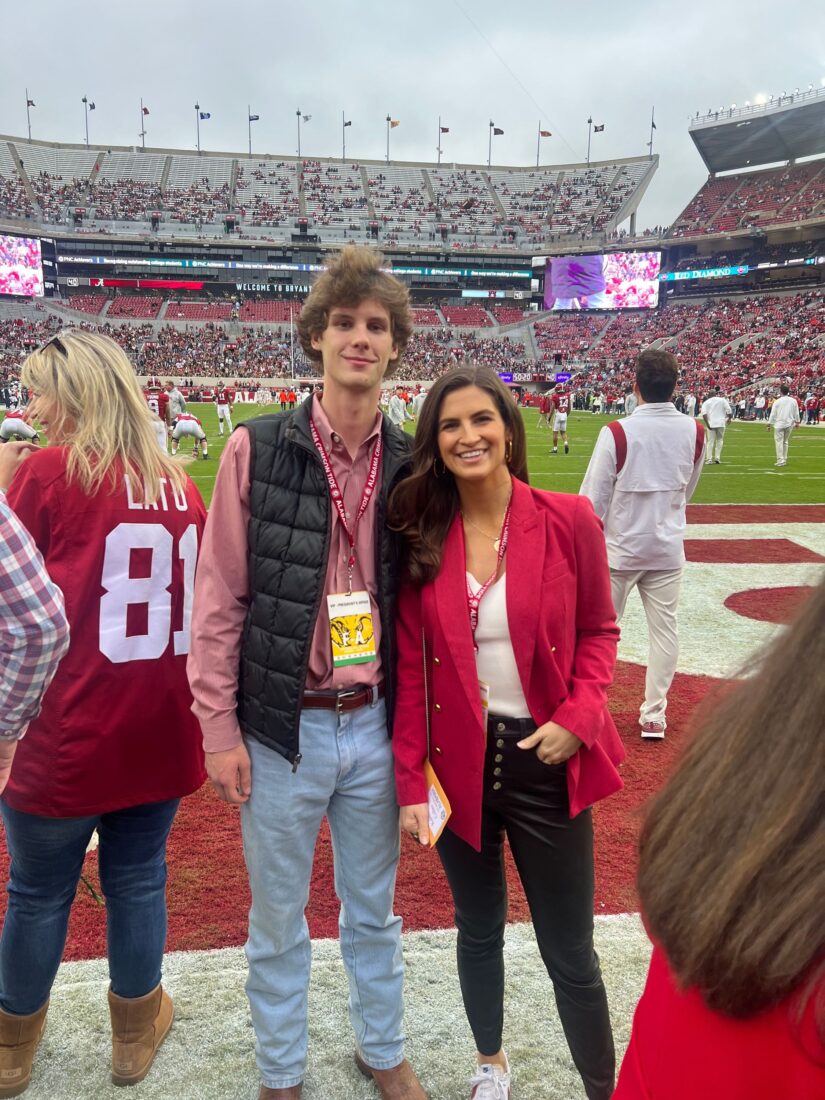 See
The Tuscaloosa Amphitheater is amazing for seeing shows. They redid it when I was in school. I interned at the Tuscaloosa News, and one of my biggest assignments was to cover the Willie Nelson and Merle Haggard concert. The Tuscaloosa newsroom is on top of a hill overlooking the amphitheater. I left when there were just four songs to go and ran up the hill, back to the newsroom for my deadline. The next day I was out for lunch with friends and saw the paper. They put my story on the front page. It was the best feeling ever. When I think of the amphitheater, I think of that concert.
Sip
There are so many [bars], and it's fun to stop by and see which ones are less crowded. Innisfree Irish Pub and Gallettes are two I always try to fit in when I'm there. It's also fun to go to the Alcove. We'll normally walk around downtown and then go to Black Warrior Brewing Company. They brew their own craft beer and have a tasting room. It's a great spot to play trivia and hang out.
Do
When I was in school, it was fun to do something outside of what most college students were doing. We went to art shows at the Sarah Moody Gallery of Art. I covered the Kentuck Art Center & Festival when I was there; the fall festival features a breadth of crafts. Finally, Paul W. Bryant Museum on campus is awesome. It's got historic sports paraphernalia, Joe Namath jerseys, and such. It's totally worth going to.
Stroll
The university campus is truly breathtaking. When you're coming down the main road, you've got the quad and Bryant-Denny Stadium and Amelia Gayle Gorgas Library on the right. On your left is the President's Mansion with Greek Revival–style architecture. Walking on campus is one of the best things you can do to get a sense of how big it is.