It started with a wild thunderstorm, the kind of Southern tempest that whips up out of nowhere and drives people indoors. Parisians and longtime friends Alexandre Durand and Tom Carles—stranded as college students in the United States during the pandemic travel restrictions of summer 2020—had booked a getaway to Charleston, South Carolina, and as the rain lashed their Airbnb, they pulled up TikTok and started dabbling. Their inspiration: the differences between their homeland of France and the States, cultural stereotypes, and the overall fascination with their accents.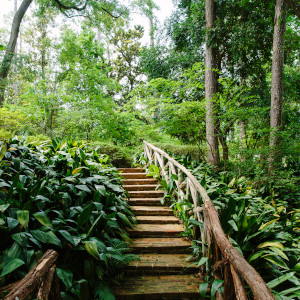 "For us it didn't make any sense, because we were like, 'we're not doing it on purpose, that's just the way we talk,'" says Durand, who at the time was transferring to Longwood University in Farmville, Virginia; Carles, meanwhile, attended Mississippi College in Clinton, Mississippi. "So we [thought], 'Let's actually make fun of it and pronounce English words.' And then we started making fun of French accents."
Three years later, that formula—to create videos that are "educational while having fun," Durand says—has worked très bien. Known as AT Frenchies (a nod to the first initial of their first names), Durand and Carles churn out a hilarious stream of cultural commentary and French 101 across their social media platforms, from cool-kid slang to dining tips at a Parisian bistro (hint: don't even think about requesting almond milk with your café au lait). They've earned millions of followers, partnerships with language apps and online schools, collaborations with the French and U.S. embassies, and even invitations to highbrow events like the White House Correspondents' dinner and the Cannes Film Festival.
Durand, who will soon graduate from Longwood with his MBA, has recently moved from Virginia and is currently traveling around Europe, while Carles is now at the University of Mobile working toward his master's degree. But even with the Atlantic Ocean between them, AT Frenchies is still going strong with a new video almost every day. Here, they speak with Garden & Gun about college football, arguments at the Waffle House, and the beauty of Southern (and French) accents.


What were your first impressions of the South?
Tom: When I arrived in Mississippi, people were so nice to me. They helped me so much in my daily life. I was very, very, very bad in English. Sometimes I had to whistle and point to things, showing people what I was trying to say. Most of the time it was for objects, like the remote control or the glass or whatever. It became a thing between my roommate, who was Peruvian, and me. Everyone was helping me all the time—relationships that I never felt before. For example, in France, with your teachers, it's more like orders, discipline, '[I'm] the teacher, you're the student, and let's just keep it that way.' In the U.S., the first teacher I met was the nicest person and the nicest teacher I've ever had.


Did you have any trouble with the Southern accent?
Tom: I learned English with it, so for me, it's normal. Because I came directly [to] the South, for me there was no Southern accent or Northern accent. It was just English as a whole. Now, I do hear different accents. But [the Southern one] feels warm and cozy.
Alex: I still have a hard time understanding it sometimes. I was watching this show with my girlfriend: Farmer Wants a Wife. And sometimes I struggle to understand what they're saying. But it's the same for the French accent. There's so many different French accents within France, and even outside of France, that are all unique and all beautiful.


What brought you to Charleston that summer when you started AT Frenchies?
Alex: We said, let's go on vacation somewhere affordable, warm, and where we can surf. We were watching Outer Banks on Netflix, and we just loved the place. The landscapes were beautiful and reviews online were amazing. So we booked our flights.


What do you think about iconic Southern food chains like Waffle House?
Alex: Waffle House is great. It's very cheap, it's open 24/7, and after a few drinks, it's one of the best places to go to. But one of the things I remember about it most is the one and only argument with Tom happened at a Waffle House in Mississippi. The argument was about what's more important: having a lot of likes or a lot of views.


Who won?
Alex: Nobody. I think Tom's girlfriend told us to shut up.


Have you experienced the Southern rite of passage that is a college football game?
Tom: I've been to LSU, and it's the most impressive, biggest stadium I've ever been to, and I've been to a lot of soccer stadiums in France. It was just breathtaking. The atmosphere is amazing, and the halftime shows are nice as well. The bands are crazy!


What's next on the horizon for AT Frenchies?
Alex: We're trying to build as many events as possible. We're hosting dinners around French culture and language. We're going to host trips around the world to French-speaking places like France, Switzerland, Morocco, and Quebec. And we really want to build an online school where we can hire teachers and share actual French-speaking skills and videos that are a little more extended than our [current] videos. There's way more we can share online than skits and how to pronounce stuff.


Rapid Fire (Southern vs. French food version):
Biscuits or croissants?
Both: Croissants.


Gumbo or cassoulet?
Both: Cassoulet.


Peach cobbler or crème brûlée?
Both: Crème brûlée.


Fried chicken or coq a vin?
Both: Coq au vin.


Sweet tea or red wine?
Both: Sweet tea.