Clean lines, natural materials, and geometric and organic shapes characterize "midcentury-modern" design, a movement that first rose to popularity after World War II (and got a Mad Men–powered boost in the early 2000s). Many of these elements are also staples of the Bauhaus and Danish modernist movements, which traveled from Europe to New York City during the 1939 World's Fair. A design sensibility that first spread through travel is still especially relevant and popular in hotels today. From their glamorous poolside bars to chic suites and rooftops with views, these seven hotels around the South bring the midcentury to the twenty-first century.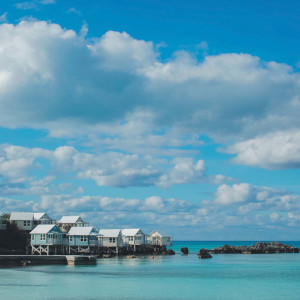 Chattanooga, Tennessee
This 1909-built brick building in downtown Chattanooga has served up more than a century of hospitality, and its current iteration is decidedly retro-glam. Sixteen individually designed rooms nod to midcentury-modern style with bold colors and wallpaper designs. A mix of thrifted finds and eclectic artwork fill the space, designed by the Chattanooga-based creative consultant Seija Ojanpera. All of the hotel's furniture is authentically midcentury (guests who stay in the Mod Suite can lounge on a black Adrian Purcell sofa.) See two original Witco pieces, including a world map on the third floor, and a large flower in the Tiki Suite. Other "standout pieces," according to Ojanpera, include "a unique Curtis Jere Spiral, signed and hanging in the third-floor stairwell. It catches the light beautifully, and I've never seen another. We also have a pair of metal potted tree lamps signed by Curtis Jere in Matilda Midnight."
---
North Charleston, South Carolina
This fifty-one-room motor inn has been family-run since it first opened in 1961 on the site of Woody Roger's Studebaker dealership. "The Starlight is especially significant for its unique method of modular construction," says Brittany Lavelle Tulla, the historic preservation consultant for the hotel's recent renovation. "It was the first prefabricated motel to come fully furnished in Charleston County—meaning each motel room is its own box that was assembled and furnished in a factory in Georgia before being shipped to the site—and possibly the state and nation." The motel's original footprint has been preserved, as has the modular infrastructure and floorplan. Lavelle Tulla adds that the motel's midcentury character-defining elements include the facade's 1960s full-height protruding portico, geometric metal railings, decorative concrete-block screen walls, check-in carport, as well as aluminum storefront windows and transoms. The wooden-paneled Burgundy Lounge is both a watering hole and a time capsule, too.
---
Dallas, Texas
When you step into the lift at the Statler (or in any hotel) and hear soothing melodies, you can thank the Statler's team of architects for the innovation. In 1956, it became the first hotel to pipe music into elevators. Originally encompassing some 1,001 rooms, the Statler was a midcentury hub for business travelers—who could even be transported to and from the airport via helicopter thanks to the rooftop helipad. The Y-shaped building ushered in a new era of modern design in Dallas and has stood the test of time. It's now converted into a much more spacious 159-room hotel on the first five floors, with 219 private residences on the upper eleven floors. Stop to see the vibrant, abstract, forty-foot-wide mural behind the reception desk—an original Jack Lubin from 1956 that was hidden behind a wall for around thirty years prior to its accidental discovery during construction. It was restored by local preservationist Michael van Enter.
---
Washington, D.C.
The reservations phone recording assures callers there is no need to break into this property made famous by the scandal of the same name—you can simply book a room. Built in 1961 by Italian architect Luigi Moretti, it was restored in 2016, with architect Ron Arad keeping its midcentury sensibilities with a wraparound stainless steel and brass-clad lobby. Custom new furniture, including the "Watergate" chair—an upholstered dining chair designed for the space—were the creation of the Italian company Moroso, putting a modern spin on classic designs. The wooden pieces in the hotel were made in Austria, rugs traveled from Spain, and Arad's own furniture designs also appear in the hotel—follow the copper-covered wall from the lobby to see his aluminum Orchid chaise in the Next Whiskey Bar, home to 2,500 illuminated whiskey bottles on custom shelving. The design doesn't stop with the built and furnished environment; spot front-of-house staff in uniforms designed by Janie Bryant, the costume designer for Mad Men.
---
Charleston, South Carolina
Commissioned by John F. Kennedy and built in 1964 as the L. Mendel Rivers Federal Building, the Dewberry's two-hundred-window facade echoes the hotel's past bureaucratic life. In 2016, it transformed into its new life as a hotel, the 100,000-square-foot space warmed with cherry wood paneling that accents the marble-floored lobby. Midcentury chairs and tables, procured at auction and from Lawson-Fenning modern furniture, create intimate gathering spaces throughout. (Sip a martini in the Living Room lounge for the full effect.) Mirrored columns, light fixtures reminiscent of the 1960s designs of Paul Mayen, and a custom brass map of Charleston by Peyton Avrett, whose grandmother worked in the building when it was a federal office, epitomize the midcentury design. Head to the Citrus Club on the hotel's roof for a magnificent panoramic view of the city.
---
Savannah, Georgia
Adelaide Harcourt, a seventh-generation Savannahian, leads this luxury hotel's art program, and her impeccable eye is evident in the mix of heirlooms and contemporary art, created with local artists at Nine Dot Arts. The strongest example of midcentury-modern–inspired design is in the lobby's lending library, co-curated by the owners of local bookstores E. Shaver and The Book Lady. Find oak plank flooring and soft nude walls, with velvet upholstered seating groups providing pops of vibrant color. William Harris, whose company AvroKO led the interior design, says the library feels like a chic home with a custom bar cart that "operates as the 'hostess' of the room, tailored with shagreen-textured leather upholstery and walnut and nickel detailing." Sign out a book to bring on a stroll around the city, or sit and read in the stylish lounge area.
---
Miami, Florida
The architect Morris Lapidus designed this iconic Miami Beach hotel in 1955, just a few years after he designed Miami's Fontainebleau. In a departure from the curvilinear Fontainebleu, the facade of the Eden Roc is defined by symmetrical blocks of mosaics in gradated shades of blue, angular balconies, and the funnel of an ocean liner that in glowing letters reads "Eden Roc" in Lapidus's script. The lobby's sixteen-seat bar, reimagined by interior designer David Rockwell during a $250 million renovation completed in 2018, features period-appropriate teak furnishing, modern lighting, and a soft coastal color palette. Outside, guests have three pools to splash in for an afternoon of relaxation that any traveler—of any era—would enjoy.