There are more barrier islands along the coast of South Carolina than any other state except Florida. The ephemeral stretches of beach, dunes, maritime forests, and wetlands are Mother's Nature's first line of defense, protecting the mainland from coastal storms and hurricanes. "These islands have long and deep relationships with the Atlantic Ocean," says Captain Chris Crolley of Charleston's Coastal Expeditions, who has spent more than three decades studying, exploring, and shuttling visitors to these outlying addresses.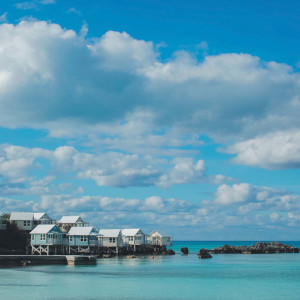 Unlike sea islands, which sit back along creeks and inland waterways, barrier islands are wholly at the mercy of the elements. The islands' dynamic windswept beaches and rugged coastal landscape are a big part of their appeal, and folks flock to South Carolina barriers like Isle of Palms, Kiawah, Sullivans Island, and Hilton Head in larger and larger numbers, even as rising water levels require increasing beach refurbishment. And while there are plenty of reasons those islands are well loved, you can avoid the crowds and congestion if you head for one of these six under-the-radar destinations, ranging from family-friendly resort islands to pristine state parks and protected wilderness areas.
Bulls Island
Part of the 66,000-acre Cape Romain National Wildlife Refuge, which lies just north of Charleston, Bulls Island is nearly the exact same size, shape, and orientation as its twin, the Isle of Palms, with one major difference…no humans. Instead, this Class 1 wilderness area is the purview of deer, otters, alligators, loggerhead sea turtles, and nearly three hundred species of birds. To reach this remote getaway, pick up the Island Cat Ferry at Garris Landing in Awendaw. From there, spend the day exploring the island's 13.7-mile trail system, making sure to budget time for a stop at Boneyard Beach, where dozens of downed oak, cedar, and pine trees have been bleached by the sun and salt air.
---
Daufuskie Island
Although four hundred or so residents call Daufuskie home year-round, the only way to reach this breathtakingly beautiful island, which sits just across the Calibogue Sound from the hustle and bustle of Hilton Head, is by ferry, private boat, or charter. The official Daufuskie Island Ferry runs on a three-hour schedule and picks riders up at the base of the Hilton Head bridge. There are few paved roads on Daufuskie and no hotels, but rental homes and golf carts aplenty. While you're on the island, discover Daufuskie's rich Gullah history by joining one of Sallie Ann Robinson's excellent tours. The sixth-generation islander is dedicated to sharing the history of the local Gullah people, the descendants of enslaved Africans who have lived and worked here for generations. A portion of each ticket sale goes toward the preservation of the island's old Gullah homes and cemeteries.
---
Edisto Island
Not much has changed on this easygoing island outpost in the last few decades—and locals wouldn't have it any other way. The large barrier island sits an hour south of Charleston in the ACE Basin, a unique tidal basin formed by the Ashepoo, Combahee, and Edisto Rivers. Fifty percent of the island's landmass is protected by a pair of wildlife sanctuaries, Edisto Beach State Park to the south and Botany Bay Heritage Preserve to the north. There are no hotels—part of the island's commitment to limited commercial development—but a host of traditional vacation homes for rent. Locals will tell you it's one of the last bastions of a diminishing no-frills coastal lifestyle, where barefoot kids still run from house to house with screen doors slamming and sand flying.
---
Fripp Island
Sandwiched between the wilds of Hunting Island State Park and the unspoiled sanctuary of Pritchards Island, this laid-back private isle offers both the conveniences of a resort community—world-class golf, pools, restaurants, a beach club, and marina—and the natural beauty of an undeveloped barrier island. Fripp is only accessible to resort guests, renters, or residents, so crowds are minimal, and visitors can stroll miles of beach and pedal oak-and-palmetto-lined trails in relative solitude. Nature lovers will appreciate the island's abundant wildlife; its beaches are important nesting grounds for loggerhead sea turtles and a variety of shorebirds.
---
St. Phillips Island
Attracting millions of visitors each year, Hunting Island State Park is South Carolina's most popular state park. With that kind of tourist traffic, it hardly qualifies as an under-the-radar destination, but nearby St. Phillips is decidedly quieter. Once the private escape of philanthropist Ted Turner and his family, this undeveloped tract was purchased by the state in 2017 and now falls under the Hunting Island State Park umbrella. Coastal Expeditions' Beaufort outfit runs day trips to the 4,680-acre island, where you can explore ancient dunes, pristine beaches, and mature maritime forest dotted with live oaks, Southern magnolias, and saw palmettos. Visitors looking to spend the night in this untouched slice of South Carolina wilderness can rent the old Turner family home for week-long stays.
---
Tom Yawkey Preserve's North and South Islands
The legacy of longtime Boston Red Sox owner Tom Yawkey, this 24,000-acre preserve in southern Georgetown County, which includes the entirety of North Island and South Island and a portion of Cat Island, is a true hidden gem. Yawkey donated the expansive property to the state upon his death in 1976, and today, visitors can access its unspoiled beauty on guided eco-tours and photo safaris, offered seasonally September through May. The tours are limited to just fourteen people and often book up months in advance. Camping is also permitted in certain areas of this wildlife sanctuary, but permits must be obtained two weeks ahead of your trip through the Department of Natural Resources.