Over two decades and seven studio albums, the Wood Brothers have honed a unique blend of roots, blues, folk, gospel, rock, and jazz, and on the Grammy-nominated trio's forthcoming album, Heart Is the Hero, that sound comes forth in its purest form. "The album was recorded analog without computers because we wanted the process to have limitations," says Oliver Wood, the lead singer and guitarist of the group, which also includes his brother and bass player Chris Wood and friend and multi-instrumentalist Jano Rix. "It made us feel more present and treat each song as a performance. Plus, the simplicity of making music without the infinite options afforded by digital recording made the studio fun again."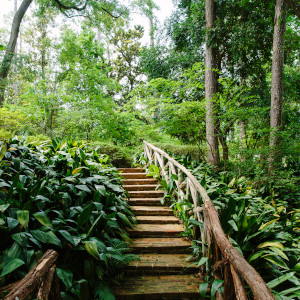 That spirit of being present and connecting with others is a theme that runs throughout the album lyrically as well. Take "Line Those Pockets," which G&G is proud to premiere. "It alludes to our common struggles and the relief that comes from connection and self-awareness," Chris says of the song, which urges listeners to "line those pockets with grace" rather than money.
With Rix on the drums and Wurlitzer piano—which he played at the same time while recording—Chris on upright bass, and Oliver on acoustic guitar, the song's groovy melody and steady backbeat build on a Latin-Reggae rhythmic foundation. "I'm influenced by the great Cuban bass players Cachao López and Orlando 'Cachaito' López," says Chris, also a member of the jazz trio Medeski Martin & Wood. "It's an influence I normally don't use with the Wood Brothers, however it worked for this song, so we leaned into it."
"It's a bit of an outlier on this record, but one of our favorites," Oliver says. "The themes of connection, compassion, and paying attention, though, fit right in."
Listen to "Line Those Pockets" below. Heart Is the Hero is out April 14 and available for pre-order here.