East Tennessee singer-songwriter Zach Russell once moved to Nashville, like so many other hopeful musicians. It didn't turn out quite as he'd envisioned. After landing a gig as Tyler Childers's merch salesman, though, traveling the country with the rising artist, he saw it was possible to succeed in music while staying true to yourself. And after years of surveying his adopted hometown, Russell decided to pursue his dream on his own terms, namely by moving back home.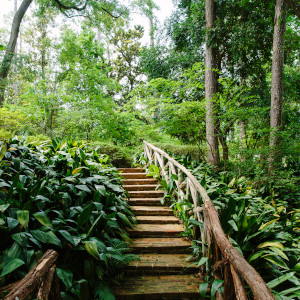 "In Nashville, there's too much noise—music was everywhere, and people just didn't care," he says. "I get [why] Nashville is a necessary place for the machine and the business, but at the same time, I don't think that's where you should be moving to write roots-country music. You should be in the mountains if you wanna write about the mountains."
Russell and his wife moved back to Caryville, Tennessee, north of Knoxville, where his creativity blossomed into his debut full-length album, Where the Flowers Meet the Dew, out in December. Today, G&G is proud to premiere the track "Take Me Back to Tennessee," which lays out all the reasons he longed for home. In the nodding waltz, Russell fingerpicks the chords while an organ fills in the notes of the melody underneath his Sturgill Simpson–esque vocal delivery.
The song's accompanying video explores the terrain of his home turf from the ground and the sky, as the ancient Appalachian Mountains descend to verdant valleys. Anchoring the clip are memorable shots of Russell playing and singing at a landing on the Clinch River near their home—a favorite spot of his—as fog shrouds the landscape.
"You're right down from the dam, so this cold water that's coming out of the bottom of the lake is coming out into the hot summer air, and you get this crazy fog," he says. "It gets so thick you can't see across the river."
Watch the video for "Take Me Back to Tennessee" below, and read on for more of our interview with Russell about the song's origins and his path to music. Where the Flowers Meet the Dew is out December 1 and available for pre-order here.
Tell me about the inspiration behind "Take Me Back to Tennessee."
I was living in Nashville and was just so over it. I missed the mountains and the space. I was feeling smothered, and it was slowly making me miserable. I think when I wrote the song, I was trying to figure out a way to say [that] one day I'll be back in East Tennessee or Caryville, but it just didn't work. You can mess up a line trying to be that literal.


At what point did you decide to make the pilgrimage to Nashville?
Coming out of high school, I had no idea what I was going to do. I played music and rambled about for a few years, and then went to a local community college. I had taken a bunch of mushrooms one night, and at some point during the night, it just got in my head, like, "I need to move to MTSU [Middle Tennessee State University, about thirty miles southwest of Music Row] and study music. That's what I'm gonna do. That's what makes sense." And so I stayed awake 'til the school office was open and called and made an advisory appointment.
For a while after college, you ran the merch table for Tyler Childers, who was blowing up. What did that experience teach you?
One thing I learned is how serious and focused you had to be to accomplish something like that. You really had to have a very clear vision of what it was that you wanted to do. And one of the most important things I saw was how even on your worst shows, merchandise can keep you afloat and going down the road. I thought it was possible to assemble a team and crew around [me] and navigate that whole thing and still be a good and kind person.


When you left Nashville, were you nervous about moving away from a music-industry town?
I was kind of nervous at first. You always hear Nashville is a ten-year town, and here I was, almost at ten years, and I was leaving. But at the same time, I was starting to hear a lot of success stories. I was watching Tyler and people around him, and people were building these real, lasting foundations. And they were doing it outside of Nashville.


How does this album represent you as an artist right now?
It's me really figuring out who I am, and what I think and stand for and believe in. I think this is the first time when I married a sound [to] what I think about day to day. I finally found a way to put that stuff in music [where] everything fits together and works in a natural way.