Southern culture includes a long history of weaving and basket-making, which is perhaps why decor that works in a natural woven reed or grass looks so at home in our abodes. They add a charming, dressed-down, I'm-on-vacation quality to any space. And right now, the interiors world is offering all manner of accents featuring a range of materials from rattan to water hyacinth. Here are a few of my current favorites.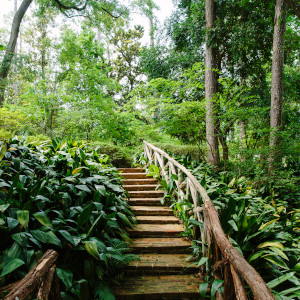 Tissue Box
This rattan cover for an everyday essential from Dear Keaton will sit pretty in a powder room or on a bedside table ($44; dearkeaton.com).
---
Mirror
Lulu and Georgia's woven bamboo mirror allows the wall color to peek through ($598; luluandgeorgia.com).
---
Urn and Pedestal
Wherever this outdoor duo by Mainly Baskets Home ends up living, it's sure to add a grand sense of scale and glamour to any space ($488 for urn, mainlybaskets.com; $1,293 for pedestal, mainlybaskets.com).
---
Bar Cart
We're fans of any beverage station that's movable, and that includes this compact rattan design on casters from Dear Keaton ($748; dearkeaton.com).
---
Hanging Baskets
These massive (at nearly two feet in diameter) and enormously charming hanging baskets from Brooke & Lou are perfectly sized for big, deep porches and verandas ($125; brookeandlou.com).
---
Candles
What's not to love about a chic, raffia-wrapped candle scented with heady orange blossom? These Jayson Home numbers make the ultimate summer host gift or self-care treat ($55–$395; jaysonhome.com).
---
Sconce
Encasing a traditional, rectangular lantern silhouette in bamboo, as Burke Decor does here, reinvents the whole idea ($300; burkedecor.com).
---
Bar Stools
I can personally vouch for these sturdy, handsome Serena & Lily stools that I purchased several months ago. I thought for sure they would be too flimsy for use by my five year old, but they have been resilient ($328; serenaandlily.com).
---
Large Basket
The biggest of this water hyacinth basket trio from Magnolia Home (all sold separately) is such a chameleon. It works as a laundry bin, a stashing place for throws or firewood in a living room, and, my favorite idea of all, a receptacle for a terracotta pot to plant up on the porch ($150; magnolia.com).


Garden & Gun has affiliate partnerships and may receive a portion of sales when a reader clicks to buy a product. All products are independently selected by the G&G editorial team.