Bluegrass music is having a mainstream moment—maybe its biggest since the throwback soundtrack to O Brother, Where Art Thou? went platinum eight times over and won Album of the Year at the 2002 Grammys.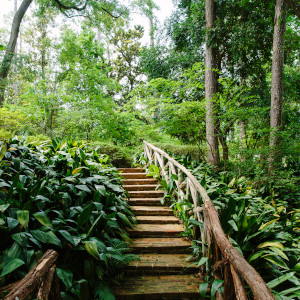 Today, a new generation is bringing that classic sound to the masses once more. Artists like Billy Strings, Tyler Childers, Molly Tuttle, and the Nashville band the Infamous Stringdusters are not just picking melodies at bluegrass festivals this summer, but also at amphitheaters and arenas across the country. "The table is set for more people to listen to this music [and] to play this music right now than ever before," says Chris Pandolfi, who plays banjo in the Stringdusters. "It's a really encouraging thing to see."
But looking back is just as important as moving forward, and as the genre pushes into the twenty-first century, Pandolfi and his band have launched a campaign to uplift the origins of the Appalachian folk music popularized by trailblazers like Bill Monroe and Lester Flatt and Earl Scruggs, of Flatt & Scruggs. The band nodded to the former on their Grammy-nominated 2021 album A Tribute to Bill Monroe, and now they're doing it for the latter on A Tribute to Flatt & Scruggs, out today.
Recorded live with all five band members playing together in one room, just like their forebears did, A Tribute to Flatt & Scruggs includes the band's takes on "I'd Rather Be Alone," "Will You Be Lonesome Too," and four other bona fide bluegrass classics.
"Flatt & Scruggs have had a huge impact on us as a band, and on me as an individual," Pandolfi says. "Not only are they on the Mount Rushmore of bluegrass, but Earl Scruggs's banjo style is one of the bedrock elements of bluegrass. They set the standard for how the sound is all about the instrumentation, the style of songwriting, the singing, the playing."
The Stringdusters will also spotlight the legendary duo's music during their set at the second Earl Scruggs Music Festival, September 1–3 in Mill Spring, North Carolina. Scruggs got his start in music just thirty-five miles west in Shelby, now home to the interactive Earl Scruggs Center, which features—among other artifacts and exhibits—the banjo Scruggs played when developing his biggest legacy, the three-finger banjo picking technique.
We spoke with Chris Pandolfi about A Tribute to Flatt & Scruggs and what it means to introduce newer bluegrass fans to their legacy.


Flatt & Scruggs was a touchstone group for the Stringdusters. What about Earl Scruggs's banjo style inspired you?
There really was not a lot of precedent for what Earl did. There weren't any players who were playing banjo with three finger picks, and he developed his style—the roll patterns and interwoven melodies—very specifically for bluegrass. 
When I was learning to play, I was most interested in the progressive end of the spectrum. As I got more into it, I got some great advice from Ben Eldridge from the Seldom Scene. He said that even if you're a progressive banjo player, you really need to learn Earl's style, because that's what puts all the more futuristic elements of banjo in context. I really took that to heart and spent a lot of time learning Earl's style, and it had a huge influence on me as a player.


Each musician in the band got to pick a song on the tribute record. Which did you choose, and why?
I actually picked two on the record. One is "Earl's Breakdown," a classic Flatt & Scruggs instrumental and a tune I loved from early on. One instrument will state the melody and then everyone will play a solo and come back to the melody before [the song] ends. "Earl's Breakdown" is just a killer, straight-ahead bluegrass song with a great melody. And I sing lead on "Blue Ridge Cabin Home," which is three chords, really simple, but still so soulful. Just a cool, beautiful song with great lyrics that conjure up an image of the South where bluegrass was born.


What keeps Flatt & Scruggs relevant today?
Bluegrass is more popular than it's ever been. When we started out as a band sixteen years ago, bluegrass was not nearly as popular; it just never really had a ton of popular appeal. It had these glances with the mainstream all along the way, [but] now we see the influence of the bluegrass lineage coming together to inspire people to get into this music, and we have some current artists who are really, really popular. To take on an album that potentially points fans back to these more old-school versions of the music is something we take a lot of pride in. As bluegrass gets more popular, I think you see [Earl & Scruggs's] influence is completely timeless.