Rae Liu remembers when, as a child, she salvaged seeds from watermelons, cantaloupes, and avocados, before planting them in bowls along her windowsill. It was only about eight or nine years ago, however, that gardening became a daily, devoted hobby for the Texas entrepreneur. "I didn't have a plan when I started, and in no way envisioned it would become as big as it has," Liu says of her decision to build a garden around her Dallas home.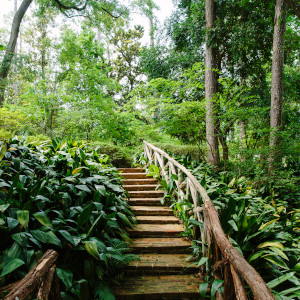 Now, native plants and flowering trees bloom alongside beds filled with poppies, peppers, cosmos, and carrots. "I've converted almost every single inch of usable space into some kind of growing area," says Liu, who is the co-founder of Leatherology, a leather goods company based in Texas that marks its fifteenth anniversary this year. As gardeners like Liu know, getting outside is a welcome reprieve from the daily grind and screen time of professional life. "Between social media, the metaverse, and now AI, we live in an increasingly digital world, and it can be hard to distinguish between what is and isn't real," she says. "Gardening is very tactile—from digging in the dirt, to cracking open a pea, to squishing a flower bud or smelling a tomato plant…it keeps me very connected with the physical world."
Michael Kinler of Kinler Landscape Architecture oversaw the yard's hardscape and landscape design, while Liu and her husband designed and built the garden itself, beginning with a few raised beds. Over the years the space has grown organically, and in 2019, they rebuilt it entirely after a tornado tore through their property. Today, Liu's garden comprises three distinct sections, including a large, caged plot, and two smaller areas with raised beds. Perennials and Texas natives like salvia, rudbeckia, and coreopsis border the yard, as well as peonies and daffodils.
No matter the time of year, something is always emerging from the soil, be it beets, lettuce, and fava or ranunculus and Icelandic poppies. Soon zinnias, celosia, and gomphrena will bloom, and Liu will plant her vegetable beds with okra, tomatoes, and eggplant. Even Liu's children, including her seven-year-old daughter, Kressa, and five-year-old son, Maxwell, have their own garden patches, and their helping hands come in handy during harvest time. "My kids love growing things they can eat," she says. "Carrots and shelling peas are their favorite, because they can pick them as well."
Liu aims to spend at least thirty minutes a day with her hands in the dirt. Amidst the busyness of her career, she finds comfort in the little gifts that time affords, like the sound of chirping birds or the joys of a fresh-cut bouquet brightening her kitchen. Every year, she gives away around one hundred tomato and pepper plants she started from seed to encourage friends to try gardening for themselves."I've met many people who tell me they tried once, but they gave up because they killed whatever they tried to grow," she says. "Like life, gardening throws curveballs at you, and you have to keep adapting. Hard work begets progress and results."