Palm trees dance above me as the ocean and gated mansions flank my car. All the while, the driver ahead of me dawdles at 30 in a 35. I don't even mind the snail's pace, which can only mean one thing: I'm driving down state road A1A.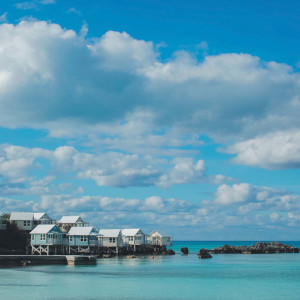 To travel down A1A is to travel a piece of Florida history. The coastal highway was originally built in the mid-1920s, attracting road trippers to Florida's coast, and runs from Fernandina Beach south to Key West. I find the stretch between West Palm Beach and Boca Raton particularly enchanting, but then again, I grew up in Boca, and driving up and down the route with my parents was a weekend pastime.
As a kid, you never fully appreciate the beauty of where you grew up, but as an adult who visits home less frequently these days, I want to soak it in every chance I get. Whenever I'm in the area, I insist on doing a cruise down A1A—even just a fragment—to get myself in the proper Florida mindset.
If I'm flying into Palm Beach International Airport, I rent a car before heading east toward the coastal scenic route. The drive to Boca from West Palm Beach is about thirty minutes on I-95, an hour if you take A1A. I can suffer in highway traffic any day—did I mention I live in Atlanta?—and I'm not here for efficiency. Driving down A1A, lush with sea grapes and coconut trees set against a backdrop of grassy dunes and the ocean, gives me a sense of place a concrete-sided highway can't provide.
Here's how I make the most of this adventure:
Before I get to A1A, I stop at Ann Norton Sculpture Gardens. The former estate of its namesake artist sits on a prime corner lot across from the Intracoastal in the El Cid neighborhood of West Palm Beach. A riotous collection of palm trees and cycads in varying shades and textures, as well as pollinating plants and orchids, surrounds the Spanish-style dwelling she called home. Paths through the garden reveal towering sculptures crafted by Norton and visiting artists. The house contains a gallery with rotating exhibits in various mediums, and Norton's sun-filled studio showcases her models and studies. A stroll through the tropical vegetation, especially post-travel, refreshes the mind.
After the gardens, I reach A1A in Palm Beach, located on a barrier island, by connecting to it from a busy thoroughfare. I immediately feel calmer as I turn onto the two-lane road, and the color palette shifts from strip-mall tan to one dominated by sea blues and leafy greens. I'll never own a mansion, but that doesn't stop me from stealing glances at the ones on this strip, which range in style from modern office building to Mediterranean estate. Their landscaping may be even more eye-catching than their architecture, with orchids clinging to banyan trees, whose multiple trunks resemble drippy candle wax.
Inevitably, I'm hungry around Lake Worth, where Benny's on the Beach resides in a beachfront plaza. The no-frills restaurant actually has two locations in the area, but I prefer the one on the pier. If you time it correctly, you can enjoy an alfresco breakfast at high tide with the ocean swirling under you. It's like dining on a boat, without the rocking. Standouts on the morning menu here include the thick French toast, the hearty veggie omelet, and crispy skillet potatoes topped with corned beef hash.
Following the curves of A1A leads me into Ocean Ridge. The diminutive town sits just south of populous Boynton Beach and is home to Ocean Inlet Park. The marina offers ample parking and possible manatee sightings, but I like to stretch my legs on the jetty extending from the beach across the street. People fish along it, and the ocean takes on a blue ombré that shifts in relation to the shore. Most delightful are the pelicans, also hoping to catch a fish, and watching them dive determinedly into the ocean when they spot one is ceaselessly entertaining.
I check into my hotel when I reach Delray Beach. Though Boca is home, staying in Delray Beach allows me ocean proximity in a funky, densely packed beach town. I prefer to stay in the Seagate Hotel & Spa, located on the town's main drag, Atlantic Avenue, and only a ten-minute walk from the sand. Staying in the upscale hotel affords access to their private beach club with its separate pool and restaurant (though the hotel's heated lap pool ensconced by palms offers relaxation, too). For dinner, I like to walk a little over a half-mile down Atlantic Avenue to Elisabetta's, an Italian restaurant with brick-oven pizza, puffy coccoli (savory fried dough) served with whipped ricotta, and wood-fired bread topped with burrata and prosciutto.
Dinner isn't until later, though, so after dropping my luggage off at the hotel, I return to A1A and drive a few minutes farther south into Boca Raton.
Condominiums populate the landscape here, with ample public beaches in the mix. Red Reef Beach beckons those looking to lay on the shore or get in a quick snorkel on the artificial reefs, named for the red coral that once inhabited the area. The beach charges $35 per day to park in its lot, but if you plan on keeping the visit short, the metered lot across the street is just at $3 per hour. Pulling off here also lets you explore the intracoastal park with its views of yachts and more stunning houses—but look out for the large colony of invasive iguanas.
My final stop after diverging from A1A in Boca is Cote France. The bakery first opened in 1995 in a cozy strip mall but expanded to its current location, a lively shopping center known as Royal Palm Plaza, in 2008. Even after it was sold to new owners, the baguette sandwiches, quiches, and eclairs just hit the spot.
I like to sit on the bakery's patio among the snowbirds clad in vibrant resort-wear. I don't know how many more visits I'll have here, but for now, this is the life.