Owners of Grady-White boats are used to turning heads out on the water. But when dozens of the handsome saltwater craft, which are manufactured in North Carolina, congregate in the same tropical bay, the sight is a genuine showstopper. For the second consecutive year, that gathering in Puerto Rico will set the record for number of Grady-White boats in one place, while simultaneously raising money for local cancer treatment.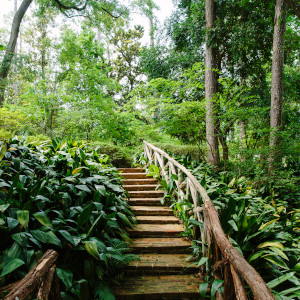 Less than eighteen months ago, Puerto Rico didn't have even an informal association of Grady-White owners, beyond the ones flashing grins as they passed each other at various marinas. Then Bill Burleson and David Soler created an online chat group. "We thought we could create a community in order to help each other if there was a problem out on the water," says Burleson, who logs a lot of time aboard his 370 Express model cabin cruiser.
The chat group, dubbed La Familia Grady-White, quickly gained steam and dozens of participants, sparking the idea that some of them might want to meet up. They chose Sun Bay, a deep, peaceful crescent on Vieques, a smaller island off the east coast of the main island.
"We didn't want loud music and people going wild—that's not what we're about," Burleson says. "So we decided to make it a family-oriented day."
That ethos extended to asking the mayor of the nearby town, Esperanza, if the Grady-White group could donate to a local cause. The pick was a service that transports local cancer patients for treatments in the capital of San Juan.
On June 25, 2022, the Grady-Whites started cruising into the bay early and kept coming for several hours. As they arrived, they were rafted together side-by-side, creating a long, undulating white chain across the brilliant blue-green water. The count hit sixty-one boats, ranging from eighteen-foot runabouts to thirty-seven-foot cabin cruisers—officially recognized by Grady-White Boats as the largest gathering ever.
There was swimming, a beach cookout, and of course, plenty of checking out each other's boats. Many owners stayed the night aboard their cabin cruisers or in beach hotels, and when the flotilla switched on underwater lights at night, town residents flocked to the beach to witness the collective glow.
By the time the event concluded, commemorative T-shirt sales and donations from club members and local tourism outfitters raised $25,000, several times the original goal. At this year's gathering, scheduled for August 4–5 at the same locale, Burleson says they aim to raise $35,000 for the Susan G. Komen Foundation's affiliate in Puerto Rico, which is providing a mammography machine to a Vieques medical facility.
With 110 boats already signed up, this year's gathering is set to easily break last year's record and necessitate two lines of boats in order to keep the bay open to other traffic. (Burleson estimates the club now accounts for 85 percent of Grady-White boats in Puerto Rico.) There will be a calypso band, beach baseball, and fresh lobster and fish prepared by local fishermen. Local dignitaries will speak, and perhaps most important, someone from town will resupply many, many bags of ice. All in all, Burleson estimates the event generates another $25,000 in local economic impact.
"Basically, we're now doing this with the purpose of helping others and promoting nautical tourism on Vieques," Burleson says. "We also just want all Puerto Rico Grady-White owners to feel like a family. It's a great way to hang out with some new people."

*This year's event has been postponed due to weather, and our story has been updated with the new, correct date.