Tom Rosenbauer is standing by my side as we gaze over a pretty, meadow-lined stretch of Vermont's Battenkill River. "Get your fly tight to the other bank," he tells me, pointing across the water. "Then let it sink a bit and start stripping it." We're in Manchester, my favorite place to get away during the dog days of summer, where the quickening cool of mountain air replaces stagnant heat.
When Rosenbauer talks about fly fishing, I listen. I'm not the only one. Through his popular podcast, books, and videos, he has arguably become the sport's most influential teacher and promoter. His official title at Orvis—which is headquartered just a few miles away and where he has worked for the past forty-seven years—is Chief Fly-Fishing Enthusiast. Even now, at a whiskered and wizened sixty-nine years old, Rosenbauer is more into fly fishing than anyone else I know.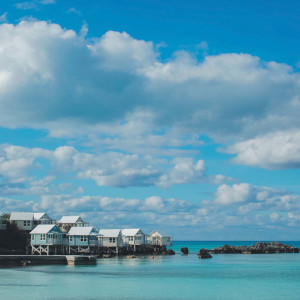 His enthusiasm is so infectious that after a few false starts, I have begun to reach the far bank with my fly. The Battenkill is well known for its small but beautiful native brook trout. But this evening, the river is rain swollen, so we are chucking heavy four-inch streamers in the hopes of connecting with the Battenkill's other famous denizens: its brown trout. They aren't plentiful, and they are notoriously difficult to catch, but they make up for it in quality—they can reach two feet. We make our way down the meadow, now glowing in the golden light, taking turns shooting out casts.
Manchester has been a lot of different things to me over the years. It was home until I was six, when my Yankee father made good on his wedding-day pledge to move to my mother's homeland of Alabama sooner rather than later. I got married in Manchester. I spent those strange, suspended first few months of the pandemic there with my wife and three daughters, watching spring crawl up the mountainsides. We go there in the fall to catch the famous foliage. We go in the winter to ski at nearby Bromley and Stratton Mountains.
But summer is, by far, my favorite time to visit Vermont. Warm days become cool evenings. Everything—the fields, trees, and mountains (those monts verts that gave the state its nickname)—seems brush-stroked in different shades of green, a sylvan counterpoint to the multitudinous blues of a Caribbean vacation. And there are more things to do—sightseeing, fishing, hiking, and good eating—than you could fit into a month's time.
But let's say you had only a weekend to visit, perhaps a quick escape from Southern summer swelter. I have some ideas.
---
The place to stay in Manchester is the Equinox Golf Resort & Spa, in a building that dates back to 1769. It became an inn in the nineteenth century, when the area began its transformation from an iron-and-marble mining spot to a summer getaway for the well-to-do. The Equinox remains one of New England's grand resorts.
The hotel building, green-shuttered and graced with fluted columns, perches at the top of town. It faces the Green Mountains to the east as Mount Equinox, the highest peak in the Taconic Mountains, peeks over its shoulder from the west. The main hotel building has rooms with an 1800s feel but all of the modern comforts. Suites and larger units, some with fireplaces, are scattered about the outbuildings, and the house golden retriever, Cooper, might greet you. One could spend an entire weekend on resort property, bouncing among the spa, golf course, Land Rover off-road driving school, restaurant, and tavern. But there are far too many other things to see and do.
Just south of the Equinox, past the oldest part of town with its stately mansions and maple-shaded streets, stands Hildene, a Georgian Revival mansion on a now 412-acre estate built by Robert Todd Lincoln—son of Abraham—and occupied by Lincoln descendants until 1975. As a young man in 1864, Robert and his mother, Mary, traveled to Manchester (and stayed at the Equinox) to escape the heat of Washington, D.C., and the ongoing Civil War. Robert never forgot it, returning nearly four decades later—wealthy from his stint as the president of the Pullman Company—to build Hildene, which boasts commanding views of the Battenkill Valley. Tours of the home are a must—some of the original furniture, including pieces owned by Robert's parents, still fills it. The magnificent grounds include hiking trails, a goat dairy, and a garden where swaths of peonies bloom.
Double back on Main Street and head north into town. The next stop: the Orvis flagship retail store—Graceland for the fly-fishing set—with twenty-three thousand square feet of apparel, dog accessories, flies, and, of course, racks of gleaming fly rods with all their potential energy. (Pop into the Orvis Rod Shop, behind the store, to see where the magic happens and possibly even run into Orvis's lead fly rod developer, Shawn "Puffy" Combs, a Kentucky expat.) At the store, schedule a free casting lesson (check for dates) or enroll in a one- or two-day fly-fishing school that covers the basics. Those who have taken the hook a bit deeper can stroll next door and visit the American Museum of Fly Fishing. Its fascinating artifacts include a fishing vest once owned by King Charles III (when he was but a mere prince).
Now it's time to get outside. Head up Route 30, which will take you through the charming town of Dorset. And then roll down the windows as you drive the stunning stretch of road that winds through the cornfields and farms of the Mettawee Valley. Stop at Mach's Market in the town of Pawlet for a scrumptious sandwich or salad, and then continue on and find a pull-off on the Mettawee River for a dip in its cold, crystal-clear water.
That night, dine at the Dorset Inn, which has a quintessential Vermont feel (think: the set for Newhart). Begin the meal with a WhistlePig Rye (a Vermont standby) or a Heady Topper, a hard-to-procure Vermont beer that's considered among the best IPAs in the world. Then order any of the local vegetables and the filet mignon with foie gras raviolo, and end with bread pudding drenched in maple whiskey caramel.
Get a good night's sleep, because the next day starts with some cardio. While there are hundreds of hiking trails in the area, the best, for my money, are the ones found on the Equinox Preservation Trust property back in Manchester. Pack a lunch and pick a route on one of the thirteen trails there that range from a leisurely walk up to—and then around—the mirrored surface of Equinox Pond, to the strenuous summit hike of Mount Equinox, which takes about four hours round trip.
Though Ben & Jerry's is Vermont's most famous ice cream, I like to reward myself after a hike with a cone from the Wilcox Ice Cream Stand, which sits south of town on Route 7A (and whose treats have been family made since 1928). It offers various delicious daily specials, but you can never go wrong with maple walnut.
Next stop is the Northshire Bookstore, one of the best "indies" in the country, with ten thousand square feet of books, including signed first editions from the likes of Charles Frazier and Carl Hiaasen. It's a great place to browse if you need a new read but don't have a particular book in mind—the displays are enticing, the staff recommendations excellent.
From the Northshire, you can walk down Depot Street to shop more than twenty outlet stores, which include Polo Ralph Lauren, Brooks Brothers, and Vineyard Vines, as well as some local boutiques. Outlets are not my cup of tea, but even my jaded eye admits that the stores themselves—tastefully constructed with wood and brick—are done in a manner that fits the surrounding landscape.
If you're not in the mood to shop, drive along West Road to the Southern Vermont Arts Center. You'll pass an enormous steel sculpture resembling a pig on the winding entry road up to the museum, which encompasses a thirty-room former mansion on one hundred acres that back up to the Taconics. The center hosts art classes, a revolving list of exhibitions, and a permanent collection that includes works from the great sporting artist Ogden Pleissner.
On your last night in town, grab an early dinner (the Crooked Ram and the Silver Fork are both superb), and then head down to the Battenkill to fish the evening hatch (armed with the flies and advice you picked up at Orvis). The brook trout are usually pretty eager as the sun starts its descent behind Mount Equinox. If you're lucky, you just might get a shot at one of those leviathan browns—that is, if Rosenbauer hasn't beaten you to it.