In the novella The Displaced Person, a woman takes in a World War II asylum seeker only to watch him get run over by a tractor. Flannery O'Connor's Southern Gothic masterpiece, published in 1955 in her collection A Good Man Is Hard to Find, opens in O'Connor's driveway, at her home in Andalusia. Her life on the five-hundred-acre farm in Milledgeville, Georgia, served as a central point of inspiration for her short stories. She lived there with her mother from 1951 to 1964, when she died of lupus.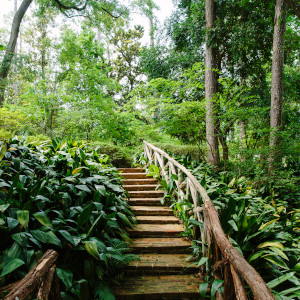 And while it may seem little remains left to uncover or analyze about O'Connor and her work, on March 24, Georgia College and State University will reveal even more when it opens the Andalusia Interpretive Center to the public. The center will display exhibitions of O'Connor's personal effects and for the first time will allow visitors to view the entire collection up close. The building, designed to reflect the American folk–style structures that exist on the property, lies in a cattle field there.
Matt Davis, the Director of Historic Museums at GCSU, oversees the center and the collection of artifacts left in O'Connor's home upon her death. The pieces remained untouched from 1964, when her mother moved out of the house, to 2002, when the Flannery O'Connor–Andalusia Foundation formed to preserve her estate, including Hill House, and literary works. GCSU then acquired the estate in 2017, and in 2022, the property became a National Historic Landmark. Now, the center will act as "a landing zone for visitors," Davis explains, and from there, property tours will proceed up to the house, "calling to mind The Displaced Person."
To give guests an intimate look at O'Connor's memorabilia, the center is using open-concept storage to exhibit the pieces. The idea of open concept or visible museum storage originated in the 1970s but was a challenge to implement because existing museums already had established storage systems. Today, in response to requests for greater access to collections, open-concept storage spaces are increasing as new museums are built. "Our storage system includes cases that we can pull out for the exhibits, and also lets people see the artifacts and materials in the background," Davis says.
As for what visitors will see, "We have her order invoices and the farm's ledger books," Davis says, citing just a few examples. "We have her checkbooks and the last bottle of aspirin that she had. We have her clothes, and a purse she left with her last money on Earth in it. If you pull out a single piece from the collection, you don't get the whole story."
When viewed together, however, they paint a fuller picture. "For us, as museum professionals, the center is an opportunity for more exploration of the artifacts that transport you immediately into her life and time," Davis explains. "The artifacts are ordinary, but they let you live in her shoes for a day and see how this particular place inspired her work."