The sugar sand beaches, emerald waters of the Gulf of Mexico, and abundant sunshine have drawn visitors to the Florida Panhandle city of Pensacola for half a millennium. Established in 1559 by Don Tristan de Luna and Spanish settlers, it claims the title of the United States' first settlement, predating English settlers in Jamestown by forty-eight years.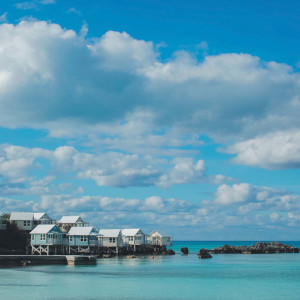 Initiatives to preserve important landmarks while ushering in modern amenities have sprouted a bevy of new boutique hotels, restaurants working in concert with local farmers and producers, and activities focused on inclusivity. Here, find a slew of fresh spots to check out on your next trip—perhaps around Foo Foo Fest, a twelve-day celebration of local art and culture that takes over downtown every fall and celebrates ten years in 2023.
Activities
America's First Settlement Trail
Established in 2022, this three-mile marked path through downtown and the historic district celebrates Pensacola's history. Pause at stop number seven, where Gulf Coast Creole cottages and shotgun-frame vernacular houses, built from 1810 to 1900, have been preserved. If you think Pensacola has New Orleans vibes, it's because French Creole settlers brought their architectural styles to the area from the West Indies via New Orleans. Their influence continues at marker number five, Seville Square. Three points of interest merge here, including the St. Michael's Creole Benevolent Association's Meeting Hall, built in 1896 to aid members—people with racially mixed backgrounds, usually French or Spanish and African-American—during sickness and trouble and to provide a social gathering space.
---
The disco ball spins inside Play Pensacola, a vintage arcade dive bar located above the Wine Bar on Palafox. Its private karaoke room, Electric Serenade, features crushed velvet and leather couches, exposed brick walls, and just enough room for you and eleven of your closest friends. The marble bar can be stocked for private bottle service or manned by a dedicated concierge bartender. Cue up your signature song for a night of musical revelry.
---
Beach lounging is a must, but if you're looking for something a little more active, Glow Paddle is a fun way to get out on the water. The clear-bottom kayaks and stand-up paddleboards are rigged with LED waterproof lights for evening adventures. Out on Little Sabine Bay, you get a full view of swooping pelicans against the backdrop of the sun making its fiery descent into the ocean. The solitude of being out on the water at sundown, observing the flurry of activity underwater through your clear-bottom vessel, makes a pretty perfect memory.
Lodging
Historically home to Mount Olive Baptist Church (1928–1982), this property recently transformed into a fifteen-room boutique luxury hotel. In danger of demolition after damage from 2004's Hurricane Ivan, the abandoned church made the Seven-to-Save list, a program launched by the John Sunday Society in 2019 to preserve historic spaces. But in 2021, the Stahlman Hospitality Group stepped in with a plan to resurrect the old church, and this past spring, they opened the doors. Rooms come outfitted with record players, used books from local bookstores, and custom tile and wall coverings designed by local photographer and wallpaper maker Robert Malmberg. The on-site restaurant, Brother Fox, helmed by Chopped champion Darian Hernandez, draws inspiration from the backyard barbecues held at his home, the spirit of fellowship inspired by the former church, and the Spanish heritage of Pensacola. Access Sister Hen, the clandestine speakeasy in the former basement, via a hidden entrance.
---
Another low-touch, adaptive reuse property entered the scene in 2021. Oyster Bay offers wellness retreats, free community yoga, and a property filled with local art, such as blown glass by Joe Hobbs, hand-painted oyster shells by Fiore of Pensacola, and custom prints by Charlotte Mason. Every element of this boutique property calls to the local landscape.
---
This Victorian house lovingly restored by Cornelia Edwards and Gerald Robinson— family matriarch Celestine Harrison's great-grandchildren—opened officially in April 2023 as the Celestine Bed & Breakfast. The spot honors a family that has been in Pensacola for generations, with welcoming meals and a friendly place to rest. The custom wallpaper features hand-drawn illustrations of family photos, the likeness of a tree still growing in the center of Seville Square, and clippings from the Pensacola News Journal covering 1960s sit-ins opposing segregation. More nods to Pensacola's past pop up throughout the property, including an edition of The Negro Motorist Green Book. Expect a welcome drink and a hefty dose of Southern food and hospitality.
Eat & Drink
This transformed historic building serves as an anchor for the evolving East Garden District. The exposed brick walls, eclectic rattan furniture, and botanical decor recall the heyday of 1950s Miami hotels. In keeping with that nostalgic vibe, they kick it old-school with cocktails like the Punch & Judy, negronis laden with Ford's Gin, cold-brew martinis, and more—all served in vintage glassware.
---
Though still open now at its original home, this locals' favorite will move next door to the Well come fall, adding another business to the East Garden District. Chef and owner Blake Rushing plans to continue his in-house meat-curing program, loyalty to local farmers and producers, and funky cocktails, but in an expanded space with tons of seating set among historic gardens in the hippest new-old neighborhood downtown. And guests can still buy a round of beers or tequilas for the kitchen.
---
Tuck into the newest raw bar in town for tales of farming grit, passion for ancient wines, and dedication to sustainably sourced seafood. Currently open in its cozy starter home in the Garden at Palafox + Main (the city's first food hall), this hotspot makes the move to a larger location on Intendencia Street in Fall 2023. The expanded space will accommodate three hundred diners and include a new craft cocktail bar, an outdoor dining area, and a stocked seafood bar. The buttery lobster rolls and locally farmed oysters will carry over, but look for new offerings like whole fish, seafood towers, ceviche and crudo, caviar, and game meats like elk and bison to make appearances on the expanded menu.
---
Any brewery with a designated "Bring Your Own Vinyl" night warrants a stop. A combination of the owners' Alabama and Georgia roots, this East Hill neighborhood brewery began as a hobby project in their University of Alabama kitchen, one gallon at a time. Now they have a permanent welcoming spot to tip a pint, and many times you can find beer collaborations on tap, like the Second Death, a Thai sticky rice–inspired sour brewed with Conjure Beer Co. Brown Bagger Food Truck sits on-site, and dogs are welcome too.