Sea Island, a five-mile-long, half-mile-wide barrier island in Georgia's Golden Isles, has all the burnished marsh grasses, brilliant sunsets, and sparkling white beaches that give the area its nickname, but it stands apart from neighboring communities.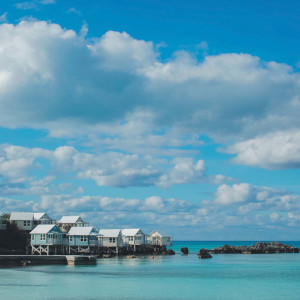 After relocating from Boston to Atlanta in 2001, I got a taste of what it was like to live in the private enclave long before I visited. One of the first friends I made in Georgia had a home there, and after hearing her stories about "the island," I felt I understood the vibe of this exclusive playground of the wealthy few.
But you can't fully appreciate Sea Island until you see it yourself—the stately waterfront mansions (known as cottages), the lavish landscaping, the dramatic change in scenery as you cross the causeway from St. Simons Island and through the gates. After hearing so much about the property for so long, I felt as though I had been there before when I visited as a guest at the Cloister this past July. The well-preserved history and grandeur reminded me of the Great Gatsby, especially when I looked back at the resort from the shoreline of the Black Banks River. After exploring the property over the course of several days, I saw just how much is new at this timeless resort, but also how the essence of "the island" remains unchanged.
A look back
For nearly one hundred years, Sea Island has hosted generations of families as they've celebrated weddings, birthdays, and other milestones, or simply escaped for a vacation. (I learned much of the following history from the delightful cookbook Soul of the South by Sarah Anschutz Hunt.)
Howard Coffin, the founder of Hudson Motor Company, purchased Sea Island (named Glynn Isle at that time) in 1926. He hired Addison Mizner, known for his architectural work in Boca Raton and Palm Beach, Florida, to design the Cloister. The small luxury property, billed as "a friendly little hotel," opened in October 1928 with a beach club, tennis courts, a shooting school, and a fishing dock. A yacht club, riding stables, and a golf club were built not far away on St. Simons Island, where Coffin also owned property.
During World War II, the Cloister hosted weekly mixers for honeymooning couples, including former president George H.W. Bush and his wife, Barbara, who married in 1945. They returned several times over the years, including in 1991 when Bush was in office and again on their fiftieth wedding anniversary. Sea Island also hosted the G8 Summit—and dignitaries from around the world—in 2004.
Sea Island has seen many transformations over the years, including a complete rebuild of the original 1928 Mizner main building and wings of the Cloister in 2006; a redesign of the golf courses; resort expansions; and several changes in ownership. That evolution continues today—more on that below.
---
A sample itinerary
Two favorite experiences during my recent visit included the scenic cruise on the Cloister's two-story passenger yacht, the Sea Island Explorer, and taking a hawk walk with one of the resort's falconers and his Harris hawk. If you're as fascinated by the history of the island as I am, you'll also want to book a walking tour of the Cloister with the resident historian in which you'll pass through hallways lined with black and white photos chronicling the history of the island and the many famous guests who have walked these passageways.
Stop for a morning coffee and pastry or an afternoon cookie at the Cloister Solarium, a beautiful, light-filled space home to cozy seating areas, lush plants, and the sweet chirping of a pair of lovebirds. Sea Island has always kept birds at the property; the first known feathered residents were finches that lived in the loggia of the original building in 1928.
I spent an evening at Tavola, the Cloister's Italian restaurant, and notable dishes included seared scallops over a mélange of fava beans and seasonal vegetables, and a braised lamb shank with polenta. Our Tibetan terrier, Rhythm, also enjoyed his visit, especially sitting out on the balcony at night and taking long shaded walks through the grounds.
---
The revamped Georgian Rooms
The original Georgian Room, the property's fine-dining venue, opened to guests in 2006 with hand-painted china, European linens, silver flatware, an impressive wine list, and smart tableside service. The restaurant closed in 2020 to accommodate a reimagined and extensively renovated concept—the Georgian Rooms, plural. The new space recently debuted and features multiple stylistically distinct areas.
There's an intimate lounge serving sushi, Japanese-style dishes, cocktails, sakes, and whiskies. The venue is casual, and you can dine without a reservation. The main dining room and bar is a more formal space designed in a rich palette of dark greens and reds and leather seating (inspired by a classic American grill) and leads into the beautiful glass-enclosed Orangery. This naturally lit space, with its neutral tones and subtle décor, is brighter and airier than the clubby main dining room, especially during the day.
The menu, created by the new chef de cuisine of the Georgian Rooms, Chris Damskey, offers vintage spirits, classic cocktails, and an impressive wine list paired with such standout dishes as caviar service; Angus beef from Linz Heritage in Indiana; and regionally inspired seafood, such as roasted halibut with sweet pea purée and succotash.
---
New fun for kids
The Sea Island Sea-fari combines several of the resort's signature activities so young adventurers can see the island's "Big Five" wildlife: horses, falcons, turtles, dolphins, and shorebirds. The self-guided tour comes with a Sea-fari Passport so children can record their experiences. A free Golden Brick Sundae from Wonderland, the ice cream shop at the Beach Club, awaits future nature explorers who have completed their journey.
---
Pickleball pro
Eight standalone pickleball courts opened in 2021, and on-staff pickleball pro and former golf prodigy Tadd Fujikawa coordinates the programming, which includes private lessons, beginner and intermediate clinics, leagues for men and women, and round robins for larger groups. Sea Island also hosts pickleball tournaments for various charitable organizations.
---
An exclusive brew
Beer aficionados will want to check out Sea Island's 1928 Classic Lager, a new addition to the resort's lineup of brews made by Georgia-based Creature Comforts Brewing. On island time (hopefully soon!), the new brew will be offered on draft and in the can.
---
New at the Lodge
The Lodge, located just minutes away on St. Simons Island, is reachable by car or complimentary shuttle from the Cloister. The intimate, forty-three-room luxury property, situated at the end of an oak-lined road, recently refreshed the guest rooms and restaurants with new décor, art, and furniture. Lodge guests have access to all the amenities of the Cloister and Sea Island, several dining options, an on-site pool, and twenty-four-hour butler service.
The Lodge is also where you'll find Sea Island's three championship golf courses and the Golf Performance Center. The most recent redesign of one of the original 1928 courses came in 2019 by professional golfer and St. Simons resident Davis Love III and his brother Mark of Love Golf Design. Guests familiar with the Men's Locker Room, dubbed "the greatest locker room in golf" by PGA pros, will also find a redesigned traditional barbershop inspired by a 1936 photograph discovered in the archives. Women and children are welcome.
Colt & Alison, the property's classic American steakhouse, was completely renovated in recent months, including an overhaul of the kitchen. The outdoor veranda is now a glass-enclosed space for year-round dining.
The Lodge attracts more golfers and couples than families since it's a drive by car (rather than a walk or a golf cart ride) to the Beach Club and all of Sea Island's family-friendly amenities. The property has an elegant, club-like feel, with dark wood paneling and traditional interior design. It was very quiet during our visit, though you can count on it being busy during golf tournaments and events, including the annual weeklong RSM Classic hosted by David Love III in mid-November.
No matter where you choose to stay when visiting Sea Island, don't miss saying farewell to the day at the Sea Island Golf Club. This daily tradition at the Lodge includes a bagpiper performing a memorable Scottish sunset serenade.