Ask for recommendations on where to eat or drink in Western North Carolina and chances are the answer will be a place in Asheville, with good reason. The mountain city is home to James Beard Award–winning restaurants and a bustling nightlife scene, and it's undoubtedly the brewing capital of the East Coast. But any itinerary that focuses solely on Asheville does a disservice to the rest of the region—especially Jackson County just a short drive to the south, an area that punches far above its culinary weight class.
From the funky towns of Sylva and Dillsboro up to the plateau of Cashiers, this rural corner of North Carolina is home to high-end Italian-Appalachian cuisine, innovative bar food, great wine, and perhaps the best Thai food in the state. Here are five of the best bites and sips in Jackson County, each more than reason enough to make the drive from Asheville or beyond.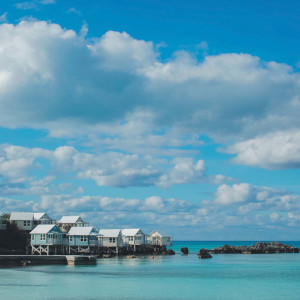 Sylva
Chef Santiago Guzzetti and his wife, Crystal Pace, returned to Pace's hometown from New York City in 2021 and opened a restaurant that seamlessly melds Guzzetti's Italian and Argentinian heritage with Appalachian foodways. There's homemade mafaldine with a bolognese made with lamb raised by local 4-H kids; a frito mixto with frog's legs, calamari, and chow chow; and a tiramisu the size of the mountains themselves. Award-winning mixologist Antoine Hodge serves top-notch cocktails, and Pace has curated one of the most unique wine lists in Western North Carolina (more on that next).
---
Sylva
The wine bar located next door to Ilda is also owned by Pace, who is a sommelier, and Guzzetti. Its globe-spanning list, including pét-nats and orange wines, seems like one you'd find in a big city and not a town with a population of barely more than 2,600. Manager Kevin Ruiz is often on hand to serve up a rotating selection of tapas-style plates, making Santé the perfect place to start, or end, an evening in Sylva.
---
Sylva
Chef Kanlaya Supachana, known to most as Chef Gun, operates what some consider the best Thai restaurant in North Carolina. She's brought the cuisine of her home region of Northern Thailand to the mountains, making almost no adjustments for American tastes. There's no pad Thai, and forget about ordering something "medium-spiced." Instead the menu has true-to-form renditions of dishes like khao soy (coconut curry noodle soup) and sai ua (pork sausage with green chili dip). The homemade ice creams are a popular way to cool down after a meal.
---
Dillsboro
Every region needs a great dive bar, and Rivers and Rails meets that requirement while also bringing things up a notch. There are plenty of beers on tap and the drinks are strong, but what sets this spot apart is the food. The menu takes diners on an international journey, with chicken tinga tacos, Cajun mahi mahi, and Bavarian pretzels. A standout is the fried chicken livers, which get tossed in a choice of Cajun, Asian, or buffalo sauces much like chicken wings. A plate of those washed down with a crisp IPA? Perfection.
---
The Lobby Bar at Hotel Cashiers
Cashiers
Everyone loves a great hotel bar, and at the newly renovated Hotel Cashiers, owners Daniel Fletcher and Brett Stewart have created a welcoming space that feels far more sophisticated than one might expect from a small-town spot. Globally sourced wines trend toward crisp and acidic, there's a small selection of local beers, and the newly launched cocktail menu has turned the lobby into the place to grab an evening drink in Cashiers. Frequent events and live music keep the place lively, and the fireplace lounge will take center stage as the weather cools.
---
Cashiers
Who'd have guessed some of the most innovative food in North Carolina can be found in a strip mall anchored by an Ingles grocery store? At Native Prime Provisions, chef Scott Alderson and his wife, Tania, have transformed their high-end meat and seafood market into a nine-seat chef's table experience. Fresh seafood arrives daily from the North Carolina coast and appears on the menu as nigiri, crudo, and ceviche. A5 wagyu is barely seared and melts on the mouth. Kurobuta pork is braised and served as birria-style sliders. The meal is as much about interacting with Scott and Tania as it is about the food, and a full market of seafood, meats, and pantry items allows patrons to continue the experience at home.