photo: HARIS KENJAR
In the 1950s, at her grandparents' cabin tucked along the shore of Alabama's Lake Martin, Hillery Head's grandfather baked biscuits each morning while her father boated and water-skied. As a child, Head splashed in the same coves and lazed on the same dock, and later relished the same family tradition of a day's-end cocktail cruise. In 1995, her parents built a house next door, where her three children learned to swim and tube, and gobbled up the golden biscuits still made from her grandfather's recipe.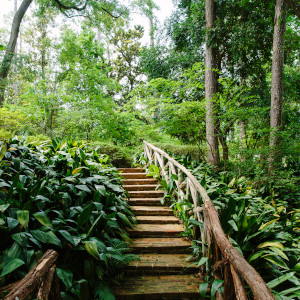 After her husband's death in 2018, Head decided it was her turn to build on a pine-punctuated piece of her family's lakeside land, prompted by a long-held desire for a retreat of her own on the special spot and the belief that the process could provide solace. "My boys were in college," she says, "but I knew my teenage daughter, Beverly, would have some great ideas, and it was something we could do together."
She had no specific style in mind, no stacks of dog-eared magazines, yet she knew exactly what she wanted: "A lake house, not a house at the lake," she says. "I feel a deep connection to this land, and I wanted the house to belong, like it grew alongside the trees."
photo: HARIS KENJAR
From the front drive, the cedar shake roof offers the unassuming welcome that Head envisioned. Locally sourced stones flanking the exterior look more found than placed, while wood beams mimic the hue of the lake when it's lit by the afternoon sun. "I drew from WPA national park buildings built around the same time the lake was formed," says Chris Tippett, of Birmingham's Tippett Sease Baker Architecture, whom Head tasked with spearheading this project after he'd designed her primary home in Birmingham years earlier. Throughout the design, Tippett opted for timeless yet fatigable materials to denote a place lived in and loved. "They'll look better twenty years from now," he says.
photo: HARIS KENJAR
Head's parcel of land once boasted her grandparents' boathouse, and the lake remains the primary allure. In the living room, a wall of windows opens to expansive water views, and in the adjacent kitchen alcove, recessed lights rather than pendants preserve the panorama. The floor-to-twenty-foot-ceiling stone fireplace, its mantel's rock pulled from the water just beyond the dock, honors Head's fascination with the area's quartz- and mica-flecked stone. "As a child, I loved the way it shone when wet," she says.
Following the exterior's organic lead, Memphis interior designer Sean Anderson decided to stain the white oak walls, floors, and ceilings a matte, coffee brown. Light flooding through the house's myriad windows emboldened Anderson's other color choices, which echo the dusky blue-green and slate of the lake's changing moods. "I was able to use darker natural tones, even muted black, like the walls in the primary bedroom," he says.
photo: HARIS KENJAR
To strike the right balance, though, Anderson often diverged. "With all the rock and wood, it was important to inject some opposing viewpoints," he says. In the living room, thin metal rod lights affixed to the wall like handles would feel at home in a modern art museum, as would the massive but minimalist brass and wood chandelier overhead. In the entryway, a well-worn vintage locker cabinet and a collection of abandoned turtle shells hanging above it again adjust the scales. Objects Anderson scored from antique stores, roadside stands, and nature bring the outside in—pebbles, fossils, dried blooms in rustic pottery. "They are things you might find on a walk here," he says. He incorporated heirlooms too, hanging an American flag Head's father flew from his sailboat when he crossed the Atlantic a decade and a half ago.
photo: HARIS KENJAR
Anderson also custom designed some pieces, including an austere, low-slung console table below the living room's windows, as well as a blue wool banquette cozied up to a sleek, marble-topped pedestal table in the dining area, Head's favorite corner. Another beloved nook began as a happy accident: "When you walk into Hillery's bedroom, you see only branches and water," Tippett says. "It's a tree house; that wasn't planned." Anderson positioned the bed in the middle of the room to create a floating feeling.
photo: HARIS KENJAR
"I wanted the house to be intimate when it's just me and my daughter or [my second husband] Mike and then live larger when we're all here," Head says. (With Mike's children, the kid count totals seven, ranging from teens to late twenties.) On the lower level, a bunk room—one of Beverly's ideas—invites the kids to pile in, with two bathrooms and four corner sleeping niches framing a circle of flax linen beanbag-esque chairs and two daybeds. A sliding wall discreetly tucks away or pulls across to divide it into separate suites. "This house is about harmony, and it fits my family," Head says. "It's what I envisioned: a spot the next generation can enjoy."