A great hotel lobby has a special something, an X factor that makes you want to spend time there, regardless of whether or not you have a reservation—a roaring fire, a top-notch bar, inspired (and cozy) décor and furnishings. Here are some of the best such spaces in the South, from grande dames fashioned from revamped art deco train stations and storybook Italianate manses to bright, brash newcomers.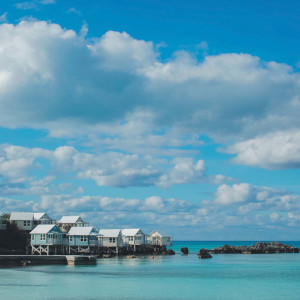 photo: courtesy of the columns
New Orleans, Louisiana
Built as a private home in 1883, with an Italianate design by the famed Southern architect Thomas Sully, the Columns rises off Saint Charles Avenue with intricate carved details and its namesake pillars visible in snatches through the limbs of the ancient live oaks out front.
The twenty-room mansion hotel got revamped a few years ago, and there's no bad perch, be it at the massive front porch tables, in the home's former parlors decorated with local art, or in the dark and dreamy bar room, lit by the home's original chandeliers.
---
photo: courtesy of the brown hotel
Louisville, Kentucky
You know a place is special when it staffs an in-house historian: Marc Salmon, who also fills the role of human resources director. "Our hotel lobby features a history alcove, filled with century-old photos of the hotel and its guests, events, and milestones," Salmon says. "And to this day, the lobby still boasts the hotel's original 1923 floors and ceiling." All that adds up to a genteel, worldly place to sip a fine bourbon and discuss the Derby contenders.
---
photo: courtesy of the jefferson hotel
Richmond, Virginia
It's rumored that the wide, thirty-six-step grand staircase here inspired the interior of Scarlett and Rhett's home in the film Gone with the Wind. The Jefferson opened on Halloween 1895 and remains one of America's finest examples of beaux arts architecture. The rotunda lobby, with its soaring, stained-glass ceiling, has hosted thirteen presidents, Elvis, and Frank Sinatra, and on the weekends, visitors flock to the renowned Champagne Sunday brunch there.
---
photo: courtesy of The Russell
Nashville, Tennessee
This boutique spot is housed in a 1904 church, and the stunning stained-glass windows still usher in light, but the rest of the Russell is decidedly modern: stark white walls decked in vibrant folk art, midcentury furnishings, and free lattes. And while you can't enjoy this lobby unless you book a room, you absolutely should: Every guest stay equals a need met for an unhoused person, and in 2022, the parent company donated 100 percent of its profits to struggling Nashville citizens. "Last year, we were able to provide over 50,000 meals, beds, and showers through our Rooms for Rooms program, through our charity partners," says Micah Lacher, the Russell's owner.
---
photo: will pryce
Miami, Florida
Like a setting out of a Kipling novel, this open, atrium-styled lobby will have visitors half expecting to find a lemur or a monkey among its ten-thousand-plus plants. Passing beneath cascading monstera and around towering birds of paradise, you'll discover stone fountains and small bridges with artisan-made sculptural details. Mayfair Grill, the lobby restaurant, offers exceptional, Sonoran-inspired cuisine and wood-fire cooking.
---
photo: courtesy of the Union Station
Nashville, Tennessee
Built in 1900 as a train terminal for the Louisville & Nashville Railroad, this structure once serviced eight railroads. Derelict for decades, the station got preserved and reopened as a hotel in 1986. The lobby features the original fireplace, a 128-panel curved stained-glass ceiling, and now, ERGO, a train-travel-inspired restaurant with craft cocktails.
---
photo: Nick Simonite
Austin, Texas
Awash in bright, Parisian blue, with custom encaustic tile flooring, sunny window seats strewn with pillows, and built-in shelves, the lobby of the Saint Cecilia—which is currently undergoing a refresh—is an interactive hangout: Guests can peruse the hotel's curation of vinyl records and books of poetry, and then purchase a silk kimono, a pair of leather Sabah slippers, or a bracelet crafted by a local artisan at the lobby shop.
---
photo: Stephen Kent Johnson
New Orleans, Louisiana 
Studio Shamshiri of Los Angeles called their design for Maison de La Luz "the juxtaposition of grandeur and languor." Inspired by a grand Southern residence, this 1908 former City Hall annex got converted into an elegant sixty-seven-room property, with an atrium lobby that retains the historic bones of its former life. Dual staircases with ebony bannisters, brass accents, and checkerboard marble floors lit by suspended globe lights make for a Wes Anderson–worthy daydream.
---
Atlanta, Georgia
The stylish designer Libby Patrick has crafted the look and feel of many hotels around the South, and the Glenn testifies to her panache. As a nod to the thirty-nine lions carved into the exterior cornices, guests can hunt the thirty-nine lions hidden in the hotel's design. (The first is easy: A curved wooden reception desk boasts a large portrait of a lady and a lion.) Patrick's touches also include a mix of custom, modern, and vintage finds, such as rattan lounge chairs, blood-red antique rugs, minimalist barstools, and arched brass chandeliers.
---
photo: courtesy of The Gage hotel
Marathon, Texas
As a gateway town to Big Bend National Park, where adventurers can find some of the best stargazing in the western hemisphere, tiny Marathon, Texas, with a population fewer than four hundred people, has a rugged, adventurous personality of its own. The Gage, built in 1927, fits right in. The lobby features the mission building's original touches, including the timber ceiling and floors, tall arched doorways, and century-old wrought iron, all accented by a roaring fire in the hearth, deep lounge chairs, and plenty of Texas taxidermy.
---
photo: courtesy of menger hotel
San Antonio, Texas
This three-story, Victorian lobby's neoclassical style includes ornamental festoons and garlands painted to resemble stone. The hotel debuted in 1859, but the current design, as well as the tile floor and leaded skylight, arrived in 1909, created by the architect Alfred Giles. The lobby's adjacent bar room, an exact replica of the House of Lords Pub in London, offers whiskey and a moodier ambiance.
---
photo: Nikolas Koenig
Tampa, Florida
Opened in the fall of 2022, the lobby of this striking EDITION location soars with twenty-foot ceilings, a dramatic white marble staircase, and travertine and walnut wood accents. Guests can play a game on the custom travertine pool table or enjoy the rather inventive cocktail bar. Artichoke negroni, anyone?