With five barbecue joints to his name and a sixth eatery on the way—Nashville's Chief's on Broadway, a partnership with country star Eric Church—Rodney Scott does not need to reinvent anything. His pulled pork is the gold standard. His small-town-pitmaster-turned-James-Beard-Award-winner story is legendary. And yet the barbecue baron from Hemingway, South Carolina, can't help tinkering. His latest invention? A partnership with the Spice House, an artisanal spice purveyor, to develop a smoky, sweet, and savory rub perfect for grilling season.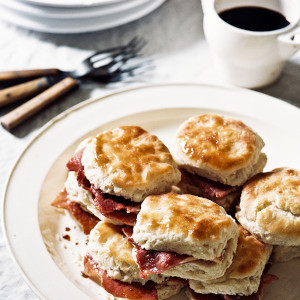 "My manager told me about the Spice House, and I liked what they were doing," Scott says. "I walked into one of their stores, and the aroma was like 'boom!'" Their collaboration combines chile, cumin, onion, and garlic with two surprising ingredients, cocoa and coffee. It's available to order, but he shared a DIY version below that makes a serviceable substitute.
As a vessel for the earthy blend, Scott also shared a recipe for a two-patty, onion-topped bacon burger. "I'm trying to find the right words to describe this burger besides 'absolutely amazing,'" he says. "It just has many flavors you don't expect."
Just make sure to follow the recommended ingredient amounts lest you turn your burger into a Venti Double Cheese Half Calf. Then again, a buzz seems to be working for the nonstop Scott. "My address says Mt. Pleasant, South Carolina, but I'm in Atlanta today and heading to Alabama next week," he says. "I've just been opening restaurants, getting everybody acclimated, doing what we do."
Get the cookout-ready recipe below.