There was a time when a resort vacation meant packing your dance shoes. After-dinner foxtrots and the occasional cocktail-hour tango were de rigueur. During Prohibition, the Jefferson Hotel in Richmond, Virginia, operated as a speakeasy and was a hotspot for ragtime dance enthusiasts. The Cawthon Hotel in Mobile, Alabama, became a hub for afternoon tea dances after World War I. In the 1940s, "Lindy Hoppers" practiced East Coast Swing in hotel ballrooms in Atlanta.
Today, you'll have a more challenging time finding social dancing opportunities at resorts, at least outside of their nightclubs. Fortunately, the tradition persists at a few places in the South. Here's where to test your soft-shoe steps and more on summer vacation.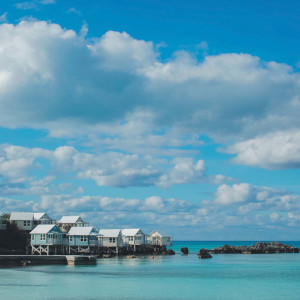 Roanoke, Virginia
When railroad barons needed a break from connecting the country, they took a load off at the Hotel Roanoke, opened 1882. Then, the property lovingly referred to as the Grand Old Lady on the Hill boasted cutting-edge amenities—electric fans, movable telephones, and of course, a ballroom where the nouveau riche could peacock. Today, visiting captains of industry don't don top hats and tails but still have the opportunity to shake a leg. Every Friday and Saturday night in the Regency Room restaurant, the Regency Trio performs for dinner guests, who take to the floor from 6:30 to 9:30 p.m.
---
Miami
Many hotels have nightclubs on site for, um, free-form dance expression, but the Bayfront Ballroom at the InterContinental Miami is dedicated to one classic style the first Friday of each month. That's when a live band takes the stage and instructors hit the floor for a $15-per-person salsa night. In classic Havana fashion, the evenings don't begin until 9 p.m. and the dancing continues until the wee hours, so consider a disco nap before showing off your moves.
---
Hot Springs, Virginia
For guests of yore, part of the allure of the historic Homestead Hotel was its dedicated children's dining area, which allowed adults to eat and unwind with a live band free from parental duties. Alas, the Children's Dining Room is no more, but the resort's dancing tradition continues in the under-renovation Dining Room, where a live piano player encourages patrons to take a turn on the floor between courses. (Homestead guests will be welcomed back to the dance floor in August when the space reopens.)
---
New Orleans
Grab a room at this reinvented nineteenth-century Catholic church and school house in the Marigny neighborhood, and get an education in African dance from instructor Andrea Peoples each Monday evening through August. "The classes are held in our deconsecrated church, which has been left for the most part intact with only the pews removed, so it's a very special, spiritual space," Caitlyn Winningham, the hotel manager, says. Novice and veteran dancers are welcome in the donation-funded class that's "a mix of West African and Afro-Cuban dance with upbeat choreography," Peoples says.
---
Walland, Tennessee
Blackberry Farm may list Zumba, which began as a Colombian aerobics class, under its fitness options, but anyone who has taken a class will tell you it's really dance disguised as cardio training. Shake up a stay at the mountain property—and work off some of its famous Foothills cuisine—with a fifty-minute session that's more fun than a Tennessee square dance.
---
Charlottesville, Virginia
Few dances evoke passion like the tango. If you're planning a romantic rendezvous in central Virginia, consider the Boar's Head, which offers a workshop in the Argentine dance under the guidance of instructors Michael Mallory and Sarah Bright. While many participants arrive as a duo, solo dancers are welcome and trade off partners throughout the lesson. To cap off the hour-long class, students enjoy a complimentary glass of wine to toast their progress, but you'll have to bring your own long-stemmed rose to nail the full dramatic effect.
---
Bandera, Texas
Looking to add the Texas Two-Step to your skillset? Mosey on down to Bandera—roughly an hour from San Antonio—to experience an authentic dude ranch complete with country line dancing. The Mayan teaches wannabe buckaroos all the basics of cowboy life, from horseback riding to lasso-ing, so it's no surprise that turning your partner round and round is on the itinerary. Pack your best boots for saloon-style stepping in short family-friendly lessons designed for all ages.
---
And a bonus stay for movie buffs:
Pembroke, Virginia
No one is putting baby in a corner at Mountain Lake Lodge. That's because the setting for Kellerman's Mountain House, the fictional Catskills inn in Dirty Dancing, proudly embraces its iconic movie role. In fact, the resort hosts Dirty Dancing-themed weekends where guests can reenact their favorite scenes (a farewell lift, anyone?) while partaking in costume competitions, dance lessons with professional instructors, and dance parties. And if you act fast, you might be able to nab a place at one of this year's themed weekends. (A few open spaces remain in June, July, and September.)