It's hard to admit to going "glamping" with a straight face, but the concept, in practice, is awesome. Whether in a simple canvas tent or a tiny temperature-controlled cabin, a foray into nature with turnkey accommodations is a gift of the modern age I'd rank somewhere between cauliflower pizza crust and grocery delivery.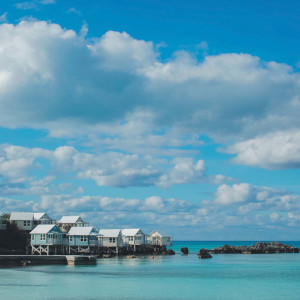 The phrase "what a time to be alive" might have even flitted through my mind as I relaxed on the pavilion at Roamstead, a glampsite that opened in July in Cosby, Tennessee. It's not really fair to call Roamstead a glampsite; the property offers traditional tent camping spaces and RV hookups in addition to yurts, one- and two-bedroom cabins, and a cottage for large groups. But with its spa-like bathrooms, hipster-friendly merch, and modern lodge selling lattes and gourmet pizzas, it's more than a campground.
The brainchild of Chattanooga couple Shannon and Thomas Connolly, Roamstead is designed to serve all levels of outdoorsiness, from Eagle Scouts to armchair adventurers who lack the skills (or desire) to brave the elements. The Connollys themselves are avid campers fresh off an RV tour of U.S. national parks with their two young kids—a trip that acquainted them with the many dated campgrounds dotting the country. "A lot of campgrounds don't employ online booking systems," Shannon elaborates. "A lot of them are just dirty, and there's nothing I hate more than showering with spiders."
Shannon grew up in East Tennessee and once sold donuts to area campgrounds to raise money for her dance team. Among their fundraising stops was an old Jellystone Park in a quiet northeastern corner of the Smokies—the same property she and Thomas would purchase in December 2022. In the breakneck span of six months, the Connollys gutted the existing facilities, built additional cabins and yurts, devised a food and drink menu, and lowered a custom-built footbridge over a babbling stream. With the help of the architecture firm Sanders Pace and the design team behind Chattanooga's Common House, they embraced a hip but cozy aesthetic—big windows, Aztec accents, thrifted art—in tune with the music that wafts through the common areas: Turnpike Troubadours, Sturgill Simpson, Brandi Carlile. 
But even as they built a more hotel-like experience, one essential campground ingredient had to remain. "There are these communal spaces where you gather and talk about your day with like-minded travelers who enjoy nature and care about the environment," Shannon says. "Hotels have great amenities, but you're kind of stuck in your room."
Which brings me to my Friday night at Roamstead. Out by the pavilion, guests roasted s'mores over gas fire pits while a family-friendly movie, Jumanji, played on a projector screen. (Fall Saturday nights are reserved for college football.) My husband and I sipped moonshine cocktails purchased from the lodge while my son played that game where you toss a ring on a string at a metal hook (I believe that's its official name) and my daughter did cartwheels around another group of kids—her bat signal to come play, which they did.
The scene the next morning was similar, only swap in complimentary coffee for cocktails. We exchanged hiking tips with a family from Franklin, Tennessee, and another woman traveling for work. (Side note: Roamstead is a great option for a woman camping solo.) A staff member's golden retriever plopped on his side for a belly rub at our approach. On one of the first crisp mornings of fall, the atmosphere was almost stupid-happy.
If other people's kids and dogs aren't in your picture of the good life, you can retreat to your own private fire ring—every Roamstead plot has one—or cross the bridge to where the tent sites, RV lot, and yurts reside. The vibe on this side of the creek is woodsier, more self-sufficient, but still cozy thanks to twinkling string lights and the perpetual scent of campfire.
The property's location within Great Smoky Mountains National Park extends the choose-your-own-adventure theme. Gatlinburg lies twenty-five minutes away, close enough if you wish to genuflect at the altar of mountain kitsch, far enough if you expressly do not. Two lesser-used park entrances, Greenbrier and Cosby, are within a ten-minute drive, each offering a variety of hiking trails on which your likelihood of spotting a human and a bear are just about even.
Roamstead itself backs up to the Maddron Bald trailhead. We could have walked straight out of our cabin door and kept going for three miles to Albright Grove, home to some of the oldest and tallest trees in the park. Alas, my six-year-old wasn't up for the round-trip journey, so we set our sights on an old pioneer cabin about a mile in.
On that late-September day the Smokies were still lush, with summer wildflowers—white wood asters and spires of blue lobelia—meeting goldenrod, fiery red sumac, and other harbingers of fall. Acorns poured from the chestnut oaks, a constant snapping and plunking that made me glad to be wearing a hat. When we reached the cabin, a wedding present from Willis Baxter to his son William in 1889, my daughter sat down and dumped her cache of nuts on the weathered floor. I contemplated the gulf between the primitive stone fireplace and my own dinner the night before, Sicilian pizza and a cocktail beside a gas flame. Well, Willis and I had the moonshine in common.