Crossing the narrow bridge over Callawassie Creek that leads from Okatie, South Carolina, to Spring Island feels like driving over a Narnian threshold to wonder. Old-growth maritime forests of live oaks and tall pines dapple sunlight onto the understory saw palmettos and the two-lane below. Spanish moss, cast like one massive shrimp net, drapes everything. Amid this primordial landscape unmarred by billboards or commercial buildings, a small sign announcing FOX SQUIRREL CROSSING is about the only hint of civilization. Yes, even the squirrels here are of a different order.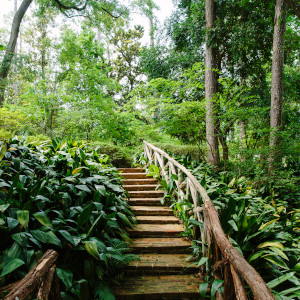 "We were awestruck by the beauty," says Nancy Serafini, a Bostonian who, with her husband, Joe, began visiting the Lowcountry twenty-some years ago. After numerous stays at the nearby Chechessee Creek Club, they decided to look for a more permanent foothold, falling quickly under Spring Island's spell. "We loved this peaceful sanctuary embraced by all these live oaks," she says. "It spoke to us in a way no other place has."
Though enchanted by the island's dense woods and three thousand acres of protected habitat, the Serafinis, who for years had a summer home on Nantucket, held out for a spot on the water, so when a sunny lot featuring expansive Chechessee River and golf course views became available in 2015, they jumped. Bonus: The lot—once owned by Arnold Palmer no less—not only had enough sunshine and space for Serafini to garden, but it also came with ready-to-go plans drawn up by Joel Newman of Thomas & Denzinger Architects. "Joe wanted to get the house built fast, and the plans, with their cedar-shingle New England–y feel, were great. I loved that the front entry was hidden, and of course, that spectacular bank of windows," says Serafini, who used her three decades of experience in running her eponymous design firm to modify the plans for functionality, particularly for optimal views and extra storage space in the three-bedroom cottage. "I'm not sure Joel understood how many clothes women have," she says, laughing.
`To make room for china and serving pieces, they carved out a nook in the dining area that now harbors a vintage pine cabinet topped by an antique Nantucket weather vane. A front porch with an outside fireplace had hugged that tucked-away entrance, but pollen allergies made it virtually unusable, so the Serafinis enclosed it, creating a cozy anteroom with a herringbone brick floor, forest-green ceiling and trim, and a sofa fluffed with Kit Kemp pillows. "And look here," Serafini says, sliding open a dark green barn door that conceals a slim counter initially intended as an outdoor food prep and cooking station. "This was designed to be a grill, but I added a sink to make it my flower-arranging nook." Upstairs, where freeing up closet space entailed sacrificing a tub in the primary bath, Serafini, an avowed Anglophile, converted a hall closet into a private soaking chamber, a true water closet, so to speak. "It's my little haven. Very proper English, right?"
Throughout the home, she opted for custom light fixtures crafted by the Georgia artist Eloise Pickard and shiplap walls, preferring their warmth and texture, all painted in soothing Farrow & Ball hues. "The view was my color-scheme inspiration," Serafini says of the marsh and golf-course greens and water blues that she ushered inside "with no glaring changes." She re-covered living room furniture from her Boston home in a neutral medley of hand-blocked and woven prints, pairing them with tramp art side tables and planters "schlepped from Paris" to add whimsy. "I love the wood texture of tramp art—that it's all handmade and quirky," she says. Custom cabinets flanking the fireplace showcase her collection of Nantucket lightship baskets, Canton porcelain, and books. "I always say that a house is not a home without antiques, books, and plants," says Serafini, who finds the most joy in the way her art collection—a fanciful mix of vintage signs, folk art, Swedish shorebird prints in the stairwell, bird sculptures, and even a Chagall—all fits.
Speaking of art: "Joe, the dead squirrel has toppled over on the top shelf," she alerts her husband, hoping he'll climb up and adjust the fallen taxidermied fox squirrel they ended up with years ago. "That's the least of its worries," Joe replies. "Rocco chewed its ears off," referencing their mini English goldendoodle. Such is life on Spring Island, where nature takes top shelf, Rocco has the run of the place, and "decorating" means deferring, happily, to breathtaking views.