Calida Rawles's hyperrealistic paintings depict Black people submerged in water, swimming, or floating. For Rawles, giving one's body over to water represents the ultimate form of surrender—one she came to later in life.
Rawles grew up in Wilmington, Delaware, where she charged a nickel or a quarter to create drawings for classmates. In the summer, she would walk to her neighborhood pool, but only to play in the shallow end; neither she nor her parents knew how to swim. The historic echoes of the Middle Passage and racially segregated swimming pools still resonated for them, as they do for many African Americans—the Centers for Disease Control and Prevention estimates that even today Black people are one and a half times more likely to drown than white people.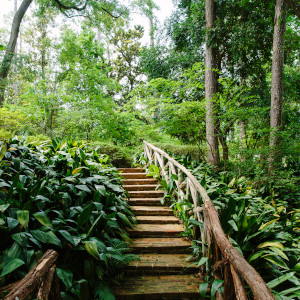 That didn't change, even as Rawles enrolled at Spelman College, in Atlanta. Her experience on campus, however, not only schooled her more on Black history—and the practices of Black artists, such as Carrie Mae Weems and Elizabeth Catlett—but also challenged her. "I was around people who completed tasks and didn't take shortcuts," she recalls. "It felt like it was going to step my game up." Living in Atlanta also helped her find her voice. "I was not raised in a religious household," Rawles explains, "but in the South, hearing and talking about God and spirituality was regular, and it was in the culture." Now "I find that a lot in my work—I am reaching for a larger understanding of life and a connection to something larger than myself."
After graduating, Rawles earned her master's degree in painting from New York University and moved with her husband to Los Angeles, where she worked as a graphic designer and occasionally exhibited her paintings. Then, in 2013, Rawles had a breakthrough. A parent at her daughter's school encouraged her to swim for exercise. As Rawles began to learn, she found more than fitness in the pool. She discovered a peace.
"I wondered, how can I bring that to my practice?" Rawles says. So she began to take photos of submerged family, friends, and models, then interpreted the action with acrylics. The results not only looked ethereal but also allowed her, she says, "to address difficult issues" related to that historically fraught relationship with the water.
Enamored with her aesthetic, Rawles's friend, the writer Ta-Nehisi Coates, asked her to paint the cover art for his 2019 novel, The Water Dancer, which became a bestseller and brought her broader recognition, leading to a contract with New York's esteemed Lehmann Maupin gallery. In 2020, Various Small Fires gallery in Los Angeles hosted her first solo exhibition, A Dream for My Lilith. A piece for that show, Guardian, portrays a pregnant woman from the neck down, holding her belly while her white dress ripples in the water.
That same year, the former director of the Spelman College Museum of Fine Art, Andrea Barnwell Brownlee, visited Rawles's studio and offered a new context to her work. The college's colors are white and blue, she reminded Rawles; the school requires its student body to don all white on certain occasions, including Founders Day and graduation. "I didn't connect that I had to wear that dress when I was at Spelman," Rawles says.
That link came full circle when she painted a new piece for the Black American Portraits exhibition, which traveled from the Los Angeles County Museum of Art to Spelman's museum earlier this year. The work, Thy Name We Praise, shows a woman in a flowy white dress, her arms outstretched in surrender. In turn, the museum added the work—titled after the first line of "The Spelman Hymn"—to its permanent collection.
These days, Rawles describes the psychological and spiritual effect of being underwater without fear of drowning as calming. In her paintings, to swim is to be free—and able to save one's own life. "Water is ours," Rawles says, "like air."