Take a stroll in spring and summer down any Southern street where porches are present, and you'll likely observe stunning hanging baskets planted with all manner of beautiful flora, swaying and twirling in the breeze. I especially love when tendrils trail over the edges of the baskets and trickle down to the balustrades. And there's something particularly charming (and low maintenance!) about baskets that show off a single gorgeous species, a selection that boasts interesting textures, color, and the ability to billow just so.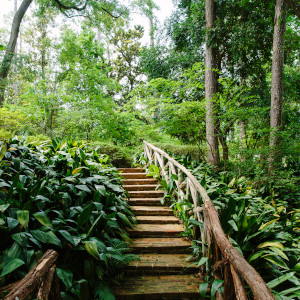 This season, I asked the experts at two of my favorite spots for compelling plant finds to weigh in on their favorites for the South, with ideas for options that thrive in the shade and the sun (and even in heavy heat and humidity).
The standout choice for adding color in sun-drenched areas comes from Melissa Lowrie, the director of green goods at Terrain, one of the most comprehensive and imaginative resources for garden-related everything online. "Bougainvillea is the only flower-focused option on my list," she says, "and I love the wildness and range of colors to choose from." Lowrie, like me, is also a fan of one-species baskets: "I'm a sucker for mono baskets used in multiples."
Lowrie also recommends Dichondra, which creates serious drama as it matures and spills downward.
In the shade, Lowrie suggests unusual plants like the fuzzy Nephrolepis exaltata, otherwise known as the "cotton candy fern," and begonias. "Rhizomatous, rex, and Angel Wings begonia types offer ranging forms and lots of foliar interest," she says. "And some types flower heavily in the summer for added color."
Here in Charleston, the local stop on my list is usually Meeting Green. This has a lot to do with co-owner Kendal Leonard, who opened the shop in 2018 with Sam Metzger. Leonard has an eye for singular plants, while also being incredibly practical, a win-win in the garden universe. For summer longevity, Leonard suggests Plectranthus in the sun. "The variegated varieties get bushy and wispy, and there are some great flowering options like the Mona Lavender. She also recommends the Diamond Frost Euphorbia, which I can vouch for, too. It's puffy and feathery and just looks better and better as the season progresses.
For shade, Leonard surprised me by offering up a few plants more often associated with indoor gardening: "I love trailing houseplants like Pothos and Tradescantia varieties like Pistachio White in the shade."
Garden & Gun has affiliate partnerships and may receive a portion of sales when a reader clicks to buy a product. All products are independently selected by the G&G editorial team.