This past summer, I found myself on Anne Spencer's porch. A fixture during the Harlem Renaissance, the poet lived in Lynchburg, Virginia, where I stopped to visit her house and garden museum while on a long road trip north to Yaddo, a writer's residency in Saratoga Springs, New York. A search for inspiration drew me there—having secured a university professorship and regular writing opportunities, I realized I am finally on the cusp of something like stability as I near forty. What might it mean, I've found myself wondering, to put down roots, to shape a creative life that fulfills me? To find a freedom, perhaps, like Spencer found here.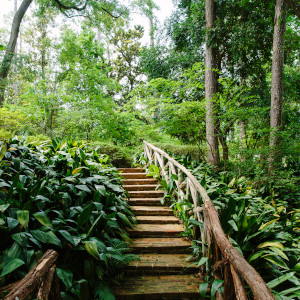 And so I made my way to the historic district where her home lies, because I wanted to know how a woman—a Black Southern woman with minimal rights in the early twentieth century—managed to cultivate her creativity at a time when restrictions abounded. After reading her poetry, I surmised that part of that ability came from finding beauty in the hard things, and by surrounding herself with visual delight that she could translate into written language. What a gift, to be able to do something similar for myself.
But how? Right now, I compose much of my writing during the in-between moments—on café napkins and the backs of sales receipts. Since I am frequently pressed for time, first drafts often live in my phone's voice-note app, dictated as I drive from assignment to assignment. The prospect of six weeks at Yaddo, in the woods in Upstate New York, doing nothing but writing felt liberating; a step, maybe, on a longer path toward establishing my own restorative sanctuary. For the first time since I sold the family farm, I am allowing myself to imagine that I may soon have a space of my own to cultivate like the one Spencer and her husband, Edward, composed here more than a century ago, with its vibrant garden and snug writer's cottage.
Spencer, born Annie Bethel Scales Bannister on February 6, 1882, met Edward at what was then the Virginia Theological Seminary and College. They married in 1901, and not long after, Edward built their Queen Anne–style home on Pierce Street, with indoor plumbing and heating, unusual for the time. They dressed the interior in sumptuous colors. The original entryway wallpaper still glitters, its macaws and tropical flowers as vivid as the day they were hung.
"This place, it really is a love story," says Shaun Spencer-Hester, Anne and Edward's granddaughter and the property's executive director and curator, who leads tours. Edward, Lynchburg's first African American parcel postman, was inventive and handy. The postal service wouldn't give him a truck to deliver mail, so he repurposed his own into one and painted it red, white, and blue. Portions of the house benefited from his know-how. "It really was a collaboration," Spencer-Hester adds.
That love extended beyond the couple, and they opened their retreat to others. I was only the latest in a long line of Black writers and intellectuals who found respite and stimulation on the property. Historic figures such as Countee Cullen, W. E. B. Du Bois, Langston Hughes, Zora Neale Hurston, James Weldon Johnson, and Martin Luther King Jr. stopped by when they found themselves in Lynchburg. Beloved for her hospitality as well as her dedication to her community, Spencer, who was also a librarian and activist, offered her home as a haven for folks advocating for civil rights and equality.
Spencer died in 1975, at ninety-three, but her sensibility remains. When the space became a museum, her and Edward's son, Chauncey, decided to preserve the home as it was when his parents lived there. Spencer-Hester, Chauncey's daughter, has maintained that philosophy: "All of Anne's things are here—her lipstick and her perfume, her brush, her clothes, her jewelry…the pencils that she used, everything. I feel like they're here," she says of her grandparents. "Very often, I will greet them when I come in, and I will say goodbye when I leave. It's not that I expect them to talk back to me, but there is a joyful feeling."
Spencer wrote everywhere here, including in the margins of seed catalogues. Her favorite flower was the nasturtium, and in the kitchen, her friend Amaza Lee Meredith, an artist and architect practicing in Virginia in the 1930s, lovingly rendered Spencer's ode to the orange, sun-loving flower on a wall, along with a painting of the plant. In another room, one of Spencer's desks faces a window from which she could see the garden, watching purple martins dart in and out of the house that Edward had made for them. When in the thick of writing, she would work in the cottage out there, called Edankraal: "Ed" and "an" for their names, and "kraal," from the Afrikaans/South African English word referring to an enclosure or fence.
In Edankraal, I was struck by, and envious of, the amount of history the family managed to preserve. Dozens of photographs of family and friends who frequented the garden hang on the walls, above Spencer's furniture and paperwork, enduring mostly as she left them. In one, from 1937, garden guests appear dressed to the nines, the daylilies behind them framing the scene. The snaps are all in black and white, but I could imagine the riots of color this place must have held—the laughter and mirth, the wonder at seeing the peonies bloom, the tranquility of the fountain flowing into the property's pond.
Spencer sowed the garden so that flowers bloomed and plants thrived through the seasons. The day I was there, irises and daffodils were fading just as the larkspur and foxglove were opening. Soon the gaillardia, yucca, spirea, and red-hot poker would show themselves, covering the ground in flame hues. In this space, Spencer witnessed the cycles of death and rebirth, working those images and metaphors into her work. Her nuanced meditations on plants and the pressures of her life appear in poems such as 1929's "Grapes: Still-Life," and she frequently uses pastoral beauty to address prejudice:


You, green-white Niagara,
Cool dull Nordic of your kind,
Does your thick meat flinch
From these…touch and press your rind? 


Spencer-Hester led me to a bench underneath the vines that sparked those lines. The Niagara and Concord grapes there were coming in nicely, providing us with shade as she told me more about the restoration of the garden. Unlike the house, this plot, with its pale turquoise wooden pergola, didn't always look this way. After Spencer's death, the garden fell into disrepair. In the 1980s, the local Hillside Garden Club helped restore the property, and community groups still contribute to its upkeep.
I tried to soak in this moment, to find joy in inhabiting a space that offered a sanctuary for so many. But mostly, I felt sad. Almost four decades in, and this was the first time I had the opportunity to tour the home of a Black artist of some acclaim. Precious few Black heritage sites, particularly in the South, have been preserved as this one has been. Threadbare beginnings and sharecropper shacks leave less room for creative expression, and paintings on walls, and photographs of any kind.
I thought about all the homes I will never get to see, because Black artists more often lived a tenuous existence, making art in the margins, their residences torn down or sold away. I have more in common with them—I am the first in my family to attempt anything like Anne Spencer's life. What might it be like to build a benefaction that endures long after I'm gone? What luck to be able to contemplate such a thing in a space like this one, because a couple, arguably ahead of their time, refused to let racism stymie the life they envisioned for themselves—and then opened up that life to others in welcome.