Asking a Charleston native to trade the Lowcountry's winding creeks and the yawning expanse of the Atlantic Ocean for Middle Tennessee's landlocked hills is a risky play. (Not to mention the move would require leaving an editor position for the feast-or-famine life of a freelance writer.) But seven months after my then boyfriend, Tanner, broached the relocation subject, we were settled in a prewar bungalow on a shady gravel lane in West Nashville, and I'd set up an office in the attic bedroom. I'd say he was pretty confident in my affections. He'd tell you he was less assured—and that's why he bought the boat. Mostly.
Part bribe, part fulfillment of a longtime dream, the old Boston Whaler—a 1987 seventeen-foot Montauk he purchased from a college buddy and persuaded his parents to trailer from Charlotte to Nashville—arrived a few months after our move and sat expectantly in our driveway until the following spring. After surviving our first winter—anyone proclaiming Nashville's "it-city" status doesn't bother to mention the months of wet, gray cold—we could hardly wait to dip the Whaler in the water. Rather than launching onto a popular dammed lake such as Percy Priest or Old Hickory, we headed for the free-flowing Cumberland River, swayed by a local's tip and confirmation via Google Maps that the nearest public boat landing was just twelve minutes from our front door.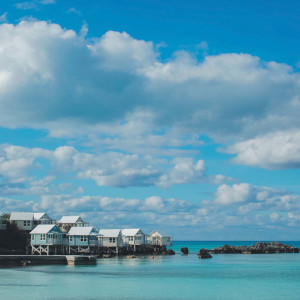 The major Southern waterway, which originates in the Appalachian Mountains, flows west for 687 miles through southeastern Kentucky and down into Tennessee, cutting wide lazy curves through metro Nashville and the surrounding hills, splintering into a vast network of narrow creeks and tumbling streams before crossing back into Kentucky and dumping into the Ohio, just twelve miles upstream from the mouth of the Tennessee River. The 18,000-square-mile area known as the Cumberland River Basin ranks among the most biodiverse freshwater regions in the world. Mekayle Houghton, executive director of the Cumberland River Compact, a Nashville nonprofit that partners with city planners, developers, and farmers as well as residents and schools to promote conservation, is working to keep it that way. "We're trying to strike that balance between a growing economy—that we welcome—and a healthy environment that can support everything, including humans," she says.
Despite the range of wildlife—rare freshwater mussels, endangered bluemask darter fish, giant hellbender salamanders, and flocks of migratory birds—that calls the region home, the rugged beauty of the Middle Tennessee landscape, and recreational opportunities aplenty, the Cumberland River has a reputation problem. The devastating effects of a 2010 flood, which saw the river crest almost twelve feet above flood stage, swamping landmarks from the Grand Ole Opry House stage to Lower Broadway honky-tonks, are tragic, not-so-distant memories.
The Cumberland is also a working river, an industrial thoroughfare where barges haul sand and coal to outposts across the country—and so stigmas persist. Although the Environmental Protection Agency granted $600,000 to restore and protect the river in 2003 (a few city council members even staged a swim across it five years later to publicize how much the water quality had improved), and today some fifty miles of the river flowing through the metro Nashville area are deemed fishable and swimmable, the river remains underappreciated. The city is trying hard to recast the Cumberland as a center for recreation with projects like the city's East Bank redevelopment plan and West Nashville's Rock Harbor Marina. For her part, Houghton is cautiously optimistic for the river's future, and she'll help guide the important work that remains as conservationists and officials navigate ongoing threats like aging urban infrastructure and runoff.
But as Tanner and I backed the trailer down the boat ramp at Cleeces Ferry for the first time, a couple of South Carolina transplants, our impressions were yet uncolored. With Twainian appeal, the Cumberland's glassy water, surrounded by limestone cliffs, verdant hills, pastures, parklands, and sandy banks where our golden retriever found room to run, captured my imagination in a way wholly separate from the tidal creeks and brackish rivers of my childhood. And yet, cutting a wake through the slick water felt achingly familiar, and for the first time since we'd moved to Nashville, months before, Tennessee felt like home.
We became river people: We packed picnic lunches and planned float trips with friends. Had lunch at the Blue Moon Waterfront Grille and dined on fried catfish at Riverview Restaurant in Ashland City. We joined a no-frills yacht club for easier water access. We learned to spot logs and large limbs that might damage our outboard motor and to avoid boating after downpours turned the river's meandering waters into a furious slurry. Run-ins with all manner of bugs, fish, and critters reminded us of the river's wildness despite its allowing us to pull up to a Titans game by boat. And on a cool September evening against the backdrop of a neon-streaked sunset, Tanner got down on one shaky knee and asked if I'd be his wife. We floated until dark, buoyed by champagne and the Cumberland's gentle current.
Days on the river became central to our lives in Nashville but never more so than during the pandemic's first harrowing months, when it suddenly offered a safe place to escape a terrifying new reality. Later, in the time we spent trying (and failing) to get pregnant amid the ongoing pandemic with endless doctor appointments, shots, hormone regimens, and a litany of procedures, the river calmed my anxious nerves and eased the heartache.
In an unexpected plot twist, my husband and I moved home to Charleston's salt marshes a little over a year ago—with our set of twins in tow. Today we live just blocks from the harbor, and I love watching the packs of neighborhood kids race down our residential street on their bicycles with fishing poles and crabbing nets slung over their shoulders. I imagine the same thing for Lucy and Hack, a Lowcountry childhood spent exploring in our old Whaler. After all, "you don't sell a boat like that," my dad always says. Still, I happily anticipate the day we can cruise the Cumberland once again and show our kids the remarkable place where we started our life together, prayed for their safe arrival, and imagined who they might grow up to be.