Here's a little-known fact about Louisville, Kentucky: In the 1970s disco music heyday, Derby City factories were churning out 90 percent of the global disco ball supply before demand fizzled out. But one of those former factories is making a comeback—now as the Myriad Hotel, opened last week and boasting sixty-five guest rooms, a restaurant anchored around a wood-fired stove, a color pop of a pool area, bourbon cocktails, and a coffee and drinks lounge doubling as the lobby. The disco history gets plenty of nods, too. "We named it the Myriad for the myriad reflector, the first patented disco ball from 1917," explains Craig Pishotti, co-founder of Common Bond, the local hospitality group behind the opening. There's a hanging disco ball installation in the lobby, and, get this: The elevators transform into disco balls and feature a "party button" that triggers music and dancing lights.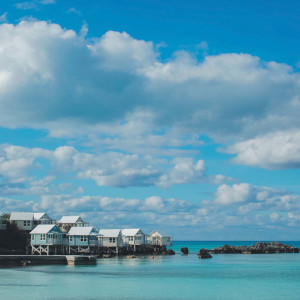 Before the words "disco ball" ever graced anyone's lips, a man named Louis Woeste in Newport, Kentucky, patented the name "myriad reflector" to describe his scintillating creation in 1917. At the Myriad—so named after Woeste's patent—a disco ball (or should we say, myriad reflector) suspended above the lobby catches the light and reminds visitors of the space's history.
---
Each of the sixty-five guest rooms have a color palette reflecting their place in the hotel: Coral means a pool view, blue indicates a room in the oldest, most architecturally significant portion of the property, and green threads the rooms in the industrial areas where disco balls came together.
---
This king suite features an adjacent solarium-inspired lounge outfitted with a funky green wallpaper from the artisan brand FEATHR, custom woven lounge chairs and ottomans by Masaya Co., and the work of local photographer JD Dotson.
---
The Myriad Swim Club is open to locals, too, not just to guests of the hotel. "We wanted to give Louisvillians a little vacation by walking around the block or driving a few miles, and landing in this spectacular spot," Pishotti says.
---
The restaurant Paseo centers around an open kitchen and woodfired stove, which churns out paellas and other Mediterranean-inspired fare. Bourbon cocktails abound, too, riffing on Castle and Key Restoration Rye, five-year Plantation, and port barrel-finished Angel's Envy.
---
Switchboard is a coffee spot by morning and snacks and drinks lounge by night (or afternoon) marked by cozy corners and art by the painter, sculptor, and Louisville native J. Cletus Wilcox. "He's so innovative and we love his work so much that we commissioned seven pieces for the hotel," Pishotti says. "My favorite is a carpet pad that has another pad juxtaposed next to it, covered in 14-karat gold."